By Marty Denzer
Catholic Key Reporter
INDEPENDENCE — High school seniors usually feel nostalgia, excitement and a bit of fear as they near the end of the academic year and graduation. But for the 27 seniors at St. Mary's High School in Independence, that nostalgia and excitement is joined by a sense of loss. When the last student, last teacher and last staff member leave the school at the end of this academic year, the doors will not reopen in the fall.
In late January, Bishop Finn made the sad announcement that the school would close at the end of the school year due to low enrollment and mounting debt.
While seniors graduate, the rest of the student body will be starting again at other schools, and faculty members will have to find other positions. For many of the students, knowing that after generations of their families had attended St. Mary's, being the last is hard to grasp.
St. Mary's was founded 160 years ago. In 1853 Independence was still a young town and Kansas City was officially only three years old. The area that would eventually be the Diocese of Kansas City-St. Joseph was at that time part of the Archdiocese of St. Louis. Just eight years earlier, Archbishop Peter Kenrick of St. Louis had assigned newly ordained Father Bernard Donnelly to travel to Independence and found a parish there.
Father Donnelly arrived in May 1845, bringing a trunk, some books and $5, prepared to serve about 12 Catholic families in a parish covering roughly 18,000 square miles, according to the diocesan history, This Far By Faith.
Father Donnelly learned quickly that he was on his own to build a church and a place to live on property designated in St. Louis's first Bishop Joseph Rosati's will for a parish church. Bishop Rosati died in 1843. The location of that property has never been identified, the history says.
With the help of Independence residents, Col. Cornelius Davy, a Santa Fe freighter and businessmen Anthony Cosgrove, William Howe, Samuel C. Owens, as well as some local non-Catholics, Father Donnelly was able to raise the money to purchase a wagon shop and the half-lot it stood on from John and Elizabeth Parker for $750 in 1848. The front half was used as a chapel and the rear as sleeping quarters for Father Donnelly. He named the parish Holy Cross.
Five years later, Susan A. Hamilton transferred the remainder of the lot to Father Donnelly for the growing parish. On the lot was a 1½ story frame building that Father Donnelly converted into a school. Having no money to hire a teacher, he served as teacher until the following year when Sallie Mullens (Fox) offered to teach in the school at no charge. All students who wished to attend the school were accepted. Mullens taught for free at the school through 1856.
About 30 families lived in the parish by 1857. That year, Father Donnelly switched parishes with Father Denis Kennedy — Father Donnelly moved to what was then called St. John Francis Regis Parish (now Cathedral of the Immaculate Conception) in Kansas City and Father Kennedy to Holy Cross.
Father Kennedy began the building of the present church about 1860. Because of labor and material shortages during the Civil War, progress was slow. The cornerstone was laid in 1864, and the name of the parish and school was officially changed to St. Mary. The church was completed by 1865.
The school, which faced Main Street, stayed open during the war, with Mary Dunn teaching while her husband served in the army. In 1865, Independence established its first public school, in the St. Mary's school building. Father Kennedy arranged with the town of Independence to hire and pay Mrs. Fox and Mrs. Dunn to teach children of all faiths in the school. The arrangement served students until 1876 when a cyclone destroyed the front half of the building.
Two years later, then-pastor Father Thomas Fitzgerald, architect, carpenter and mathematician, designed and built St. Mary's Academy, with talent and time donated by parishioners. Father Fitzgerald solicited the treasure from some local railroad officials.
From 1878 – 1882, the Academy was staffed by Mother Xavier Ross and four Sisters of Charity of Leavenworth. Until they were recalled to Leavenworth in 1882, the sisters ran a boarding school, accepting both boys and girls, and a parish day school in the remains of the original school building. When the sisters returned to Leavenworth, Father Fitzgerald traveled by horseback the 18 miles to Kansas City, which had been erected as a diocese in 1880, to talk to Bishop John Hogan about finding sisters to teach in the school. Bishop Hogan asked his niece, Mercy Sister Mary Bernard Hayes who, with a companion, was visiting from Louisville, to visit the convent and school and consider helping Father Fitzgerald. The sisters agreed, and received permission from the motherhouse to stay, temporarily. Six Sisters of Mercy began teaching at St. Mary's Academy in 1882 and, the following year held graduation exercises down the street at Wilson's Opera House on N. Main Street.
Father Fitzgerald continued to seek permanent teachers. The Louisville Mercy Sisters returned to the motherhouse in June 1884. That summer he heard about a small community of Sisters of Mercy from Worcester Mass., who were living in Carrollton and looking for a place to establish a motherhouse. Three sisters eventually agreed to relocate to Independence. They ran both the parish day school and the boarding school, admitting only girls to the latter. The following year, they started a novitiate and two local girls, Sisters Mary Clara Reber and Mary Joseph Bowen, joined the community. The Sisters of Mercy remained a much loved presence at St. Mary's through the life of the school.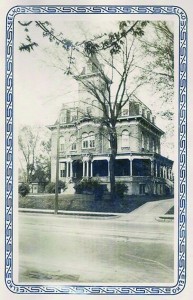 The Rockhouse, in some histories described as a room in the Main Street school building, in others an addition to that building, made it possible for boys to be admitted as boarders again in 1901. The boys were housed in the Main Street school building, under the watchful eye of a Mrs. Livingston, and attended classes in the Rockhouse. The boy's boarding school, St. Jerome's Preparatory School, remained in operation until 1912.
St. Mary's Academy building was enlarged about 1904, with funds raised by the Sisters of Mercy, who were also responsible for the debt. The building served as a combination school and convent until 1953.
In 1912, St. Jerome's closed and the admission of boys discontinued. St. Mary's Academy and day school was operated as an all-girls school for the next 34 years.
In November 1946, the cornerstone for a new, coeducational, high school building was laid. The current building was completed in early 1947 and St. Mary's high school completed its accreditation that spring.
In 1953, the old Academy building became the sisters' convent and a new parish grade school was dedicated. By 1961, the grade school building had become too small for the student population, and an addition was built. In 1975, the grade school was relocated to northern Independence and renamed Holy Family School.
St. Mary's had become a diocesan high school in 1968, and the number of students rapidly increased as enrollment was opened to students outside the parish boundaries. In 1976, the high school acquired the grade school buildings.
St. Mary's received a bequest in 1981 from the estate of Independence Judge Henry A. Bundschu, which was used to fund the construction of a new gym and field house on Main Street, just south of the school. The field house was dedicated in 1987, and the school was known from then on as St. Mary High School/Bundschu Memorial.
Since 1989, the high school has been fully accredited by North Central Association, now a division of AdvancEd, the world's largest academic accrediting agency.
A decade later, the old high school became one of the first schools in the state to be wired for technology during a national "Net (Internet) Day."
In 2010, a study by the consulting firm of O'Meara, Ferguson, Whelan and Conway reemphasized the long-recognized need of a new high school to serve eastern Jackson, western Lafayette and northern Cass counties. They recommended a site accessible to the I-470, M-291 and U.S. 350 highway corridors.
In Jan. 2012, it was announced that the diocese had, by a combination purchase and donation, acquired an 80-acre tract of land in Lee's Summit, on which it plans to build a new Catholic high school, St. Michael the Archangel. If all goes according to plan, the new school will open in 2015, at which time, St. Mary's and Archbishop O'Hara high schools were to consolidate at the new site.
As part of the merger process, O'Hara principal John O'Connor also became principal of St. Mary's, splitting his time between the two schools.
Dr. Dan Peters, diocesan Superintendent of Schools, said that opening a new high school by combining St. Mary's and Archbishop O'Hara into one school on the new site would be a sustainable way to make Catholic education available to a broader area.
After parent information meetings in Dec. 2012 and early January of this year, surveys made it clear, Dr. Peters said, that only seven students had committed to enroll as freshmen in 2013-14, and "the possibility of continuing any viable program at St. Mary's became impossible."
The bishop announced the closing Jan. 23. In an open letter to parents, the bishop wrote, "I know that the closing of a school, particularly one as historic and integral to a community as St. Mary's, is met with much grief and sorrow." He added that the diocese remained committed to honoring the legacy of St. Mary's as the new high school project advanced. Students would be welcomed at Archbishop O'Hara and St. Pius X high schools at the same tuition rate they would have been charged at St. Mary's.
As the school year draws to a close, the sense of reading the last words of the closing paragraph of a well-loved book grows stronger. Four teachers, three of whom had taught at St. Mary's for more than 35 years, announced retirement. A Mass was celebrated May 5 honoring English and history teacher, Brenda Peak (42 years), American Government, geography and Street Law teacher, Glenn Young (41 years), head track and cross country coach Tom Bates (39 years) and Spanish teacher Nilda Bambenek (17 years), followed by a reception.
The Catholic Key got a chance to talk to several students, and teachers Peak and Young, the afternoon of the seniors' final day of classes. Tears mingled with laughter.
Senior Lauren Martin plans to attend Avila University "probably going into nursing." So many students have parents or grandparents who attended St. Mary's, "it's so sad to see it close. It's been a struggle to get through this semester with any energy." She said she knows that while the school itself will be gone, it will remain forever in her memory.
Lauren is the final recipient of the Sister Mary de Paul RSM Spirit Award. Sister Mary de Paul, who died in 1986, taught at St. Mary's High School for 30 years.
Freshman MacKenzie Clark is the third generation of her family to attend St. Mary's. "All my family went here," she said. "It's really hard to know I won't graduate from St. Mary's." MacKenzie will be "starting over" at Archbishop O'Hara High School. "At least the principal will be the same." She said the homework and study skills she learned will help her in classes no matter where she is.
Senior Emily Echlin said "everything that has brought us together as a school, basketball, volleyball, dances, pep rallies, will stand out in memories" during her college days at Rockhurst University and for long after.
Jenna Rau, also a sophomore, is the youngest of four who have all attended St. Mary's. "I've been coming here since I was 4 years old for sports and other events," she said. "Even though I will be at Blue Springs South High School next year, St. Mary's will stay with me all my life. Forever a Trojan!"
St. Mary's 159th and final, Baccalaureate Mass and Commencement will be celebrated May 19 at St. Mark's Church in Independence.
Brenda Peak has taught for 42 years at St. Mary's High School; she is also an alumna of St. Mary's, class of 1967. Other members of her family who attended St. Mary's include her two brothers, five nieces and nephews and a great-niece.
After she graduated from college, Peak received a phone call from a St. Mary's school board member, asking her to come teach at the high school. "And Sister Paula talked me into it! The Sisters of Mercy, like Sister Aquinas, Sister Rose Marie, Sister Paula and Sister Mary de Paul, are really good teachers and people. It seemed like coming home."
Glenn Young began teaching at St. Mary's in 1972. He has been the "go-to" teacher for his students almost from the start.
Both teachers said the Mass and reception honoring them at their retirement was bittersweet. "It's been a rough year," Peak said. "We've all lost energy and spirit."
Young said the faculty staff and especially the kids "have been going through all the stages of grief. The worst part is the kids won't be together."
What memories of St. Mary's stand out? Young said in his opinion, it was a like family living together. "Just like in a family, if there's a problem, there's someone you can go to for help. When you see people helping others, it fosters a service orientation."
Some of the best teachers worked at St. Mary's, Peak said. "We had camaraderie — we taught together, we socialized together, we knew each others' families. Everything we did was for the kids. We liked each other and that came through to the kids."
Young said, "All of us demand that the students show respect to each other, to the teachers, and to other people. If a teacher can help instill the respect factor, it stays with their students al their lives." Grinning, Peak interjected under her breath, "We also know their parents and can rat on 'em!"
There have been many graduation success stories, Peak said. "I love thinking that we helped make them succeed."