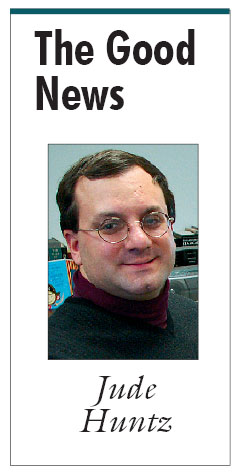 Marriage is the most intimate relationship human beings possess. The bonds of love between a husband and wife grow deeper than any friendship or acquaintance we may have. From this marital relationship comes an equally deep relationship of a parent to her child and a child to his parent. The bonds between a child and a parent grow even stronger at the death of the spouse, as the surviving parent clings to the relationships with the children as these are the next most powerful bonds we have. Today's readings show us the powerful emotions that exist in these various relationships.
The first reading from the book of Kings relates the famous story of Elijah restoring life to the son of the widow of Zarephath. At this time the region of Sidon was Gentile territory and so the prophet is working a miracle for someone who is not an Israelite. Widows, however, were very vulnerable people in ancient times, and this particular woman is facing an even greater hardship than others. Women in ancient societies did not have the status of citizenship. They received legal protection from being attached to a man who had citizenship. So, a young girl would be legally protected by being attached to her father and his household, and once married she then received legal protection from her husband.
At the death of her husband, a woman became a widow and once more found herself in a vulnerable situation, for she was no longer attached to a male citizen who could legally protect her. A widow could receive protection from her son if he welcomed her into his household and had her live with his family. It is in this context that we must understand this story. The widow of Zarephath has first lost her husband, the deepest bond of her life. Now, she has lost her next most intimate bond, her only son. In addition, she would have no legal protections whatsoever. Elijah restores the son to health, thereby protecting this woman from a culture that did not honor women or protect the most vulnerable in their midst.
The Gospel story from Luke is very similar to the story from the book of Kings. Jesus heals the son of a widow in Naim, a small village in Galilee. The dynamics are identical to those we found in the first reading. The woman has lost her most precious relationships to death. Society had not progressed at all regarding the status of women or the protection of the most vulnerable. In performing this work Jesus puts himself within the prophetic tradition of Israel, and we see the continuity and fulfillment of the Jewish tradition at work in the words and deeds of Jesus. For this reason, the crowd who witnessed the miracle were seized with fear, for they would have certainly connected this miracle of Jesus to that of Elijah.
Caring for the most vulnerable of our society is a fundamental requirement of Christian discipleship, one that we share with our Jewish brothers and sisters. We might ask ourselves today who in our society is the most vulnerable and weak – the unborn; children of all ages; immigrants; the sick and elderly; the poor; and many others. How does our society view the most vulnerable? How do we treat the most vulnerable? How is God calling me in my prophetic office of baptism to respond to the needs of the most vulnerable in our society? How might we partner with our Jewish brothers and sisters and people of other faiths to protect the vulnerable members of our society?
Elijah could not perform a good deed without the help of God he received in prayer. The Lord Jesus performed mighty works by being united to God the Father through prayer in his humanity. As we seek to respond to the call of caring for the needy and vulnerable in our society, we come together to be nourished by the Lord Jesus in the Eucharist and to be inspired by His example in the Word of God. We pray together: "Let us pray to the Father who calls us to freedom in Jesus his Son. Father in heaven, words cannot measure the boundaries of love for those born to new life in Christ Jesus. Raise us beyond the limits this world imposes, so that we may be free to love as Christ teaches and find our joy in your glory. We ask this through Christ our Lord. Amen."
Jude Huntz is Chancellor of the Diocese of Kansas City – St. Joseph.
Daily Scripture Readings
For complete daily Scripture texts, click here. http://www.usccb.org
Monday, June 10
2 Corinthians 1:1-7
Psalms 34:2-3, 4-5, 6-7, 8-9
Matthew 5:1-12
Tuesday, June 11
Acts 11:21b-26; 12:1-3
Psalms 98:1, 2-3ab, 3cd-4, 5-6
Matthew 5:13-16
Wednesday, June 12
2 Corinthians 3:4-11
Psalms 99:5, 6, 7, 8, 9
Matthew 5:17-19
Thursday, June 13
2 Corinthians 3:15—4:1, 3-6
Psalms 85:9ab and 10, 11-12, 13-14
Matthew 5:20-26
Friday, June 14
2 Corinthians 4:7-15
Psalms 116:10-11, 15-16, 17-18
Matthew 5:27-32
Saturday, June 15
2 Corinthians 5:14-21
Psalm 103:1-2, 3-4, 9-10, 11-12
Matthew 5:33-37
Sunday, June 16
Eleventh Sunday in Ordinary Time
Samuel 12: 7-10,13
Psalm 32:1-2, 5, 7, 11
Galatians 2:16, 19-21
Luke 7:36—8:3 or
Luke 7:36-50
Monday, June 17
2 Corinthians 6:1-10
Psalms 98:1, 26, 3ab, 3cd-4
Matthew 5:38-42
Tuesday, June 18
2 Corinthians 8:1-9
Psalms 146: 2, 5-6ab, 6c-7, 8-9a
Matthew 5:43-48
Wednesday, June 19
2 Corinthians 9:6-11
Psalms 112: 1bc-2, 3-4, 9
Matthew 6: 1-6, 16-18
Thursday, June 20
2 Corinthians 1:1-11
Psalms 111: 16-2, 3-4, 7-8
Matthew 6: 7-15
Friday, June 21
2 Corinthians 11:18, 21-30
Psalms 34: 2-3, 4-5, 6-7
Matthew 6: 19-23
Saturday, June 22
2 Corinthians 12:1-10
Psalms 34: 8-9, 10-11, 12-13
Matthew 6: 24-34
The full text of the Scripture readings for this week and next week can be found here: http://www.usccb.org/
Click on the "Daily Readings" tab on the right hand side of the page.