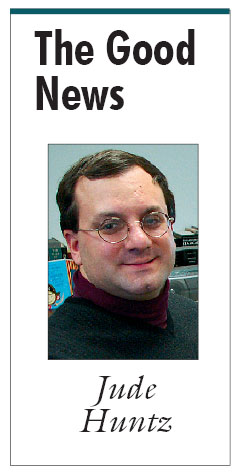 Winston Churchill famously said, "Democracy is the worst form of government, except for all the others." While we might champion the democratic system of government merely because it is our own, we might take pause to see whether or not it is a particularly rational form of governance. Who, for example, thinks it particularly rational to determine the legitimacy of something like abortion merely by popular vote? Although it is true that there is a difference between what is legal and what is morally right, the distinction becomes irrelevant when a heinous practice like slavery or abortion are made legal through democratic processes.
In today's Gospel Jesus conducts a public opinion poll of a sort. He asks the disciples what the crowd is saying about him. Who do people say Jesus is? The answers from his pollsters are interesting: some say John the Baptist, others Elijah, still others one of the prophets. Now that the results are in, should we then hold it up for a vote to determine the identity of Jesus? Is this the correct way to determine his identity? No. Instead, Jesus asks his disciples, "Who do you say that I am?" Jesus will not allow us to hide behind a public opinion survey. There are no secret ballots in deciding who Jesus is. We must answer the question directly.
And so Peter answers the question – "You are the Christ of God." The answer is correct: Jesus is the anointed Messiah sent by God to deliver His people from the rule of sin. And yet Jesus rebukes Peter and tells them not to tell anyone. Why? The reason is found in what follows. The first disciples of Jesus are in a unique position. They are the first to come in contact with the long awaited Messiah, and there are many expectations and misconceptions about who and what the Messiah is. Jesus tells them plainly that the Messiah must suffer and die at the hands of the leaders of Israel, and that on the third day he would be raised.
If you were to take a public opinion poll on the identity of the Messiah at the time of Jesus, you would not find anyone giving you that understanding of the Messiah's destiny. Instead, you would have various theories of the Messiah as a political ruler who will quash the occupying forces and restore the nation of Israel to the greatness it had at the time of David. Despite such overwhelming poll numbers in its favor, this view turns out to be dead wrong. Public polling is no way to determine the truth of a thing.
The Messiah came to suffer violence, not to inflict it. Violence represents the world of broken relationships after the fall from grace in Eden. Violence is the description of the city of man who determines what is right based on raw power and domination, not on truth and goodness in itself. The kingdom of God is the civilization of love brought to us by the death of the Prince of Peace. Jesus teaches us the true identity of the Messiah and His true purpose. By extension, we thus come to know what authentic discipleship is. In order to be a disciple of the Lord Jesus, we must take up our cross. We must live and die for others. We must defeat violence with the suffering of that violence, not with the use of violence.
If you were to conduct a modern day public opinion poll among Christians on the identity of Jesus, you would probably get a great many correct answers that mirror Peter's. However, if you were to ask an additional question in that poll on what constitutes genuine discipleship for the follower of Jesus, the answers would probably vary widely. Many will take a decidedly political definition either to the right or the left. Others will talk about being nice and loving in general terms, but with little reference to the cross. At the end of the day we need to answer these two questions about Jesus: who do you say that Jesus is? What does it mean to be a disciple of the Lord Jesus?
As we reflect on our own responses to these questions, we have the community of the Church with whom to discern, worship, and journey toward the reign of God. As we gather together, we pray: "Let us pray to God whose fatherly love keeps us safe. God of the universe, we worship you as Lord. God, ever close to us, we rejoice to call you Father. From this world's uncertainty we look to your covenant. Keep us one in your peace, secure in your love. We ask this through Christ our Lord. Amen."
Jude Huntz is Chancellor of the Diocese of Kansas City – St. Joseph.
Daily Scripture Readings
For complete daily Scripture texts, click here. http://www.usccb.org
Monday, June 24
Isaiah 49:1-6
Psalms 139:1b-3, 13-14ab, 14c-15
Acts 13:22-26
Luke 1:57-66, 80
Tuesday, June 25
Genesis 13:2, 5-18
Psalms 15:2-3a, 3bc-4ab, 5
Matthew 7:6, 12-14
Wednesday, June 26
Genesis 15:1-12, 17-18
Psalms 105:1-2, 3-4, 6-7, 8-9
Matthew 7:15-20
Thursday, June 27
Genesis 16:1-12, 15-16
Psalms 106:1b-2, 3-4a, 4b-5
Matthew 7:21-29
Friday, June 28
Genesis 17:1, 9-10, 15-22
Psalms 128:1-2, 3, 4-5
Matthew 8:1-4
Solemnity of Saints Peter and Paul, Saturday, June 29
Acts 12:1-11
Psalm 34:2-3, 4-5, 6-7, 8-9
2 Timothy 4:6-8, 17-18
Matthew 16:13-19
Eleventh Sunday in Ordinary Time, Sunday, June 30
1 Kings 19:16b, 19-21
Psalm 16:1-2, 5, 7-8, 9-10, 11
Galatians 5:1, 13-18
Luke 9:51-62
Monday, July 1
Genesis 18:16-33
Psalms 103:1b-2, 3-4, 8-9, 10-11
Matthew 8:18-22
Tuesday, July 2
Genesis 19:15-29
Psalms 26:2-3, 9-10, 11-12
Matthew 8:23-27
Wednesday, July 3
Ephesians 2:19-22
Psalms 117:1bc, 2
John 20:24-29
Thursday, July 4
Genesis 22:1b-19
Psalms 115:1-2, 3-4, 5-6, 8-9
Matthew 9:1-8
Friday, July 5
Genesis 23:1-4, 19; 24:1-8, 62-67
Psalms 106:1b-2, 3-4a, 4b-5
Matthew 9:9-13
Saturday, July 6
Genesis 27:1-5, 15-29
Psalms 135:1b-2, 3-4, 5-6
Matthew 9:14-17
The full text of the Scripture readings for this week and next week can be found here: http://www.usccb.org/
Click on the "Daily Readings" tab on the right hand side of the page.