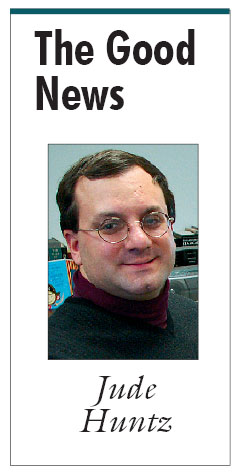 The disciples of Jesus in today's Gospel present Jesus with a strange request: teach us to pray. Presumably all of these men are devout Jews who have been raised in a tradition of both communal and private prayer. They have spent their entire lives praying – at synagogue, at table together, and in their own recitation of the Shema and other traditional prayers. So, why are they asking Jesus to teach them how to pray?
No doubt the disciples knew how to pray in all of these various ways. Their tradition of prayer is rich and nourishing. In fact, today's first reading is a wonderful example of prayer within the Jewish tradition. Abraham is persistent in his prayer of mercy to God for the sake of the people of Sodom and Gomorrah. God continually replies to the prayer for mercy from Abraham. This prayer of mercy is found throughout the Hebrew Scriptures. God continually extends mercy to His people when the prayer of mercy is made.
Paul, too, has learned these prayers of the tradition well. In his letter to the Colossians he repeats the theme of prayer for mercy, reminding his audience that ultimately this prayer of mercy is our fundamental human desire behind every prayer. We recognize our sinful condition; we stand before God at all times needing His mercy and love. Paul reminds us that such a prayer is always heard by God, and the answer to such a prayer is found in the person and ministry of Jesus.
What, then, motivated the disciples to ask how they ought to pray? Perhaps it was the intense prayer life Jesus Himself had, spending entire nights in prayer with God. Perhaps it was the intimacy with which Jesus spoke about God as Abba. Perhaps it was the fact that every external action of Jesus flowed from His interior life of prayer with God. All of these traits are found in the prayer Jesus teaches them. But the words can become a mere formula if they are not animated by a conscious awareness of what the words mean and convey.
The disciples yearned not for a new prayer formula to recite, but rather the consciousness of Jesus in the intimate relationship He had with God. We, too, yearn for such a personal intimacy, our own encounter with the living God. The liturgy is a familiar place of encounter with God, one that we treasure because we have had our intimate experiences with God in the public prayer of the Church. And yet the words of the liturgy are not our words in an individual sense. They are our words as members of the Church, and for this reason they have great value.
But we want to take those words and make them our own, or to reflect on these words that inspire our own words in personal prayer with God. We long to say words of great meaning and authenticity to God in our own prayer lives. At the end of the day no one can pray in our stead. We can pray for others, but prayer is an obligation for us all. This obligation, however, is not something externally imposed on us from without. Rather, it is the internal obligation we recognize as part of being in a relationship with God. Just as we have the internal motivations and obligations to help one another out of friendship that we see in Jesus teaching on prayer, so we have this same motivation and obligation to prayer that we recognize within ourselves.
And so it is natural for us to ask Jesus to teach us how to pray, for it is an activity that must become our own at some point in our relationship with God. We can find great examples of prayer in scripture and in the saints. We can find volumes of wonderful compositions of prayer others have written. We can find inspiring retreat centers where we can learn more about prayer. All of these things are good, but they are not prayer. Prayer is the conscious awareness of God's presence and our conversation with God in that moment of conscious awareness.
As we continue to develop our lives of prayer communally and individually, we ask God to teach us again and again how to pray. "Let us pray for the faith to recognize God's presence in our world. God our Father, open our eyes to see your hand at work in the splendor of creation, in the beauty of human life. Touched by your hand our world is holy. Help us to cherish the gifts that surround us, to share your blessings with our brothers and sisters, and to experience the joy of life in your presence. We ask this through Christ our Lord. Amen."
Jude Huntz is Chancellor of the Diocese of Kansas City – St. Joseph.
Daily Scripture Readings
For complete daily Scripture texts, click here. http://www.usccb.org
Monday, July 29
Exodus 32:15-24, 30-34
Psalms 106:19-20, 21-22, 23
John 11:19-27 or Luke10:38-42
Tuesday, July 30
Exodus 33:7-11; 34:5b-9, 28
Psalms 103:6-7, 8-9, 10-11, 12-13
Matthew 13:36-43
Wednesday, July 31
Exodus 34:29-35
Psalms 99:5, 6, 7, 9
Matthew 13:44-46
Thursday, August 1
Exodus 40:16-21, 34-38
Psalms 84:3, 4, 5-6a & 8a, 11
Matthew 13:47-53
Friday, August 2
Leviticus 23:1, 4-11, 15-16, 27, 34b-37
Psalms 81:3-4, 5-6, 10-11ab
Matthew 13:54-58
Saturday, August 3
Leviticus 25:1, 8-17
Psalm 67:2-3, 5, 7-8
Matthew 14:1-12
Eighteenth Sunday in Ordinary Time, August 4
Ecclesiastes 1:2; 2:21-23
Psalms 90:3-4, 5-6, 12-13, 14, 17
Colossians 3:1-5, 9-11
Luke 12:13-21
Monday, August 5
Numbers 11:4b-15
Psalms 81:12-13, 14-15, 16-17
Matthew 14:13-21
Feast of the Transfiguration of the Lord, Tuesday, August 6
Daniel 7:9-10, 13-14
Psalms 97:1-2, 5-6, 9
2 Peter 1:16-19
Luke 9:28b-36
Wednesday, August 7
Numbers 13:1-2, 25–14:1, 26a-29a, 34-35
Psalms 106:6-7ab, 13-14, 21-22, 23
Matthew 15: 21-28
Thursday, August 8
Numbers 20:1-13
Psalms 95:1-2, 6-7, 8-9
Matthew 16:13-23
Friday, August 9
Deuteronomy 4:32-40
Psalms 77:12-13, 14-15, 16 & 21
Matthew 16:24-28
Saturday, August 10
2 Corinthians 9:6-10
Psalms 112:1-2, 5-6, 7-8, 9
John 12:24-26
The full text of the Scripture readings for this week and next week can be found here: http://www.usccb.org/
Click on the "Daily Readings" tab on the right hand side of the page.