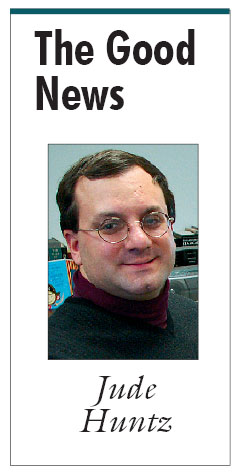 In every moment of every day of our life we live and deal in the world of faith and trust. I trust that my food has not been poisoned. I rely on others to make sure the systems in my house and car are working properly. Since I know nothing of the medical arts I must put my faith in the physician who prescribes for me a medicine I may need to overcome some malady. At no point in our lives can we ever say that we are ruled solely by knowledge and reason. The radical skeptic cannot but accept the maxim that guides the life of every believer: we walk by faith and not by sight. The readings for this weekend highlight this reality very clearly.
In the book of Wisdom we find a reflection on the Passover experience of the Jewish people. Imagine the faith it required of the people in that event: For generations the people of Israel were in bondage at the hands of the Egyptians, the great world power of the age. From a human point of view they had no expectation that they would ever be freed from this condition. Now in the appointed time the extraordinary events of the plagues come about, the protection from the angel of death through the Passover meal, and the release from captivity required a great deal of communal faith in the power of God. To walk from what is known, no matter how wretched, toward that which is promised, no matter how wonderful, requires a leap of faith beyond that which is part of our ordinary human experience.
Paul recounts the other great example of faith in the Jewish tradition in the second reading: Abraham's trust in God's promise that becomes the archetype of individual faith. God calls Abraham in his old age to move from the land of Ur to the promised land of Canaan. Abraham obeys. God then promises to Abraham that he would be the father of a great nation, even though his wife Sarai was barren and had no children. Abraham believed the promise. Sarai then gives birth to the promised child, only to one day see Abraham bring Isaac up Mount Moriah to sacrifice his son according to God's command. In all these moments faith guided Abraham through promises that seemed utterly impossible to imagine from a human point of view.
Finally, the Gospel provides us with the ultimate example and test of faith in the person of Jesus. The disciples are told to live simply as they carry out the mission and ministry of Jesus. They are to live as Jesus lived as they minister as He ministered. Jesus then gives us an analogy of a servant who is expected to care for His estate while He is away. In this teaching Jesus reverses the entire trajectory of faith that we saw in the first two examples. In the Passover and in the person of Abraham faith led people to move toward the promise of God. However, in the faith of Jesus we are not to move toward the promise but to await the return of Jesus while faithfully carrying out the mission entrusted to us. God comes to us; God initiates the relationship with us. Now that God is fully present to us in the person of Jesus we need not move toward the promise, for the promise has come to us. Faith, then, is a present reality that anticipates a future life with God that surpasses all we can ever imagine.
It has often been asked why people today do not have the faith of times past when people believed that God could do extraordinary things as in the Passover and the life of Abraham. However, the most remarkable event in salvation history has been accomplished in the saving words and deeds of Jesus. While God certainly can perform such extraordinary events as found in the life of Abraham or the events of the Passover, such things are no longer necessary, for the events of the old covenant had as their purpose the foreshadowing of the great event of the Lord Jesus. We need not seek extraordinary apparitions or images of Mary on breakfast bread products, for we have all we need in the presence of Jesus in every moment of our lives.
The trust we have in ordinary human events of life is important for living together in harmony. The faith of the Lord Jesus that we must have in every moment of life is even more essential to our existence. As we seek to grow more each day in this faith, we pray for God's help: "Let us pray that through us others may find the way to life in Christ. Father, we come, reborn in the Spirit, to celebrate our sonship in the Lord Jesus Christ. Touch our hearts, help them grow toward the life you have promised. Touch our lives, make them signs of your love for all men. Grant this through Christ our Lord. Amen.
Jude Huntz is Chancellor of the Diocese of Kansas City – St. Joseph.

Daily Scripture Readings
For complete daily Scripture texts, click here. http://www.usccb.org
Monday, August 12
Deuteronomy 10:12-22
Psalms 147:12-13, 14-15, 19-20
Matthew 17:22-27
Tuesday, August 13
Deuteronomy 31:1-8
Deuteronomy 32:3-4ab, 7, 8, 9 and 12
Matthew 18:1-5, 10, 12-14
Wednesday, August 14
Deuteronomy 34:1-12
Psalms 66:1-3a, 5 and 8, 16-17
Matthew 18:15-20
Solemnity of the Assumption of the Blessed Virgin Mary,
Thursday, August 15
Revelation 11:19a; 12:1-6a, 10ab
Psalms 45:10, 11, 12, 16
1 Corinthians 15:20-27
Luke 1:39-56
Friday, August 16
Joshua 24:1-13
Psalms 136:1-3, 16-18, 21-22 and 24
Matthew 19:3-12
Saturday, August 17
Joshua 24:14-29
Psalm 16:1-2a and 5, 7-8, 11
Matthew 19:13-15
Twentieth Sunday in Ordinary Time, August 18
Jeremiah 38:4-6, 8-10
Psalms 40:2, 3, 4, 18
Hebrews 12:1-4
Luke 12:49-53
Monday, August 19
Judges 2:11-19
Psalms 106:34-35, 36-37, 39-40, 43ab and 44
Matthew 19:16-22
Tuesday, August 20
Judges 6:11-24a
Psalms 85:9, 11-12, 13-14
Matthew 19:23-30
Wednesday, August 21
Judges 9:6-15
Psalms 21:2-3, 4-5, 6-7
Matthew 20:1-16
Thursday, August 22
Judges 11:29-39a
Psalms 40:5, 7-8a, 8b-9, 10
Matthew 22:1-14
Friday, August 23
Ruth 1:1, 3-6, 14b-16, 22
Psalms 146:5-6ab, 6c-7, 8-9a, 9bc-10
Matthew 22:34-40
Saturday, August 24
Revelation 21:9b-14
Psalms 145:10-11, 12-13, 17-18
John 1:45-51
The full text of the Scripture readings for this week and next week can be found here: http://www.usccb.org/
Click on the "Daily Readings" tab on the right hand side of the page.