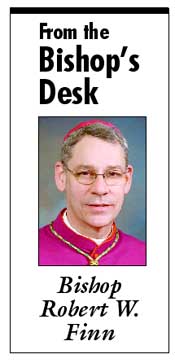 I hope the summer months provide some time for you to relax, to take a vacation perhaps, or just enjoy the longer days. In my own case, it seems there are a few less meetings, and a more leisurely pace. I was blessed to be able to take my Annual Summer Course in July: a time together with other bishops and priests, for prayer, study, and R & R – rest and relaxation.
Here are a few thoughts on three things: The Year of Faith under Pope Francis; the Vision for our new high school as we prepare for a new school year; and the passing of a dear priest and bishop, Bishop George Fitzsimons.
Year of Faith and Pope Francis
I watched bits and pieces of the festivities of World Youth Day in Brazil. Pope Francis met there with nearly three million people, mostly youth. It was his first apostolic trip outside of Italy, and he seemed to carry out his duties with enthusiasm, good cheer, and great energy. WYD came this year just a few weeks or so after Pope Francis published his first encyclical, entitled Lumen Fidei, the Light of Faith. By his own admission Francis drew upon the draft that Pope Emeritus Benedict XVI had been preparing. I read through the encyclical on my annual course, and was particularly struck by the second chapter where the Pope ties together the virtue of faith with truth and charity.
Faith must always rest on truth. Faith is, in fact, a way for us to know and grasp the truth: the great truth which God reveals. God reveals the truth about Himself through His Incarnate Word, Jesus, through the Sacred Scriptures, and in the beauty of Creation. Faith is an affirmation of the truth. An act of authentic faith is a decision and a direction for our lives that we will not give in to lesser things — those elements of this world which are not capable of sustaining the human heart. Indeed so many of the material things, distractions, and passing pleasures of this world are not worthy of the dignity of man. They give us satisfaction for a time, but they soon pass. They cannot give us what is lasting. Obedience to the truth — the truth about ourselves and God, about the dignity and value of man: these are the truths to which we make the commitment of faith.
And how does charity fit in? Our faith about the meaning of life, about the value of the human person, and our trusting belief in God's call, must lead us to charity – to reach out in service and love to others. Our faith must be living and active.
This latter message about "Faith going OUT," is a significant part of Pope Francis' message to the young people in Brazil (and to all of us!). He reminded them — and he gave a living example — that we must get out into the streets; we must reach those who need the message and love of Jesus Christ. Of course, before we go out, we must spend time often on our knees, in prayer — getting in touch with, and drawing our strength from God.
St. Michael the Archangel High School
This week I will celebrate Holy Mass with all of our teachers. It is hard to believe that the beginning of school is again so close. Our schools are successful because of the commitment of so many: our school staffs and volunteers, the parents and families of our students, the pastors and parishioners who contribute so much.
Our Capital Campaign, "Forward in Faith," is about our diocese' strong commitment to Catholic education. A significant piece of the effort underway is a dynamic and daring effort to build a new high school, which will be named after St. Michael the Archangel. This school is very necessary. Our Diocese has been blessed with many High Schools through the years: Bishop Hogan, Bishop Lillis, Cardinal Glennon, De LaSalle in Kansas City and Christian Brothers and Sacred Heart in St. Joseph, St. John's Seminary, to name some of them. These and others have preceded us. The need for Catholic Formation remains as strong as ever. We need everyone's generous help to build a new school which will serve many thousands of high school youth for generations to come. I renew my assurance that all of your gifts for this project and for the other important efforts within Forward in Faith, will go solely for the purpose for which they are given. We have worked hard to secure this promise and you can count on this.
We undertake this initiative within the Year of Faith, and a major project like this is, indeed, a work of faith. We have received so much from those who have preceded us. I ask you to continue to respond to the Campaign with extraordinary faith and heroic generosity!
Rest in Peace, Most Reverend George Fitzsimons
Sunday Night, July 28, I received a communication from Bishop Weisenburger of the Diocese of Salina that the Bishop Emeritus, Bishop George Fitzsimons, had died. When Bishop Fitzsimons did not arrive at a scheduled celebration, friends went to his home in Ogden, Kansas, and found that he had died.
Elsewhere in today's Catholic Key, you will read about some of the milestones of his life. His roots of course were here in Kansas City. He was ordained a priest of Kansas City-St. Joseph in 1961, after working in business and serving in the Navy. He became Auxiliary Bishop of Kansas City-St. Joseph in 1975, and later went to Salina Diocese, where, beginning in 1984, he served as Ordinary for 20 years before retiring.
One of the great anecdotes about Bishop Fitzsimons captures a bit of his humor and good will – gifts for which we will always remember him. When he was Auxiliary Bishop, he was also pastor of Christ the King Parish in Kansas City. The story goes that he answered the phone there with a simple "hello." "Is this Christ the King?," the caller asked. "No," came the answer, "This is Bishop George."
Bishop Fitzsimons remained very faithful to KCSJ, even while, after his retirement, he continued to serve in parish ministry in Salina Diocese. I would see him often at gatherings here: funerals, jubilee celebrations, and get-togethers with priests. He was a holy priest and a devoted Bishop. Rest in Peace, Bishop George.