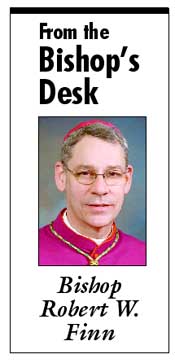 Following is an English translation of Bishop Robert W. Finn's homily given at a special Year of Faith Mass for Spanish-speaking Catholics at St. Sabina Parish in Belton on August 18:
Dear friends,
We come together today for this special Year of Faith Mass. I have been celebrating Holy Mass for the Year of Faith across the diocese, and I am thankful to be here with you today.
Pope Benedict began the Year of Faith, and now Pope Francis is continuing to guide us in our reflection on Faith which is the foundation of our lives as Catholics. Pope Benedict reminded us that we can not take for granted that the culture in which we live supports our Catholic faith. It is more important than ever that we think very carefully about our faith – otherwise it can be weakened by materialism, or by relativism which seeks to make up a new set of truths contrary to the Gospel.
We know that many Hispanic people have been led astray by non-Catholic denominations which deny the Holy Eucharist and separate us from our tradition and devotions to Our Blessed Mother, our patron saints, our connection to the Holy Father and so many of our moral teachings. We must work hard to learn our faith, to live it faithfully, and to pass it on to our children.
Pope Francis, in his recent trip to Brazil for World Youth Day, was met by millions of Catholics, including many young people from all over the world. It was clear that he is a powerful source of unity for our faith. Holy Father Francis went out into the streets to meet the poor – and in this way he gives us an example of the power of our faith in charity toward others. No other Church does so much to care for the poor, to educate our young people, to teach the truth.
When Pope Francis met with the young people he told them that they also must go out. In an extraordinary way he shared this message that we should be ready to get involved – even if it means that people are uncomfortable at times.
Pope Francis said, "Let me tell you what I hope will be the outcome of World Youth Day: I hope there will be "lio." [a mess] … I want there to be this "lio" [mess] in your dioceses, I want the noise to go out, I want the Church to go out onto the streets, I want us to resist everything worldly, everything static, everything comfortable, everything to do with clericalism, everything that might make us closed in on ourselves. The parishes, the schools, the institutions are made for going out …"
When I heard these words, I asked some Spanish speakers "What does it mean, this word, lio?" I found out that in English we say, "To make a mess." Holy Father says, "Quiero lío en las diócesis…" [I want there to be a mess in the dioceses.] Now, a few moments later he apologizes, "May the bishops and priests forgive me if some of you create a bit of confusion afterwards." But the Pope is clear: he wants us to get involved.
The Pope does not want us to make a "mess" just to make mess. Rather, we must be ready to shake things up, to change the world, for the sake of the Gospel. To do this we have to remain close to Jesus Christ. In today's second reading, we hear, "Let us keep our eyes fixed on Jesus, the leader and perfector of our faith." We have to pray a lot. We have to be serious about changing our life, too.
So I say, as the Pope says, Be close to Jesus Christ. Be faithful to the truth. Do not be afraid to go out and make a difference – even if it is a mess.
In the first reading, the prophet Jeremiah suffered much for speaking the truth from God. We also may have to suffer. Jesus says in today's Gospel, "Do you think that I have come to establish peace on the earth?, … I have come to set the earth on fire."
When we live our faith we must speak the truth that flows from the Gospel. What does it mean today?
It means, for example, If the government tells us that we are obliged to pay for contraception, sterilization, and abortion, we must say, No. Our conscience will not allow this, even if this creates a mess.
Shall we deny the beauty of authentic marriage between one man and one woman? No. And even if this causes us to suffer, we must say no.
We must not elect leaders who will not protect human life from abortion. This is clear.
And all Americans should study the Word of God, which says so clearly, "Do not oppress the foreigner and the alien." So many times in the Old Testament, God's word came to His people, "Do not oppress the foreigner. Befriend them, because remember you yourselves were once foreigners, when I gave you this land."
To some in our country this is a hard message, but we must never be silent. Faith requires us to work hard for this even if it means suffering. Always with prayer; always in peace; always close to Jesus Christ and with respect – but always we must have a faith that is alive.
In this beautiful Year of Faith, we ask God to strengthen our Catholic faith. We need his supernatural grace to persevere. We do not wish only "to do good things," but "to do good things, with Christ, for the sake of Jesus Christ, out of a motive of love for Jesus Christ. Jesus, Increase our faith. Jesus, make us apostles to bring the Faith to the world.
Finally, Pope Francis said to the young people, If you are looking for your friend, what do you do? You go to the house of his mother because she will know where he is. So let us got to Mary. Mother Mary, help us to find Jesus. Mary, teach us to love Jesus. Show us how to believe in Him and live for Him.
Dear friends: In a moment we will renew our Baptismal promises and at the end of Mass I will give a special blessing for the Year of Faith. It is for you and your families and loved ones. I thank you for coming today. Amen.