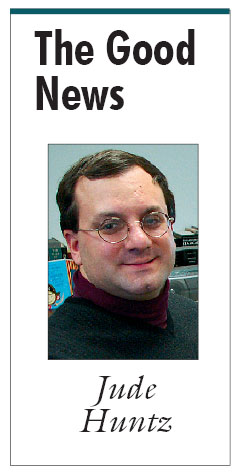 From the very earliest times of the Church, the problem of Gnosticism has always plagued the Christian community. Though it has many forms, Gnostic teachings essentially seek to limit the number of those to be saved into an elite group privileged to have a special knowledge or enlightenment from God. Only those so initiated into these esoteric insights are admitted into the company of the saved. Gnosticism and other forms of elitism is always a temptation for those in any spiritual tradition. Throughout her history, the Church has always tried to insist on the fundamental message of salvation history that finds its fullest expression in the Lord Jesus: God invites all to a relationship with Him.
In today's Gospel the disciples ask the wrong question of Jesus: "Lord will only a few be saved?" As is typical when they ask the wrong question, Jesus does not answer it. Instead, he takes the opportunity to teach the disciples what is truly important. Rather than concerning ourselves with the math problem, Jesus instead orients us toward an examination of our own lives with regard to salvation. Are we living in imitation of the Lord Jesus? Are we in right relationship with God and other people? The author of the Letter to the Hebrews also employs this tactic. All of us are called to holiness – to an intimate relationship with God and others, thus fulfilling the prophecy of Isaiah found in the first reading. God is for all, not just for an exclusive race or group of people.
What motivated the disciples to ask this question of Jesus? Is the question in any way relevant for them or for us? Various factions of Jews were prone to an exclusivist mentality. The Pharisees, for example, saw themselves as those to be saved since they were diligently following the minute detail of every external law. At the same time, the Essenes removed themselves completely from larger Jewish society by creating exclusivist communities in the eastern desert of Judea. For them, the wider Jewish community was thoroughly corrupt and could not be saved by God. Only these desert communities would be saved by the Teacher of Righteousness when he came to redeem Israel. The disciples may have seen this community of Jesus in such Pharisaic or Essene terms.
Jesus, however, continually rejects the temptation to close off his community of disciples. While maintaining the ideals of right relationships with God and others, Jesus extends the invitation to the kingdom of God to all. Gentiles become great examples of faith, and the message of Jesus extends to all peoples. The question is, then, not how many will be saved, but rather will I be saved? By a daily examination of our lives we can focus properly on the right question while at the same time avoiding the wrong questions. And since we are only qualified to examine our own lives and not that of others, we can thus avoid the temptation to judge others in relation to ourselves.
At the beginning of Pope Emeritus Benedict XVI's pontificate, he made a comment about the Church becoming smaller in our times. Many took this sentence out of context and began a campaign of driving out people from the Church who did not fit their particular criteria of membership. The pope in no way intended his words to be used in such a way, as the larger context of his remarks indicates. However, the temptation to exclusivism is ever present, and it exists in both traditional and progressive circles.
The entire sweep of salvation history in the biblical texts, however, is that of an expansive invitation to the kingdom of God. Our fundamental mission, then, is to extend that invitation to a relationship with God and others to everyone. We accomplish this mission most effectively by living authentic Christian lives that imitate the example of Jesus the Lord.
All of us fall short of the ideal to which the Lord Jesus calls us. We are ever in need of renewal as we seek to be more effective followers of Jesus. As we come together to once again find nourishment and inspiration on our journey to the reign of God, we pray: "Let us pray with minds fixed on eternal truth. Lord our God, all truth is from you, and you alone bring oneness of heart. Give your people the joy of hearing your word in every sound and of longing for your presence more than for life itself. May all the attractions of a changing world serve only to bring us the peace of your kingdom which the world does not give. Grant this through Christ our Lord. Amen."
Jude Huntz is Chancellor of the Diocese of Kansas City – St. Joseph.
Daily Scripture Readings
For complete daily Scripture texts, click here. http://www.usccb.org
Monday, August 26
1 Thessalonians 1:1-5, 8b-10
Psalms 149:1b-2, 3-4, 5-6a & 9b
Matthew 23:13-22
Tuesday, August 27
1 Thessalonians 2:1-8
Psalms 139:1-3, 4-6
Matthew 23:23-26
Wednesday, August 28
1 Thessalonians 2:9-13
Psalms 139:7-8, 9-10, 11-12ab
Matthew 23:27-32
Thursday, August 29
1 Thessalonians 3:7-13
Psalms 90:3-5a, 12-13, 14 & 17
Mark 6:17-29
Friday, August 30
1 Thessalonians 4:1-8
Psalms 97:1 and 2b, 5-6, 10, 11-12
Matthew 25:1-13
Saturday, August 31
1 Thessalonians 4:9-11
Psalm 98:1, 7-8, 9
Matthew 25:14-30
Twenty-second Sunday in Ordinary Time, September 1
Sirach 3:17-18, 20, 28-29
Psalms 68:4-5, 6-7, 10-11
Hebrews 12:18-19, 22-24a
Luke 14:1, 7-14
Monday, September 2
1 Thessalonians 4:13-18
Psalms 96:1 and 3, 4-5, 11-12, 13
Luke 4:16-30
Tuesday, September 3
1 Thessalonians 5:1-6, 9-11
Psalms 27:1, 4, 13-14
Luke 4:31-37
Wednesday, September 4
Colossians 1:1-8
Psalms 52:10, 11
Luke 4:38-44
Thursday, September 5
Colossians 1:9-14
Psalms 98:2-3ab, 3cd-4, 5-6
Luke 5:1-11
Friday, September 6
Colossians 1:15-20
Psalms 100:1b-2, 3, 4, 5
Luke 5:33-39
Saturday, September 7
Colossians 1:21-23
Psalms 54:3-4, 6 and 8
Luke 6:1-5
The full text of the Scripture readings for this week and next week can be found here: http://www.usccb.org/
Click on the "Daily Readings" tab on the right hand side of the page.