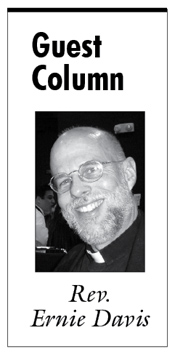 Local Catholics, Anglicans and Episcopalians will soon discuss the possibility of forming a new parish in the Ordinariate of the Chair of St. Peter.
When Pope Benedict XVI announced the formation of an Ordinariate for former Anglicans in the Catholic Church, some people accused him of parking Panzer tanks on the lawn of the Anglican Archbishop of Canterbury's Lambeth Palace. When the Archbishop and the Pope met in Rome soon afterwards, more seemed to agree that the Pope's action was exactly what he said it was – a pastoral response to groups of Anglicans who were asking for a corporate way to be received into the Catholic Church now.
Since 2009 three Ordinariates – similar to dioceses – have been established in England, Australia, and the United States. Dozens of former Anglican and Episcopalian clergy – many of whom are married – have been ordained as Catholic priests. Former Episcopalian and Anglican parishes from coast to coast are now fully integrated into the Catholic Church, with the blessing of their former Episcopalian and Anglican bishops. Not far from us, St. Barnabas Episcopal Church in Omaha became St. Barnabas Catholic Church just a few weeks ago. In addition, two religious orders, formerly Anglican, are now Catholic. Recently Pope Francis encouraged the new Ordinariates to take part in the New Evangelization, and to welcome not just former Anglicans and Episcopalians, but even Catholics who need to respond to the gospel and be confirmed.
Now Archbishop Joseph Naumann of the Archdiocese of Kansas City in Kansas, and Bishop Robert Finn of the Diocese of Kansas City-St. Joseph in Missouri, are encouraging discussions that could lead to forming a local parish in the Ordinariate of the Chair of St. Peter. A core group of former Anglicans and Episcopalians entered the Catholic Church at St. Therese Little Flower Parish in Kansas City five years ago. Since then others have joined them. Now they invite everyone who may be interested in the possibility of forming a new Catholic parish that also celebrates some Anglican traditions.
Discussions will be held after each 4:00 pm "Anglican Use" Catholic Mass on Saturdays in September, at St. Therese Little Flower Catholic Church, corner of 58th Street and Euclid Avenue, Kansas City MO 64130.  For more information call Fr. Ernie Davis, 816-444-5406.
Father Ernie Davis is Administrator of St. Therese Little Flower and St. James parishes in Kansas City.