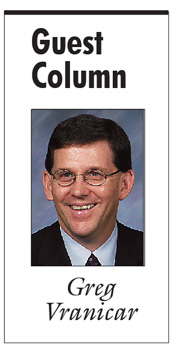 Unfortunately too many surviving family members express thoughts after the death of a loved one like, "I wish s/he had done some planning. We don't know who is supposed to get what, whether s/he even thought about charitable gifts. Would my loved one have wanted to made donations to our parish, favorite ministry, or the Diocese?" Scripture and the Church teach us to be good stewards of our gifts from God, as we "prepare the way."
What are the Essential Documents?
• Will or trust that disposes of property and appoints a person to be in charge of the process (a personal representative or trustee) and someone to serve as guardian and conservator of minor children. Beneficiary designations for IRAs and bank accounts might be an alternative.
• Durable power of attorney for financial matters that appoints an agent to act when you are temporarily disabled and cannot act for yourself.
• Living will or health care directive with a health care power of attorney to advise family and physicians of your wishes for health care should you lack capacity.
To obtain these documents, you are advised to retain skilled legal and/or financial counsel. The Office of Stewardship and Development maintains a list of estate and financial planning experts to help complete the planning process. For more information, contact Greg Vranicar at 816-714-2363.
Critical Information to Share As You Prepare to Plan
To obtain these documents, what information does one need to share? If contacting a lawyer, s/he will probably provide a worksheet that will cover all of the following matters:
1. Your property and how it is titled. You should be prepared to share the identity and approximate value of all your property. Be ready to disclose whether you have assets titled jointly or with designations of "payable or transferable on death" (POD or TOD) to other parties. This information will enable your adviser to determine what property will be subject to probate. It is possible that alternative methods of ownership would allow you to avoid the "probate hassle" altogether. Effective titling can substantially reduce the property passing through probate and thereby save administration expenses.
2. The identity of all family members, including children, siblings and parents. Also think of charitable organizations that you might want to favor when you no longer annually support them, including your parish, Catholic schools, Catholic Charities, the Diocese, and other ministries.
3. Persons capable and willing to serve to carry out whatever plans that you make. In most cases, a husband or wife appoints the other to serve as primary personal representative or trustee, guardian of minor children, and agent under financial and health care powers of attorney. Always consider whether other family members, including adult children or siblings, might serve these roles.
Who should "do the work?"
In all cases, surviving family members should rely on the assistance of legal counsel after the death of a loved one to guide them through administering an estate or trust. One should also consider whether a corporate personal representative or trustee, like a bank or a trust company, might be advantageous. One's legal adviser will have sound recommendations in this regard.
If one has minor children, care by a personal guardian should always be discussed beforehand with the designated person(s) to make sure that the designee(s) are open and willing to accept this important role. Ultimately the Probate Court will make the appointment, but the Court will usually defer to the wishes as expressed in planning documents. A specific designation usually avoids costly and difficult family disputes that might arise.
Finally, one should consider the person who would be suited to undertake important decisions in the event of incapacitation. These duties require different talents and mindsets. For the financial power of attorney, a person with sound financial understanding and experience is preferred. For health decisions, a person who is well informed of your moral and religious preferences is best, a person with whom you have discussed your specific desires in the case of incapacity.
Will or Trust?
While considering these matters, people often wonder whether to have a will or a trust. Ask your legal adviser who is best informed of the entire financial and family circumstances. Your adviser will know the advantages of each vehicle and associated costs, with regard to preparing and administrating them.
Durable Power of Attorney for Financial Matters
The financial durable power of attorney (DPOA) avoids the uninviting prospect of court supervised guardian and conservator proceedings with the Probate Court. Usually clients choose to appoint the surviving spouse primary "attorney in fact" often without requiring disability as a condition to exercise the power. It is critical to appoint at least one and preferably two successor alternate agents in the event that the surviving spouse cannot or will not serve. The DPOA spells out the extent of the activities that can be undertaken by the agent. Typically powers are broad—to pay bills, manage the business, maintain, buy and sell property—really any financial affairs that the person for whom the power is made might do him/herself.
Living Wills, Health Care Directives and Powers of Attorney
By the terms of these documents, one states the quality of life that s/he desires if s/he is unable to express these preferences due to disability or disease. While the person is mentally capable to decide, the directive and power have no effect. However, upon certification by the attending physician of the need, then the Living Will or Health Care Directive offers guidance and appoints a person to make decisions in accordance with its terms, in consultation with health care professionals.
In Missouri and most other states, the legislature has defined the methods by which to appoint health care decision makers. Failure to appoint properly an agent can result in a Court stepping in, sometimes with damaging results for family members. One can do the appointment without an attorney, but the better course is to add this to the checklist when doing planning.
Because these life-death decisions often involve moral and religious values, persons should consult the teachings of the Church. The four Bishops of Missouri recently promulgated, through the Missouri Catholic Conference (MCC), a very helpful guide in this regard, A Catholic Guide to End-of-Life Decisions for Individuals and Families (2012). You may obtain a copy through the Diocese's Respect Life Office, Bill Francis, Director, 816-714-2367.
Conclusion
Some of you may be considering estate planning for the first time. You may be overwhelmed by the task and just do nothing. This is a perilous course. The financial cost of planning is very manageable and the peace of mind that one achieves is worth it. One person describes this as the "S-W-A-N" effect—"Sleep Well at Night."
For those that have planned in the past, it is important to "dust off and review the documents" at least every four years. One should ensure that past directions are still current and that the persons that you have designated to help may currently perform their duties. One may also now be able to consider charitable institutions that one could not have financially favored before, due to a favorable turn in asset accumulation (through an inheritance, for instance) or diminished child-raising responsibilities.
In all cases, failing to plan fails to steward the gifts that God has given us. The good steward manages and cares after her/his gifts and ultimately gives something back. Without planning, the law that governs those matters provides only "cookie cutter" solutions. You and your family deserve much better than that!
For more information, contact your attorney or financial planner.
Greg Vranicar is Planned Giving Director for the Diocese of Kansas City-St. Joseph. He can be reached at Vranicar@diocesekcsj.org or 816-714-2363.