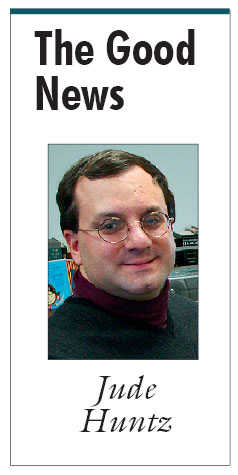 If someone were to ask you, "What is the treasure of the Church?" there might be a variety of answers given: the property and fine art; the sacraments and our teaching; our history and patrimony in so many different lands. All of these answers, fine as they are, only capture a portion of the Church's wealth. When brought before the emperor of Rome and asked to provide the Church's wealth, St. Lawrence brought the poor of Rome, declaring, "This is the Church's treasure!" Today's readings point to the truth of St. Lawrence's answer.
In the Gospel text Jesus teaches us to have regard for the wealth that is ours. He gives the example of a steward who is commissioned to oversee the wealth of his master's household. The steward fails in the task, as he is unable to collect the debts owed the master. So instead, the steward lessens the amount owed by the clients, thereby enabling the steward to collect something rather than nothing. But Jesus tells us that if we cannot be entrusted with what belongs to others, how can we be trusted with what belongs to us? We are left to wonder what belongs to us as our responsibility and obligation.
The first reading from the prophet Amos provides the answer. The prophet has harsh words for the people of Israel in their mistreatment of the poor. This message is the constant theme of the entire prophetic tradition: God judges Israel for her lack of care and for her mistreatment of the poor. Care for the poor, then, is our responsibility and obligation given to us by God. God's judgment upon us will be based on whether or not we have cared for the poor in our midst. Jesus reinforces this teaching of the prophets in the two places where He describes the judgment of God. First, in Matthew 25, the sheep and goats are judged solely on whether they have or have not provided for the needs of the least ones. Second, Jesus places the wealthy official in the fires of Sheol for his failure to provide for the needs of poor Lazarus.
Some may point to the commandment of loving God above all things as our primary obligation, and certainly this statement is true. However, what type of love does God ask for Himself? God has no need of our praise and worship, nor does he need lavish cathedrals and monuments. "It is mercy I desire and not sacrifice" is the command God gives to Israel through the prophets. Care for the poor is the measure by which we are all judged by God. We can only love God, then, by loving others here on earth. In fact, the worship of the Church given to God in her liturgy is designed to lead us to a spirit of gratitude (Eucharist=thanksgiving) so that we might be reminded of all that God has done for us in salvation history so that we might imitate Him in providing for others here on earth.
So, when we offer prayers and supplication to God for worldly leaders, as Paul teaches in the second reading, our prayer for them is that they might heed the warnings of the prophets and not harm the poor. It is a prayer that our leaders might follow the command of the Lord Jesus in caring for the poor in our midst, and to imitate His example by selfless living for the sake of others. For too long we have followed a theology of self-interest whereby we perform spiritual practices so that we might store up merit for ourselves in the quest to save our souls. The way to salvation is not paved with concern for our own welfare, but rather in selfless living for the sake of others.
St. Lawrence followed the message of the Lord Jesus and demonstrated to the rulers of this world where the true wealth of the Church lies. Countless other saints in history have shown us this truth. In our own times Blessed Mother Teresa of Calcutta and Dorothy Day have modeled for us the path we must follow. Is this not the message and example Pope Francis wishes to impart to us in his pontificate?
As we strive to follow the path of Jesus in caring for the poor, we come together as a worshipping community to seek the help of God in our fundamental Christian vocation. "Let us pray to the Lord who is a God of love to all peoples. Father in heaven, the perfection of justice is found in your love and all mankind is in need of your law. Help us to find this love in each other that justice may be attained through obedience to your law. We ask this through Christ our Lord. Amen."
Jude Huntz is Chancellor of the Diocese of Kansas City – St. Joseph.
Daily Scripture Readings
For complete daily Scripture texts, click here. http://www.usccb.org
Monday, September 23
Ezra 1:1-6
Psalms 126:1b-2ab, 2cd-3, 4-5, 6
Luke 8:16-18
Tuesday, September 24
Ezra 6:7-8, 12b, 14-20
Psalms 122:1-2, 3-4ab, 4cd-5
Luke 8:19-21
Wednesday, September 25
Ezra 9:5-9
Tobit 13:2, 3-4a, 4befghn, 7-8
Luke 9:1-6
Thursday, September 26
Haggai 1:1-8
Psalms 149:1b-2, 3-4, 5-6a and 9b
Luke 9:7-9
Friday, September 27
Haggai 2:1-9
Psalms 43:1, 2, 3, 4
Luke 9:18-22
Saturday, September 28
Zechariah 2:5-9, 14-15a
Jeremiah 31:10, 11-12ab, 13
Luke 9:43B-45
Twenty-sixth Sunday in
Ordinary Time, September 29
Amos 6:1a, 4-7
Psalms 146:7, 8-9, 9-10
1 Timothy 6:11-16
Luke 16:19-31
Monday, September 30
Zechariah 8:1-8
Psalms 102:16-18, 19-21, 29 and 22-23
Luke 9:46-50
Tuesday, October 1
Zechariah 8:20-23
Psalms 87:1b-3, 4-5, 6-7
Luke 9:51-56
Wednesday, October 2
Nehemiah 2:1-8
Psalms 137:1-2, 3, 4-5, 6
Matthew 18:1-5, 10
Thursday, October 3
Nehemiah 8:1-4a, 5-6, 7b-12
Psalms 19:8, 9, 10, 11
Luke 10:1-12
Friday, October 4
Baruch 1:15-22
Psalms 79:1b-2, 3-5, 8, 9
Luke 10:13-16
Saturday, October 5
Baruch 4:5-12, 27-29
Psalms 69:33-35, 36-37
Luke 10:17-24
The full text of the Scripture readings for this week and next week can be found here: http://www.usccb.org/
Click on the "Daily Readings" tab on the right hand side of the page.