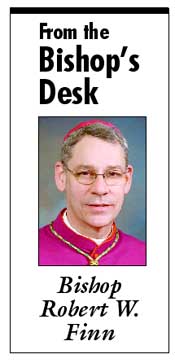 Following is Bishop Robert W. Finn's homily from the closing Mass for the Missouri Catholic Conference Annual Assembly in Jefferson City, September 28.
Dear friends, I am happy to be with you today as we have concluded another Annual Assembly hosted here in the State Capitol with our Missouri Catholic Conference. Mike Hoey, Tyler McClay, and the staff of MCC, the members of our Public Policy Committee, have carried out what is always a significant organizational work. We have heard an inspiring message from Bishop Pates, and from our other presenters. We have come to know one another better, and now we come to pray and to offer the Holy Sacrifice of our Redemption. On behalf of the bishops of Missouri I thank you all for your efforts in being here and, even more, for the constant work you undertake in our dioceses. Our work is nothing more or less than re-building the Church together with our Holy Father Francis. We do so in the context of a Year of Faith: faith in the core beliefs that have been entrusted to us; faith in the person of Jesus Christ; faith that sends us out into the world as participants in the apostolic mission.
Just yesterday, on September 27, the Church celebrated the feast day of St. Vincent DePaul, priest and founder of the Congregation of the Mission, the Vincentians, along with St. Louise De Marillac, founder of the Daughters of Charity.
As I read today's readings in preparation and anticipation of today's gathering, I was mindful of the connection of this Gospel passage with the work of St. Vincent DePaul. In the Gospel about poor Lazarus and the rich man, Dives, we are called to this connection to the poor, truly synonymous with the name St. Vincent DePaul. In Europe, especially, the Vincentians are sometimes called the "Lazarists." I think this is because the founder, Fr. Vincent lived at the Priory of St. Lazarus in France. However many years ago, when I was taught in seminary by the Vincentians, one of them told me that they were called the Lazarists because of this Gospel story and their identification with the poor Lazarus. Whatever the case, if we read the life and writings of St. Vincent we see the close connection he had with the poor, the widow and orphan. What a profound grace that a person or group would be so associated with the Gospel that they would come to be known by the virtue they live?
I wonder, as we gather for the Annual Assembly, whether we could be thought of, or "nicknamed" by the works of charity and justice we carry out for love of Jesus Christ. Are our efforts so real and meaningful that others, seeing us, would come to identify us for our apostolic love? Could we be called Lazarists? Might we be called "immigranti," because of our determination to assist the stranger in our midst? Because of our zeal to protect victims: victims of sexual abuse, victims of euthanasia or abortion, might we ever come to be known as "The Holy Innocents?" The Acts of the Apostles tells us that it was at Antioch that the disciples were first called "Christians." Dear friends, is this Antioch? In what we do today, would people recognize us as Christians? As Catholics?
Pope Francis, it seems, has already inspired many in the world to see in him an apostle of the poor, who shows us and calls us to live more simply.
Like many of you I recently read with interest the lengthy interview of Holy Father Francis by his Jesuit confreres. I am still learning about our new Pope – and I confess to you that there a few things I haven't yet figured out about him. He just doesn't "pope" in the same way as his predecessors. Let's agree he has his own style.
Much of the interview I followed well enough. Quite a bit of it was focused on what it means for him to be a Jesuit. At one point I got a little lost in the Pope's reflection and I had to read and reread. I put a question mark in the margin and came back to it.
Here's the text that stopped me: (In the America magazine text it is on page 30.)
"We must not focus on occupying the spaces where power is exercised," the Pope said, "but rather, on starting long-run historical processes. We must initiate processes rather than occupy spaces."
What is to be made of this distinction the Pope makes between spaces and processes? Understand, I am not the official spokesman or interpreter of the Pope, but as I read this in the light of today's Gospel of Dives and Lazarus, I sensed that Dives, the rich man, was so focused on the space he occupied – and the space Lazarus occupied – that he could not possibly enter into the process or work of charity. Separate spaces made it difficult to connect, to reach out to others. You and I – as did Dives – can easily turn a blind eye to the needs of those who are asking for scraps.
Jesus Christ was in the "space," the "position" of God, and He wished, in love, to break into the position of man. God so loved the world that He gave His Son. (cf. Jn 3:16) God leaves His heaven. He leaves His position. He makes the connection with man, and by making the connection Jesus changes the meaning and trajectory of our human condition forever.
We are here in Jefferson City today because we are not satisfied with remaining in our spaces. We come here to listen and learn, to make connections and begin processes rather than stay in our more comfortable spaces. The processes can take a long time. Patience is required. Perseverance and fortitude are treasured virtues. We need authentic Christian Hope. Positions are much less important than connections with others.
Gaudium et Spes, Vatican II's Pastoral Constitution on the Church in the Modern World, (no. 22) teaches, "For by His incarnation the Son of God has united Himself in some fashion with every man." He chose to join Himself to us. Our examination of conscience might be, "Am I ready to move beyond my position? Am I ready to reach out, to connect and even to unite myself in some way with each other person?"
If we do this; when we do this, will it be so real that others who might observe our process, will say, "These are Christians?" These are Lazarists. These are fellow strangers with immigrants. These are holy innocents. These are Catholics. And when we persevere, with God's grace, those with whom we connect will say, "Yes, now I see that you are my brother. You are my sister in Jesus Christ."
Friends, it is demanding. It is a work that takes a long time. We do it for Jesus Christ, and we dare not even try to do it without Him.
True enough, at times Jesus may seem distant, or we may feel on our own. At the end of one of his talks at World Youth Day in Brazil, Pope Francis had a question for the young people and some advice. He said, "If you are looking for a friend of yours and you don't know where he is, who do you go to? You go to his Mother, because she can always find him. If you are looking for Jesus and you can't find Him, go to His Mother. Go to Mary." She is a model for us. Precisely because of her closeness to Jesus, Mary shared His suffering. Mother, Mary, stay close to me. Lead us all on a path to Jesus. Amen.