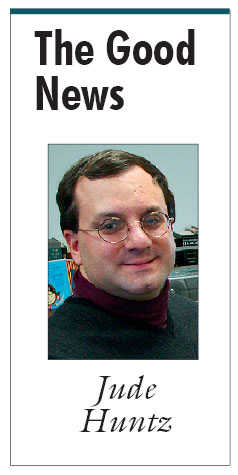 Most people regard our relationship with God as akin to our relationship with a vending machine. With a vending machine, we put money in the slot, select our preferred snack or beverage, and we have what we want and what we perceive we need at that moment. Analogously, many people think of our relationship with God as putting in our prayer to God, making our selection, and then getting what we want and what we perceive we need at that moment or sometime thereafter. When we do not get what we want, we get angry at God or we create some apologetic answer about God's time God saying no. The readings today suggest that we abandon such apologetics and seek a deeper understanding of our relationship with God.
The prophet Habakkuk is frustrated at God's inaction with respect to his prayer. The prophet sees violence all about, and he implores God to come at once to solve the myriad of problems that beset Israel and Judah. Habakkuk has inserted his prayer, but God has not reacted in the way the prophet thought. Instead, God provides the prophet a vision of what will come in terms of deliverance, but God provides no timetable for the fulfillment of this vision. God promises that it will come, and that the just one will live because of his faith in God. This vision, of course, is Messianic in nature and will not be fulfilled in Habakkuk's time or in any time soon thereafter. However, the fulfillment is not important for the prophet. God has promised life for those who are faithful and just in every generation. The prophet will see Israel and Judah besieged and the people taken into exile, but those who remain faithful and just in these circumstances will live.
This message of fidelity and justice is the theme of the second letter to Timothy. The Messianic promise has come in the person of Jesus, and yet the people of God continue to face hardships. Why? The promise of the prophets did not consist of the absence of hardships, but rather the ability to endure them with faith while persevering in justice. Jesus the Lord has given us an example of how to live in the midst of hardship and persecution: we are not to resort to violence or any other human tactic. Instead, we must suffer as Jesus suffered, for in His death and resurrection He has given us "power and love and self-control." Is this not what was promised in the prophetic age? Yet, we continue to complain about hardships and suffering. How little is our faith.
The disciples in the Gospel passage today realize their lack of faith, and so they ask Jesus to increase their faith. They have inserted their prayer, and now they await the attainment of their selection. However, Jesus responds to them in the same enigmatic way He always responds in such situations, and it remains for us to discern what Jesus intended. He responds that if they had faith it could move mountains, but since they lack such faith what are they to do? Jesus then tells us the parable of the servant who serves both in the fields and in the house, not seeking any reward for the servant is merely doing what he ought.
The image of servant is not one we readily take to in modern times, and yet it is the only apt image for the life of faith. We expect the life of faith to be one of ease, warm feelings, and joyful experiences. The prosperity gospel has taught us to expect such – and riches on earth besides! And yet Jesus tells us that if we want our faith to increase we must decrease in our own estimation of ourselves. Jesus the Lord left His heaven to become a human being. He was born of humble human origins in an obscure part of the world. He bent down to wash our feet – something not even a servant would do for his master. In the end, Jesus died a humiliating death for our redemption. The Lord Jesus Himself became even less than a slave for us, and yet we expect to live like kings and use God as a vending machine!
Pope Francis recently stated, "The ministers of the Gospel must be people who can warm the hearts of the people, who walk through the dark night with them, who know how to dialogue and to descend themselves into their people's night, into the darkness, but without getting lost." Jesus calls us to humble service, not haughty triumphalism and pugilistic apologetic. Jesus has given us an example to follow in the path of humble service, for in this service we will find the answer to all of our requests for an increase in faith.
As we gather together to find strength and inspiration in the journey of faith, we pray: "Let us pray before the face of God, in trusting faith. Almighty and eternal God, Father of the world to come, your goodness is beyond what our spirit can touch, and your strength is more than the mind can bear. Lead us to seek beyond our reach and give us the courage to stand before your truth. We ask this through Christ our Lord. Amen."
Jude Huntz is Chancellor of the Diocese of Kansas City – St. Joseph.
Daily Scripture Readings
For complete daily Scripture texts, click here. http://www.usccb.org
Monday, October 7
Jonah 1:1–2:1-2, 11
Jonah 2:3, 4, 5, 8
Luke 10:25-37
Tuesday, October 8
Jonah 3:1-10
Psalms 130:1b-2, 3-4ab, 7-8
Luke 10:38-42
Wednesday, October 9
Jonah 4:1-11
Psalms 86:3-4, 5-6, 9-10
Luke 11:1-4
Thursday, October 10
Malachi 3:13-20b
Psalms 1:1-2, 3, 4 and 6
Luke 11:5-13
Friday, October 11
Joel 1:13-15; 2:1-2
Psalms 9:2-3, 6 and 16, 8-9
Luke 11:15-26
Saturday, October 12
Joel 4:12-21
Psalms 97:1-2, 5-6, 11-12
Luke 11:27-28
Twenty-eighth Sunday in
Ordinary Time, October 13
2 Kings 5:14-17
Psalms 98:1, 2-3, 3-4
2 Timothy 2:8-13
Luke 17:11-19
Monday, October 14
Romans 1:1-7
Psalms 98:1bcde, 2-3ab, 3cd-4
Luke 11:29-32
Tuesday, October 15
Romans 1:16-25
Psalms 19:2-3, 4-5
Luke 11:37-41
Wednesday, October 16
Romans 2:1-11
Psalms 62:2-3, 6-7, 9
Luke 11:42-46
Thursday, October 17
Romans 3:21-30
Psalms 130:1b-2, 3-4, 5-6ab
Luke 11:47-54
Friday, October 18
2 Timothy 4:10-17b
Psalms 145:10-11, 12-13, 17-18
Luke 10:1-9
Saturday, October 19
Romans 4:13, 16-18
Psalms 105:6-7, 8-9, 42-43
Luke 12:8-12
Twenty-ninth Sunday in
Ordinary Time, October 20
Exodus 17:8-13
Psalms 121:1-2, 3-4, 5-6, 7-8
2 Timothy 3:14-4:2
Luke 18:1-8
The full text of the Scripture readings for this week and next week can be found here: http://www.usccb.org/
Click on the "Daily Readings" tab on the right hand side of the page.