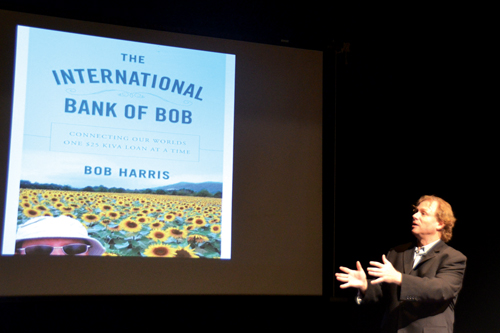 By Marty Denzer
Catholic Key Reporter
KANSAS CITY — Bob Harris, author of the International Bank of Bob, the story of how he turned a brush with incredible luxury into an adventure investing in the poor of the world, was the 2013 Truman Lecture Series speaker at Avila University Sept. 5. He recounted for an audience of students and faculty, bankers, and other interested people how he was hired by ForbesTraveler.com to review some of the most opulently luxurious hotels in the world. Taking a walk around the Dubai neighborhood near the hotel where he was staying, Harris chanced to talk with construction workers at another hotel site, and discovered that the opulence was built by impoverished people working at back-breaking jobs.
He decided to turn his good fortune into helping make the lives of people like those he met in Dubai better. Starting with $20,000, part of what he made traveling around the world for the online magazine, he researched micro lending, which led him to Kiva.org. Kiva.org is the leading website through which ordinary people make microloans all over the world, financing businesses for $25 – $50. Harris began lending to people in Cambodia, Dubai, Vietnam, the Philippines, Mongolia, Cameroon, Uganda, Rwanda, for people wanting to start up a small business to better themselves and their corner of the world. He was stunned to later discover that the repay rate was 99 percent. So he started again, relending small amounts to people of many nations on the continents of Africa, Asia, Eastern Europe and South America. His candid, humor-laced talk was interspersed with photographs of the people, their small businesses and their smiles.
Before Harris began, a panel discussed micro finance lending and how it benefits both lender and borrower. The panelists included Bob Regnier, chairman, president and CEO of the Bank of Blue Valley; Bob Hatch, chairman and co-founder, with his brother John, of the microfinance organization, the Foundation for International Community Assistance, FINCA International, and Joanne Field, founder of Kansas City Women Go Global, which raises funds and awareness to support FINCA International.
Avila freshmen began their foray into the international micro finance lending at the beginning of the summer, some months before school started. Dr. Page Illum, Coordinator of Retention and First Year experience, assigned her Freshman Seminar class "The International Bank of Bob" to read over the summer and write an essay about the book and what they learned. After attending the Truman Lecture, seminar students would begin researching online micro lending organizations, including Kiva. Funds would be generated through the sale of T-shirts, and on Sept. 30, the class was to decide which country or countries they would lend to. For the next month or so they will monitor what the borrowers do with the funds — start up a small business, buy a cow or other livestock, buy a taxi, or add to an existing small business or farm. Each student will then write a project report which will be read by his or her peers, and voted on. Dr. Illum plans to have the reports published in a book about the project.
Freshmen Eric Smith and Victoria Surdyke were both enthusiastic about micro finance lending. Victoria, who hails from Festus, Mo., liked Harris' presentation. "It was about taking the time to really help someone, give them a hand up not a handout." She is interested in mission work, believing it "a Christian, loving way to look at your neighbor, without judging and being willing to help. I think micro loans help and empower the poor in developing countries, help them grow not only financially but spiritually also."
Eric, from Springfield, sees micro lending as a way to give people "the spirituality" to think for themselves.
"When the money is paid back, the borrowers feel good," he said. "They want to succeed, for their families and for those who invest in them."
He asked, "Doesn't one sense of the word Catholic mean universal? Well, Avila is willing to become universal. We are reaching out to people we've never met before, both financially and spiritually. We're not just branching out, we are expanding our worlds."
The "International Bank of Bob" is available at local bookstores. To learn more about online micro finance lending, visit www.Kiva.org or www.FINCA.org, or www.kcwomengoglobal.org.