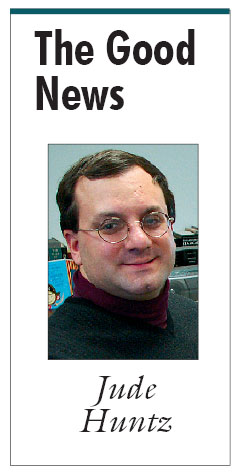 In seventh grade I began at a new school where I did not know anyone. That first week the gym teacher picked me as one of the captains for kickball. Not knowing anyone, I chose people who had been kind to me that week. As it turned out, none of them were athletes. Despite this disadvantage, our team played very well and we almost won, losing only by one run. Everyone was surprised at this outcome, and I have reflected often on this incident from my youth. I believe that my non-athletic friends played well because they were chosen. Their usual experience had been that they were chosen last after all the better players were selected for teams. Hence, they really were not wanted on the teams previously; they were there because they had to be chosen. But in this one instance they were chosen first because they were wanted and valued, and they rose to the occasion. Today's readings ask us to reflect on being chosen by God.
Moses was the great leader of the Israelite people, called by God to lead this insignificant group of people out of slavery and to freedom in a land all their own. In the account from the first reading, we find God's chosen ones beset by a powerful enemy. The Israelites had no human reason for thinking success would be theirs, and yet they proved victorious that day. God had chosen them, and in this moment they were reminded of this fact. By constantly being aware of our election by God we can overcome any adversary in our spiritual lives. This account, as the early church fathers remind us, is not about war and conquering armies, but rather about our battles in the realm of the spirit. The reality of God's election for us provides us the inspiration we need to succeed in the spiritual life.
The Gospel text for today provides us a second example of divine election. Widows were powerless and vulnerable people in biblical times. So, when Jesus tells the story of a widow pleading for justice in a legal dispute, we must recall that the widow had no expectation of success in her case. In fact, the judge does not even rule in her favor based on any notion of justice or mercy, but solely because he wanted the woman to stop bothering him. The point of the story is that Jesus sides with the widow, just as God had done many times in the Hebrew Scriptures. She becomes for us an example in perseverance in prayer, for she knew that while human law and judgment may be against her, God favors the poor and powerless and chooses them as His own. Her confidence was in God alone, and so it must be for us.
Pope Francis reminds us that as followers of the Lord Jesus we must not seek to occupy spaces of power, but instead seek to be present in processes. Divine election is about a process of ongoing growth in knowledge and love. It is not about possessing power so that we might lord it over others and dominate them. The task of evangelization is about the processes of relationships with others in mutual respect and dialogue, not in occupying space in pugilistic apologetic. The model of relationship sees divine election as an ongoing process that never ends, thereby honoring the fundamental mystery that is God. Apologetic, without the balancing effect of relationship, tends to see divine election as completion – that our own position is secured and we must do nothing but set up defensive walls of conflict with others who are not thus chosen by God.
The stories of failure by the Israelites in their relationship with God and the constant failures of the disciples during Jesus' public ministry represent the importance of process and relationship. God continually stays in relationship with His people; Jesus continues the relationship with His disciples. The failures of God's people in each instance occur when they see election as completion rather than ongoing relationship, for such an attitude leads to idolatry and injustice by those who hold it.
As we strive to remain in right relationship with God and one another, the examples of salvation history can help us understand the meaning of God's choice in our lives. We pray together for the ability to remain conscious of God's election for each person: "Let us pray to the Lord who bends close to hear our prayer. Lord our God, Father of all, you guard us under the shadow of your wings and search into the depths of our hearts. Remove the blindness that cannot know you and relieve the fear that would hide us from your sight. We ask this through Christ our Lord. Amen."
Jude Huntz is Chancellor of the Diocese of Kansas City – St. Joseph.
Daily Scripture Readings
For complete daily Scripture texts, click here. http://www.usccb.org
Monday, October 21
Romans 4:20-25
Luke 1:69-70, 71-72, 73-75
Luke 12:13-21
Tuesday, October 22
Romans 5:12, 15b, 17-19, 20b-21
Psalms 40:7-8a, 8b-9, 10, 17
Luke 12:35-38
Wednesday, October 23
Romans 6:12-18
Psalms 124:1b-3, 4-6, 7-8
Luke 12:39-48
Thursday, October 24
Romans 6:19-23
Psalms 1:1-2, 3, 4 and 6
Luke 12:49-53
Friday, October 25
Romans 7:18-25a
Psalms 119:66, 68, 76, 77, 93, 94
Luke 12:54-59
Saturday, October 26
Romans 8:1-11
Psalms 24:1b-2, 3-4ab, 5-6
Luke 13:1-9
Thirtieth Sunday in Ordinary Time, October 27
Sirach 35:12-14, 16-18
Psalms 34:2-3, 17-18, 19, 23
Timothy 4:6-8, 16-18
Luke 18:9-14
Monday, October 28
Ephesians 2:19-22
Psalms 19:2-3, 4-5
Luke 6:12-16
Tuesday, October 29
Romans 8:18-25
Psalms 126:1b-2ab, 2cd-3, 4-5, 6
Luke 13:18-21
Wednesday, October 30
Romans 8:26-30
Psalms 13:4-5, 6
Luke 13:22-30
Thursday, October 31
Romans 8:31b-39
Psalms 109:21-22, 26-27, 30-31
Luke 13:31-35
Solemnity of All Saints
Friday, November 1
Revelation 7:2-4, 9-14
Psalms 24:1bc-2, 3-4ab, 5-6
1 John 3:1-3
Matthew 5:1-12A
All Souls Day
Saturday, November 2
Wisdom 3:1-9
Psalms 23:1-3a, 3b-4, 5, 6
Romans 5:5-11
John 6:37-40 or Romans 6:3-9
The full text of the Scripture readings for this week and next week can be found here: http://www.usccb.org/
Click on the "Daily Readings" tab on the right hand side of the page.