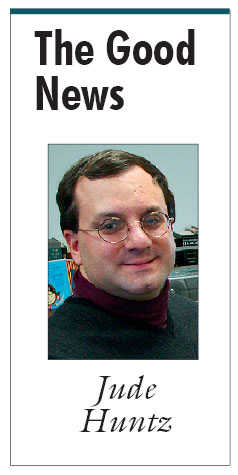 Teaching ethics to children is a great challenge. Invariably we begin by setting up rules for them to follow, and this works well until the parent breaks the rule and the child notices. When we attempt to explain exceptions to the rules, children do not understand and the rules fall away as an ineffective ethical system. We adults face that same dilemma as well. The rule "Thou shalt not kill" is a good one, until we start allowing for more and more exceptions to the rule that the rule has little value for establishing an ethical system. Seeking the standard of Christian living is the challenge we face in this week's readings.
The prophet Malachi speaks of the justice due to evildoers, and he likely refers to doing evil in the sense of breaking God's law, the fundamental life of the people of Israel. The entire prophetic tradition sees the infidelity of Israel as a violation of God's law. While laws and doctrine are important, these do not form the foundation for our life of faith. The Mosaic Law lacked the ability to save us, and it is clear from the Gospels that Jesus is not establishing a code morality for us to follow. In fact, the attitudes of purity of heart, meekness, and the other qualities of the Beatitudes replace the code morality of the Mosaic Law.
Other people seek the security of beautiful places of worship and exquisite liturgical practice as a foundation for Christian inspiration of living. Some within Jesus' company seem to fall into this category, as the Gospel text today speaks of some who were talking of the adornments of the Temple and the votive offerings of the Temple. The Temple was the central symbol of faith for Israel, and upon its destruction an entirely new understanding of Jewish life was necessary for Judaism to survive. The same is true for the Christian. Public worship and beautiful buildings for that worship are important factors, and yet we see that Jesus asks us to look elsewhere for grounding our Christian life.
Paul provides us with the fundamental obligation for the follower of Jesus – be imitators of the Lord Jesus. Imitation is an action worthy of children of God, as children imitate their parents and others they admire in order to be like them. For imitation to be effective in the Christian life, it cannot be reduced to merely external actions and practice. Imitation must find its way to the virtue in the person of the Lord Jesus. The Law can admit of interpretation and legalism, while worship and buildings can be reduced to formalism unless they are all grounded in the imitation of the Lord Jesus in our own lives.
Pope Francis continually reminds us that the most fundamental doctrine of Christianity is that Jesus Christ has saved us from sin. This belief establishes for us the fundamental mission of the Church as participating in the redemptive mission of Christ. This truth also grounds our public worship of God as a reliving of our proclamation of faith – Jesus Christ has saved us. All of our other teachings, public liturgical acts of worship, and all of our other works must be consciously connected to the fundamental truth that Jesus Christ has saved us from sin. No set of rules can make us be like Christ. No beautiful church building or ornate liturgical celebration can make us be like Christ. They can do so if they lead us to imitate the Lord Jesus and to appropriate within ourselves the perfection of Christ in our own lives.
The challenge in imitating Christ is that such imitation has two components, one that is shared and one that is personal. On the one hand we are all called to a life of holiness that consists in avoiding that which is positively evil while also doing that which is positively good. Hence, we all must not kill, steal, and the like as well as perform acts of love toward our neighbor. On the other hand, we must discern how we live out the life of perfection and holiness in our individual lives. We all have different situations of life that demand a personal discernment from us. Not all of us are called to the priesthood and religious life, and yet even those who are must discern how best to answer that calling from God, just as we who are called to married life or the life of the single person must discern how we are to answer that call in our own lives.
We come together in public liturgical worship in order to support one another in our universal call of imitating Christ, and to discern how God is calling me to live this imitation in my own life during the coming week. We pray together: "Father in heaven, our living source of all that is good, from the beginning of time you promised man salvation through the future coming of your Son, our Lord Jesus Christ. Help us to drink of his truth and expand our hearts with the joy of his promises, so that we may serve you in faith and in love , and know forever the joy of your promise. We ask this through Christ our Lord. Amen."
Jude Huntz is Chancellor of the Diocese of Kansas City – St. Joseph.
Daily Scripture Readings
For complete daily Scripture texts, click here. http://www.usccb.org
Monday, November 18
1 Maccabees 1:10-15, 41-43, 54-57, 62-63
Psalms 119:53, 61, 134, 150, 155, 158
Luke 18:35-43
Tuesday, November 19
2 Maccabees 6:18-31
Psalms 3:2-3, 4-5, 6-7
Luke 19:1-10
Wednesday, November 20
2 Maccabees 7:1, 20-31
Psalms 17:1bcd, 5-6, 8b and 15
Luke 19:11-28
Thursday, November 21
1 Maccabees 2:15-29
Psalms 50:1b-2, 5-6, 14-15
Luke 19:41-44
Friday, November 22
1 Maccabees 4:36-37, 52-59
1 Chronicles 29:10bcd, 11abc, 11d-12a, 12bcd
Luke 19:45-48
Saturday, November 23
1 Maccabees 6:1-13
Psalms 9:2-3, 4 and 6, 16 and 19
Luke 20:27-40
Feast of Christ the King, November 24
2 Samuel 5:1-3
Psalms 122:1-2, 3-4, 4-5
Colossians 1:12-20
Luke 23:35-43
Monday, November 25
Daniel 1:1-6, 8-20
Daniel 3:52, 53, 54, 55, 56
Luke 21:1-4
Tuesday, November 26
Daniel 2:31-45
Daniel 3:57, 58, 59, 60, 61
Luke 21:5-11
Wednesday, November 27
Daniel 5:1-6, 13-14, 16-17, 23-28
Daniel 3:62, 63, 64, 65, 66, 67
Luke 21:12-19
Thanksgiving Day
Thursday, November 28
Sirach 50:22-24
1 Corinthians 1:3-9
Luke 17:11-19
Friday, November 29
Daniel 7:2-14
Daniel 3:75, 76, 77, 78, 79, 80, 81
Luke 21:29-33
Saturday, November 30
Romans 10:9-18
Psalms 19:8, 9, 10, 11
Matthew 4:18-22
First Sunday in Advent, December 1
Isaiah 2:1-5
Psalms 122: 1-2, 3-4, 4-5, 6-7, 8-9
Romans 13:11-14
Matthew 24:37-44
The full text of the Scripture readings for this week and next week can be found here: http://www.usccb.org/
Click on the "Daily Readings" tab on the right hand side of the page.