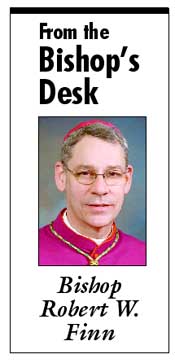 Therefore, stay awake! For you do not know on which day your Lord will come. … So too, you also must be prepared, for at an hour you do not expect, the Son of Man will come." Matthew 24:42-44
Dear Friends in Christ,
Advent has begun. We find ourselves anticipating both the Celebration of His Birth, as well as the Second coming of Our Lord. Advent is a holy season which prepares us through prayer, penance, sacrifice and good works not just for a moment in time, not just for Christmas Day, but for eternity realized in His return. We anticipate the joy and hope surrounding Our Lord's first coming while yearning for completion, wholeness in His Second Coming.
Part of the joy of Christmas is the opportunity to provide for our families and to give each other gifts acknowledging both the season of Christmas and the generosity of God in giving us His only Son to share in our humanity. This a beautiful and good thing. The question for us now is what are we willing to share with Jesus? What can we do to promote His work and His Gospel in the world? How can we open ourselves as a worthy dwelling place for the King of Peace? How can we turn back the lure of materialism, and at the same time, reach out beyond our self?
Thank you for all that you have given this past year to help us serve the needs of the poor and all the people of God. Please pray for those less fortunate and those who depend on our Catholic community, the Diocese of Kansas City –St. Joseph. If you are able, please give your support to them financially this year's end.
Because of the Forward in Faith Campaign, there will not be a formal Bishop's Annual Appeal this year. It is included in the Forward in Faith campaign. Nonetheless I ask you to consider, in your charity, a year end donation which will provide critical additional support to all the ministries of the Diocese. Perhaps you had already set something aside for assistance to the Diocesan ministries.
There remain many more needs than we can respond to, but I promise you that your gift at this time will be used solely for the support of these good works of the Diocese.
Your gift can be directed to specific ministries of the Diocese or simply designated for the greatest need. Again, all funds received will be used for the donor's intent and not for any legal or administrative expenses of the Diocese.
May you and your family have a blessed Advent. I commend you to Mary, the Mother of God and our Mother, who waits with us as we prepare for the coming of her Son.