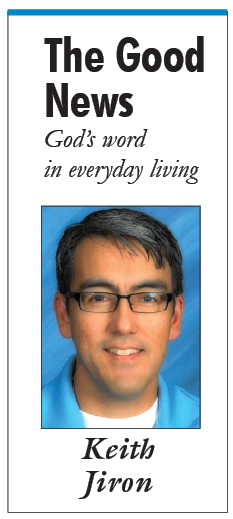 The other day when I came home from work, my wife showed me a letter that my eight-year-old son, Michael, had written at school as part of a class assignment for Thanksgiving. It was entitled: "song of thanks." In the letter he wrote: "thank you for my eyes that see my families' faces, friends, and the oshin…thank you for my ears that hear my families' voses…Thank you for my mouth that tastes my mom's 2 layer chokolit cake, mom's choklit chip cookies, and dad's bacon and eggs…Thank you for my hands that feel my blankut, Peter's soft hands and my cozy coat…Thank you for my nose that smells mom's biscuits, camp fires…" I was so proud of it that I even posted the letter on Facebook stating, "I'm thankful for the perspective on life that my sons give me." My wife said that when she read it, she cried.
This touched us so much because it was a reminder that all our efforts to provide for our children and to prepare them are bearing good fruit. In this weekend's readings for the second Sunday of Advent, Jesus explains that "every tree that does not bear good fruit will be cut down and thrown into the fire." There are many days when my wife and I feel overwhelmed amidst the incessant demands of parenting four young boys, age ten and under. Moments like Michael's letter encourage us in our efforts to be fruitful and give us hope.
Years ago, I learned a great deal about hope from the Benedictine monks of Conception Abbey. These men and their countercultural perspective had a profound impact on my life. It still colors the lens through which I view the world. For them, Advent is not a time of Christmas decorations, but rather a time of preparing their hearts for Christ's coming on Christmas day. Putting up the Christmas tree is an exterior symbol of an interior joy, a celebration of hope fulfilled.
Just as these men helped to form me in matters of faith and life, I strive to form my children. However, looking back over the last ten years of being a parent, I think that it is my children who have helped to form me. John the Baptist, in preparing the people for the coming of the Messiah, quoted the prophet Isaiah, stating "A voice of one crying in the desert, Prepare the way of the Lord, make straight his paths." I have experienced desert times as a father, facing the reality of my shortcomings, not being as patient as I'd like time and time again. At the same time, the seemingly exponential increase in my heart's capacity to love my sons has, to be sure, helped to "make straight my paths" and "prepare a way for the Lord" to enter my soul.
Some six hundred years before Christ's actual birth, the prophet Isaiah gives great hope to God's people by foretelling, "On that day, a shoot shall sprout from the stump of Jesse…" Jesse was the father of David, who became King of Israel. And it was from the line of David that Jesus was to be born.
A nation's hope rested in the birth of a tiny baby. I find that my hope has been increased with the birth of each of my four sons. Seeing them through eyes of faith and eternity, it all makes sense. From the viewpoint of the world, given all the financial considerations and the fact that our house is bursting at the seams, it would be easy to despair. Yet, this Sunday's second reading says, "May the God of endurance and encouragement grant you to think in harmony with one another, in keeping with Christ Jesus, that with one accord you may with one voice glorify the God and Father of our Lord Jesus Christ."
This Advent, I give glory to God in announcing that once again He has blessed our family with the good news that we are expecting another baby. My heart is both humbled and overflowing with the reality of another little soul entrusted to our care. My wife says that pregnancy during Advent is especially powerful when she considers Mary and the circumstances in which she gave birth to Jesus.
This Advent, as I await the arrival of a tiny baby, I echo the words of the psalmist who says "May his name be blessed forever." Just as my son touched our hearts with his "song of thanks," soon a new baby will hear our family's voices singing His praises.
Keith Jiron is Coordinator of RCIA and Adult Education at St. Michael the Archangel Parish in Leawood.
Daily Scripture Readings
For complete daily Scripture texts, click here. http://www.usccb.org
Solemnity of the Immaculate Conception of the Blessed Virgin Mary,
Monday, December 9
Genesis 3:9-15, 20
Psalms 98:1, 2-3ab, 3cd-4
Ephesians 1:3-6, 11-12
Luke 1:26-38
Tuesday, December 10
Isaiah 40:1-11
Psalms 96:1-2, 3 and 10ac, 11-12, 13
Matthew 18:12-14
Wednesday, December 11
Isaiah 40:25-31
Psalms 103:1-2, 3-4, 8 and 10
Matthew 11:28-30
Feast of Our Lady of Guadalupe, Thursday, December 12
Zechariah 2:14-17 or
Revelation 11:19A; 12:1-6a, 10ab
Judith 13:18bcde, 19
Luke 1:26-38
Friday, December 13
Isaiah 48:17-19
Psalms 1:1-2, 3, 4 and 6
Matthew 11:16-19
Saturday, December 14
Sirach 48:1-4, 9-11
Psalms 80:2ac and 3b, 15-16, 18-19
Matthew 17:9a, 10-13
Third Sunday of Advent, December 15
Isaiah 35:1-6A, 10
Psalms 146:6-7, 8-9, 9-10
James 5:7-10
Matthew 11:2-11
Monday, December 16
Numbers 24:2-7, 15-17a
Psalms 25:4-5ab, 6 and 7bc, 8-9
Matthew 21:23-27
Tuesday, December 17
Genesis 49:2, 8-10
Psalms 72:1-2, 3-4ab, 7-8, 17
Matthew 1:1-17
Wednesday, December 18
Jeremiah 23:5-8
Psalms 72:1-2, 12-13, 18-19
Matthew 1:18-25
Thursday, December 19
Judges 13:2-7, 24-25a
Psalms 71:3-4a, 5-6ab, 16-17
Luke 1:5-25
Friday, December 20
Isaiah 7:10-14
Psalms 24:1-2, 3-4ab, 5-6
Luke 1:26-38
Saturday, December 21
Song of Songs 2:8-14 or
Zephaniah 3:14-18a
Psalms 33:2-3, 11-12, 20-21
Luke 1:39-45
First Sunday in Advent, December 1
Isaiah 2:1-5
Psalms 122: 1-2, 3-4, 4-5, 6-7, 8-9
Romans 13:11-14
Matthew 24:37-44
The full text of the Scripture readings for this week and next week can be found here: http://www.usccb.org/
Click on the "Daily Readings" tab on the right hand side of the page.