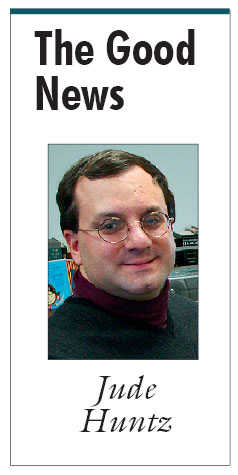 During Advent we have been encouraged to prepare for the coming of the Lord Jesus through various practices and disciplines. The Advent wreath, Jesse tree, communal penance services, and works of charity are all popular preparations for celebrating the birth of Jesus. The liturgy of the Church has given us a variety of material upon which to reflect on the coming of Jesus in a threefold manner. Now that Christmas is here it helps to step back and see if our Advent preparations helped us in these three areas.
The first coming of Jesus is the historical coming of Jesus in time. In the Advent readings we heard proclaimed the prophetic writings and the anticipation of the coming Messiah. The Church asks us to step back in time and to relive again the expectation of the Messiah within the community of Israel. In this practice we can imagine life before Jesus was born. We can imagine the mindset of the people of Israel in reflecting on salvation history, wondering where and when and how God would fulfill His promise of redeeming His people. With Christmas now here we can relive the joy and mystery of how it is God came among us in the person of Jesus.
The next theme of Jesus' coming is found in the New Testament writings within the season of Advent, for they speak about a new expectation: the second coming of Jesus in history. After the Ascension of Jesus the early church expected the return of Jesus very soon. As that expectation became unfulfilled with each passing year, the Church gradually saw the mystery of Jesus' second coming as being very similar to the mystery of Jesus' first coming. So in Advent we are encouraged to wait in joyful hope for the coming again of our Savior in His final glory. Our lives should reflect a people waiting with joy for its king to come.
The final coming of Jesus is the one that is often unspoken, and yet the one that really matters the most: the coming of Jesus now in our own personal lives. The first two expectations are set in different times – one recalls a coming of the past, while the other looks ahead to a future coming at a time we do not know. While it is important to focus on both of those comings, we would do well to recall that the point of them both is the fact of Jesus coming into our lives here and now. Has the Lord Jesus been born into our hearts? Is Jesus present to us now?
With Christmas also comes the winter version of the culture wars known as "the war on Christmas." It is a time when the culture warriors fight about manger scenes in public places, greetings to one another, and a host of other pitched battles. As we observe this phenomenon from a distance, we might remember the lesson from "The Grinch Who Stole Christmas." The Grinch thought that by stealing the external trappings from Whoville that Christmas would not come, for the people would be unhappy without all these objects. And yet Christmas came nonetheless, for Christmas does not come in a box, nor from a store, but rather it means something much more.
If the Lord Jesus has truly been born in our hearts, then nothing can take Christmas away from us and these culture wars are utterly without meaning. The Grinches may come to take away Manger scenes, Menorahs and Festivus poles, but what of it? If we have grasped the Church's preparation for us in the Advent season, then we know that Jesus has already been born in the fullness of time historically in Palestine two millennia ago, and the Lord has already been born within us in the fullness of our own personal history. And these comings provide us with the Presence we need to be the joyful people who await the final coming of the Lord Jesus at the end of human history. This joy animates our entire being, enabling us to continue what we began in Advent – to be people of mercy, people of charity – people who will be like Ebenezer Scrooge and keep Christmas all year round.
As we come together to celebrate the coming of Jesus among us, let us rekindle our Christian joy in our pilgrimage toward the reign of God. We pray: "Almighty God and Father of light, a child is born for us and a son is given to us. Your eternal Word leaped down from heaven in the silent watches of the night, and now your Church is filled with wonder at the nearness of her God. Open our hearts to receive his life and increase our vision with the rising of dawn, that our lives may be filled with his glory and his peace, who lives and reigns forever and ever. Amen."
Jude Huntz is Chancellor of the Diocese of Kansas City – St. Joseph.
Daily Scripture Readings
For complete daily Scripture texts, click here. http://www.usccb.org
Monday, December 23
Malachi 3:1-4, 23-24
Psalms 25:4-5ab, 8-9, 10 and 14
Luke 1:57-66
Tuesday, December 24
2 Samuel 7:1-5, 8b-12, 14a, 16
Psalms 89:2-3, 4-5, 27 and 29
Luke 1:67-79
Solemnity of the Nativity of the Lord, Wednesday, December 25
Isaiah 52:7-10
Psalms 98:1, 2-3, 3-4, 5-6
Hebrews 1:1-6
John 1:1-18
Thursday, December 26
Acts 6:8-10; 7:54-59
Psalms 31:3cd-4, 6 and 8ab, 16bc and 17
Matthew 10:17-22
Friday, December 27
1 John 1:1-4
Psalms 97:1-2, 5-6, 11-12
John 20:1a and 2-8
Saturday, December 28
1 John 1:5—2:2
Psalms 124:2-3, 4-5, 7cd-8
Matthew 2:13-18
Feast of the Holy Family
December 29
Sirach 3:2-6, 12-14
Psalms 128:1-2, 3, 4-5
Colossians 3:12-21
Matthew 2:13-15, 19-23
Monday, December 30
1 John 2:12-17
Psalms 96:7-8a, 8b-9, 10
Luke 2:36-40
Tuesday, December 31
1 John 2:18-21
Psalms 96:1-2, 11-12, 13
John 1:1-18
Solemnity of Mary, the Holy Mother of God
Wednesday, January 1
Numbers 6:22-27
Psalms 67:2-3, 5, 6, 8
Galatians 4:4-7
Luke 2:16-21
Thursday, January 2
1 John 2:22-28
Psalms 98:1, 2-3ab, 3cd-4
John 1:19-28
Friday, January 3
1 John 2:29-3:6
Psalms 98:1, 3cd-4, 5-6
John 1:29-34
Saturday, January 4
1 John 3:7-10
Psalms 98:1, 7-8, 9
John 1:35-42
Solemnity of the Epiphany of the Lord, January 5
Isaiah 60:1-6
Psalms 72:1-2, 7-8, 10-11, 12-13
Ephesians 3:2-3a, 5-6
Matthew 2:1-12
The full text of the Scripture readings for this week and next week can be found here: http://www.usccb.org/
Click on the "Daily Readings" tab on the right hand side of the page.