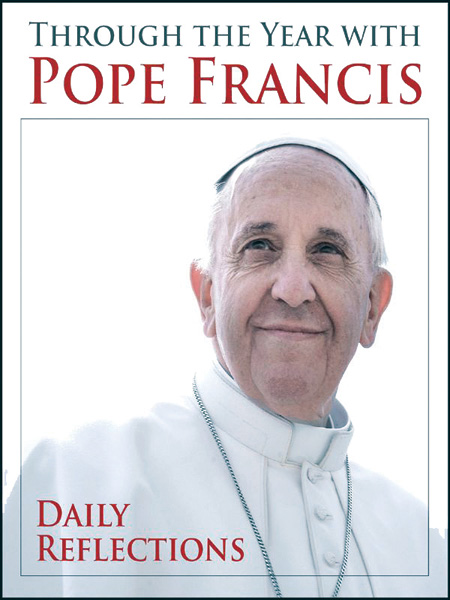 By Marty Denzer
Catholic Key Reporter
KANSAS CITY —Kevin Cotter graduated from Rockhurst High School in 2001 and Blessed Pope John Paul II, who had been elected to the papacy in 1978, was still leader of the Catholic Church. When he died in 2005, Pope John Paul II was succeeded by Pope Benedict XVI. Pope Benedict announced his resignation this past February, a move that stunned Catholics and indeed the whole world. Who would succeed him?
Pope Francis, elected March 13, 2013, has been shown to be a pope of and for the people. He has been the subject of much print and broadcast news, comment and speculation, but until now, his words have not been connected to daily prayer.
Cotter has written Through the Year with Pope Francis: Daily Reflections, a compilation of 365 quotes from the pope accompanied by a reflection on each quote. The book, which was approved by the Vatican, is being published by Our Sunday Visitor.
After graduating from Benedictine College in Atchison, Kan., Cotter earned a Masters in Sacred Scripture from the Augustine Institute in Denver. He served two years as a Fellowship of Catholic University Students, FOCUS, missionary on the Benedictine campus. Now 30, Cotter works at the FOCUS home office in Denver, heading the Information Technology department as well as supervising and writing bible studies for use by FOCUS missionaries on college campuses across the country. He and his wife, Lisa, have three children.
Last March, as the world awaited the sight of white smoke coming from the chimney of the Sistine Chapel in Rome, the sign that the Papal Conclave had elected a new pope, Cotter had an idea. "Right before the election of Pope Francis," he told The Catholic Key in an email, "I thought 'What if a pope was elected in the middle of the night? I wouldn't be able to watch the announcement live. The best way to be woken up would be a text message.' I began searching online to see if anyone was providing such a service. The answer: no one, so I decided to start PopeAlarm.com."
PopeAlarm.com generated more than 120,000 email addresses and more than 6000 followers on Facebook and on Twitter. A bit later, Cotter began sending monthly newsletters updating news about Pope Francis and released quotes from the pope on his social media.
"Pope Alarm gave me a sense for what people wanted to hear from Pope Francis," he said. "This helped form the content of the book — short meditations — and also created a platform as an author to be able to write a book."
Cotter's book gathers the words of Pope Francis from his homilies and addresses, some from his time as Archbishop and later Cardinal, but most are since his election as pope. "Pope Francis speaks on a number of different topics and he is very good about bringing these topics to every day situations." He added that the pope ask a lot of questions as he seeks to apply what he says to the lives of his audience.
Cotter said that many of his reflections came naturally from Pope Francis' talks. For some he used his background in Theology and his work with FOCUS "writing discussion questions with Bible studies to connect the information to people's lives."
Each day of the year is given its own quote and reflection, accompanied by the date of the Pope's talk and sometimes the situation.
Here are two samples: January 7: "God always thinks with mercy: do not forget this. God always thinks mercifully. He is the merciful Father! God thinks like the father waiting for his son and goes to meet him, he spots coming when he still far off… What does this mean? That he went every day to see if his son was coming home: This is our merciful Father. It indicates that he was waiting for him with longing on the terrace of his house." (General Audience March 27, 2013)
Reflection: 'If God is like the merciful father in the parable of the prodigal son (see Luke 15:11-32), what is God waiting for you to do in your life right now?'
January 9: "We are not Christian 'part-time,' only at certain moments, in certain circumstances, in certain decisions. No one can be Christian in this way — we are Christian all the time! Totally!" (General Audience May 15, 2013)
Reflection: 'When do you find it hard to be a Christian? What is God calling you to do about these situations?'
Through the Year with Pope Francis: Daily Reflections is available for preorder at www.amazon.com, www.bn.com, or directly from the publisher, Our Sunday Visitor, at www.osv.com, ID#1572.