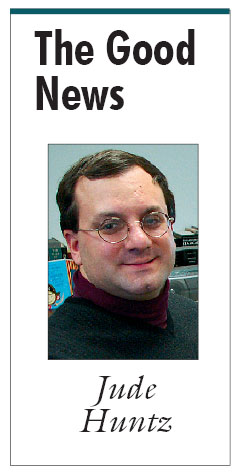 Most of us do not remember the day of our baptism, for if we were born into a Catholic family our baptism took place when we were infants. And yet, the Church continually has us renew our baptismal vows in the liturgy for the Sacrament of Confirmation, during the season of Easter, and anytime baptism is celebrated with the whole congregation present. Baptism is the foundational sacrament upon which the other two sacraments of initiation – Confirmation and Eucharist – are built. A person cannot receive any other sacrament of the Church without first receiving the sacrament of baptism.
Baptism also provides for us the fundamental vocation for every Christian person. Each baptized person is called to live as a disciple of the Lord Jesus. As the rite of baptism states when the baptized is anointed with chrism: "God the Father of our Lord Jesus Christ has freed you from sin, given you a new birth by water and the Holy Spirit, and welcomed you into his holy people. He now anoints you with the chrism of salvation. As Christ was anointed Priest, Prophet, and King, so may you live always as a member of his body, sharing everlasting life." Every other vocation within the Church is a different way of living out our fundamental baptismal vocation.
The first reading of today's liturgy stresses the vocation of the anointed person in this way: "I, the LORD, have called you for the victory of justice, I have grasped you by the hand; I formed you, and set you as a covenant of the people, a light for the nations, to open the eyes of the blind, to bring out prisoners from confinement, and from the dungeon, those who live in darkness."
Another aspect of the foundational character of baptism is found in our understanding of the Church. From the very earliest times the Church has never re-baptized anyone who had received valid baptism from another Christian community – valid here meaning baptism with water and in the Trinitarian formula. In fact, there was a heresy of the early Church known as Donatism that insisted on re-baptizing Christians who had wavered in their faith or who had received baptism from someone other than their company. The tradition of the Church has consistently rejected the idea of re-baptism.
This practice, however, has profound implications for our understanding of the Church, one that the Second Vatican Council developed fully in the Dogmatic Constitution on the Church (Lumen Gentium). Every baptized person is a member of the one Church of Jesus Christ. So, when a person from another Christian community approaches the Catholic Church for reception, we properly speak of them as being received into full communion with the Church, for they have had some communion with the Church from their previous tradition. Full communion means full initiation, and since baptism is the first sacrament of initiation, their membership is made perfect by receiving the other two sacraments of initiation. Even a baptized Catholic who has not received Confirmation and Eucharist cannot be considered a full member of the Church of Christ until full initiation has been received.
In this respect we can see an echo of what Peter preaches to the household of Cornelius in the second reading: "In truth, I see that God shows no partiality. Rather, in every nation whoever fears him and acts uprightly is acceptable to him." And so instead of having an elitist attitude toward other Christians we instead must have an invitational attitude, one where we work and pray together for the common good, encouraging all to seek full initiation as followers of Christ.
At each of our baptisms we heard the same words spoken to Jesus from heaven, "This is my beloved Son with whom I am well pleased." And as it was for Jesus, so it is for us that those words serve as an invitation to the beginning of a life in service to God and others. They are words that lead us forward into mission, words that will help us remember the love of our God when the road is hard and the trials difficult to endure.
As we celebrate this feast and reflect on our own baptismal vocation, we come together to pray for the grace we need to grow more deeply in this calling. "Father in heaven, you revealed Christ as your Son by the voice that spoke over the waters of the Jordan. May all who share in the sonship of Christ follow in his path of service to man, and reflect the glory of his kingdom even to the ends of the earth, for he is Lord forever and ever. Amen."
Jude Huntz is Chancellor of the Diocese of Kansas City – St. Joseph.
Daily Scripture Readings
For complete daily Scripture texts, click here. http://www.usccb.org
Monday, January 13
1 Samuel 1:1-8
Psalms 116:12-13, 14-17, 18-19
Mark 1:14-20
Tuesday, January 14
1 Samuel 1:9-20
1 Samuel 2:1, 4-5, 6-7, 8abcd
Mark 1:21-28
Wednesday, January 15
1 Samuel 3:1-10, 19-20
Psalms 40:2 and 5, 7-8a, 8b-9, 10
Mark 1:29-39
Thursday, January 16
1 Samuel 4:1-11
Psalms 44:10-11, 14-15, 24-25
Mark 1:40-45
Friday, January 17
1 Samuel 8:4-7, 10-22a
Psalms 89:16-17, 18-19
Mark 2:1-12
Saturday, January 18
1 Samuel 9:1-4, 17-19; 10:1
Psalms 21:2-3, 4-5, 6-7
Mark 2:13-17
Second Sunday of Ordinary Time, January 19
Isaiah 49:3, 5-6
Psalms 40:2, 4, 7-8, 8-9, 10
1 Corinthians 1:1-3
John 1:29-34
Monday, January 20
1 Samuel 15:16-23
Psalms 50:8-9, 16bc-17, 21 and 23
Mark 2:18-22
Tuesday, January 21
1 Samuel 16:1-13
Psalms 89:20, 21-22, 27-28
Mark 2:23-28
Wednesday, January 22
1 Samuel 17:32-33, 37, 40-51
Psalms 144:1b, 2, 9-10
Mark 3:1-6
Thursday, January 23
1 Samuel 18:6-9;19:1-7
Psalms 56:2-3, 9-10A, 10b-11, 12-13
Mark 3:7-12
Friday, January 24
1 Samuel 24:3-21
Psalms 57:2, 3-4, 6 and 11
Mark 3:13-19
Saturday, January 25
Acts 22:3-16 or Acts 9:1-22
Psalms 117:1bc, 2
Mark 16:15-18
Third Sunday of Ordinary Time, January 26
Isaiah 8:23-9:3
Psalms 27:1, 4, 13-14
1 Corinthians 1:10-13, 17
Matthew 4:12-23 or
Matthew 4:12-17
The full text of the Scripture readings for this week and next week can be found here: http://www.usccb.org/
Click on the "Daily Readings" tab on the right hand side of the page.