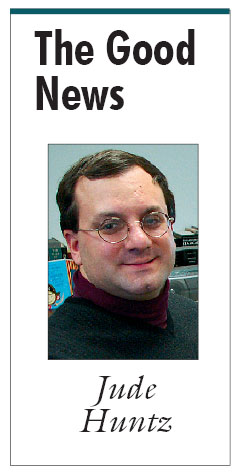 At first glance we might be tempted to yawn at our Gospel reading for today. After all, the story is merely about Jesus calling his first four disciples to his ministry. On top of all that, Matthew makes the story even more bizarre by quoting this obscure text from our first reading regarding Zebulon and Naphtali. What could all of this possibly mean? And what does it have to do with my life here and now?
The reading from Isaiah and the reference to Zebulon and Naphtali is about the civil war that took place between Israel and Judah, a civil war among the brothers of the nation God called together to be His people of the covenant. As a result of this civil war – this family feud among brothers – they all became weakened, making it possible for Babylon to invade and conquer the region more easily. When brothers fail to live in harmony and unity, eventually the entire house falls to the forces of darkness. And yet Isaiah looks forward to a time when a future leader would once again call together God's people to a life of unity and service to God.
That promise comes to reality in the person of Jesus the Lord, and the Gospel text provides us with concrete, poignant examples of this call to unity. First, Jesus calls two brothers, Peter and Andrew, to join with him in ministry. Then, Jesus calls a second set of brothers, James and John, to accompany him in ministry. Now, in calling together brothers Jesus reverses the dynamic of division among brothers that we saw in the first reading, and that we find in many stories of the Old Testament. The feuds of Cain and Abel, Jacob and Esau, Joseph and his brothers, and the tribes of Israel in civil war are all swept away when two sets of brothers are called together and accept this call to live in harmony. Familial relationships are thus called to be harmonious ministries of service to one another united in the love of Jesus the Lord.
What is more, both sets of brothers were fishermen, meaning that in all likelihood they were economic rivals with one another: Peter and Andrew would have been in economic competition with James and John. The fact that Jesus calls together economic rivals into one brotherhood of ministry provides yet another example of overcoming division and calling to unity that which naturally and historically have been competitive and hostile. Economic divisions cease when we enter into cooperation with one another and use economic tools to serve others rather than seek our own advantage in a ruthless pursuit of profit. When we come together to serve one another in the spirit of Jesus we put an end to class warfare and economic strife that leads to poverty and injustice.
This call to unity also has an ecclesiological dimension that Paul highlights in his first letter to the Corinthians. Even in the early church people were setting up rival camps that competed with one another, and people rallied around banners highlighting their allegiances. All of this ecclesial competition clearly is not part of the fundamental call of Jesus that we saw in the Gospel text. And yet throughout the Church's history we have seen these rivalries and camps. In our own day the banners of "traditional Catholic" and "progressive Catholic" find equal play with "John Paul II priest" and "Vatican II priest" in declaring allegiances that echo the text of the second reading. Jesus, however, calls us all to serve one another. Paul reminds us to put aside these rivalries and strive for unity.
Pope Francis has made this call to unity and the putting aside of status and allegiances a fundamental piece of his mission of unity that is at the heart of the Papal ministry. Still, we continue to cling to our rivalries and divisions, for a great many have used the person of Francis as yet another flashpoint in the ecclesial wars that serve only to propagate cottage industries of partisan negativity as pawns of larger forces in political and culture wars.
In the depths of our hearts we hear the call of Jesus, just as Peter, Andrew, James, and John heard it. In the depths of our hearts we long for an end to these divisions and we desire the unity and harmony to which the Lord Jesus calls us. And so we gather together in order to find the grace and strength to overcome our weakness and to respond ever more faithfully to the call of the Lord Jesus. And so we pray: "Let us pray, pleading that our vision may overcome our weakness. Almighty Father, the love you offer always exceeds the furthest expression of our human longing, for you are greater than the human heart. Direct each thought, each effort of our life, so that the limits of our faults and weaknesses may not obscure the vision of your glory or keep us from the peace you have promised. We ask this through Christ our Lord. Amen."
Jude Huntz is Chancellor of the Diocese of Kansas City – St. Joseph.
 Daily Scripture Readings
For complete daily Scripture texts, click here. http://www.usccb.org
Monday, January 27
2 Samuel 5:1-7, 10
Psalms 89:20, 21-22, 25-26
Mark 3:22-30
Tuesday, January 28
2 Samuel 6:12b-15, 17-19
Psalms 24:7, 8, 9, 10
Mark 3:31-35
Wednesday, January 29
2 Samuel 7:4-17
Psalms 89:4-5, 27-28, 29-30
Mark 4:1-20
Thursday, January 30
2 Samuel 7:18-19, 24-29
Psalms 132:1-2, 3-5, 11, 12, 13-14
Mark 4:21-25
Friday, January 31
2 Samuel 11:1-4a, 5-10a, 13-17
Psalms 51:3-4, 5-6a, 6bcd-7, 10-11
Mark 4:26-34
Saturday, February 1
2 Samuel 12:1-7a, 10-17
Psalms 51:12-13, 14-15, 16-17
Mark 4:35-41
Feast of the Presentation of the Lord, Sunday, February 2
Malachi 3:1-4
Psalms 24:7, 8, 9, 10
Hebrews 2:14-18
Luke 2:22-40
Monday, February 3
2 Samuel 15:13-14, 30; 16:5-13
Psalms 3:2-3, 4-5, 6-7
Mark 5:1-20
Tuesday, February 4
2 Samuel 18:9-10, 14b, 24-25a, 30-19:3
Psalms 86:1-2, 3-4, 5-6
Mark 5:21-43
Wednesday, February 5
2 Samuel 24:2, 9-17
Psalms 32:1-2, 5, 6, 7
Mark 6:1-6
Thursday, February 6
1 Kings 2:1-4, 10-12
1 Chronicles 29:10, 11ab, 11d-12a, 12bcd
Mark 6:7-13
Friday, February 7
Sirach 47:2-11
Psalms 18:31, 47 and 50, 51
Mark 6:14-29
Saturday, February 8
1 Kings 3:4-13
Psalms 119:9, 10, 11, 12, 13, 14
Mark 6:30-34
Fifth Sunday of Ordinary Time, February 9
Isaiah 58:7-10
Psalms 112:4-5, 6-7, 8-9
1 Corinthians 2:1-5
Matthew 5:13-16
The full text of the Scripture readings for this week and next week can be found here: http://www.usccb.org/
Click on the "Daily Readings" tab on the right hand side of the page.