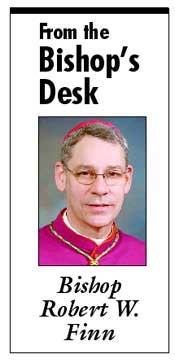 Parents love their children. They want the best for them. They want them to grow to be healthy and happy, and to contribute to the well being of society. Many parents would add that they want their sons and daughters to be holy people of faith, morally sound, and with the deep sense of the value of every human person; not tied to material things, but responsible, generous and outgoing in kindness to others.
As we celebrate Catholic Schools Week, I want to affirm the lasting mission of our Catholic Schools: to support parents in their determination and responsibility to form their children in a life-giving relationship with Jesus Christ, as full members of the Church; to be apostles who act out of love for Christ, and who, alive in the joy of the Gospel, are reaching toward salvation. This is something that is not universally valued. I would go so far as to say that it is not found in so many places outside the Church.
Just last week a news article highlighted the sex education curriculum in the Shawnee Mission School District in neighboring Kansas. A parent had expressed righteous concern, if not anger, over a poster in the Hocker Grove school hallway, entitled "How Do People Express Their Sexual Feelings?" There followed a list of 17 activities ranging from "talking, kissing, and cuddling" to considerably more graphic depictions of activities not appropriate to mention here – and certainly not to middle-shoolers. The chart was not a student prank. It turned out that the it was from the middle school's health curriculum, entitled, "Make a Difference," recommended by the U.S. Department of Health and Human Services, approved for use in the Kansas district and, according to the school spokesman, "used by other schools throughout the country." It is hard to imagine that the proposal of such graphic and exploitative activities are part of the formal education of 12 and 13 year olds.
Quite a few years ago now, MTV, a television pioneer of "free expression" and reckless reality shows, announced that their goal was to shape the next generation of young people. This and other media are so constant in our culture that – unless parents are prepared to intervene with restrictions, or at least initiate some caring discussion time with their sons and daughters – MTV and their counterparts become, by default, the shapers of our young people.
The Church, and indeed our whole community, owes a debt of gratitude to parents, teachers, and all who serve and sacrifice for the ministry of Catholic schools. The work of these schools is to give excellent education – and much more: to help form and shape precious human lives.
The tradition of Catholic education began with Christ Himself when Jesus called together his disciples and the multitudes that followed him. In their need He fed them and taught them: food for body and food for soul. He came as the full and definitive revelation of the Father's love. He taught the truth, and ultimately entrusted this work to the Church, promising the Apostles the help of the Holy Spirit. One of the most important components of the Church's mission is the work of teaching the faith.
The Declaration on Christian Education, Gravissimum Educationis, from the Second Vatican Council, affirms the priority of this call to parents, who are the first teachers of their children. (no. 3) The Church must assist parents in this responsibility. The Council says that Catholic Schools are of "outstanding importance," (no. 5) and therefore have a significant role in the Church's work of promoting an authentic human culture and forming young people. (no. 8)
I wish to repeat here what I have said at other times and places about our Catholic schools. We depend on these schools to carry forward the very work of the Church. While they are certainly not the only means to teach and form youth, they are without a doubt one of the primary and important places to do so. They are a vibrant part of the work of the whole Church, and they require the support of the broad Catholic community.
Parents who care about what their children learn, the environment in which they are taught, and the kind of values and goals that are part of their school experience, have a powerful ally in our Catholic Schools.
Those of us who do not have children of our own also care about students and want to see them grow up to be happy, healthy, and holy. We value and support Catholic schools.
While the financial challenges are great, our schools are perhaps more important today than they have ever been. Every Catholic has a role to play in support of Catholic education. St. Michael the Archangel High School is a vitally important initiative as is the entire Forward in Faith Diocesan Campaign for Catholic Education. I hope that you will support it mightily for the sake of our young people, and for the well being and spiritual health of our whole community.