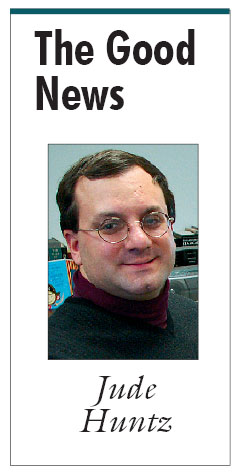 One of my favorite cartoons to watch as a child was The Superfriends, a collection of heroes who fought for justice against the forces of evil in the world. Two of the characters, Zan and Jane, were twins who had the special power of fist bumping and changing into whatever object might prove useful to them in a given situation – an eagle, waterfall, elephant, ice bridge. The struggle for justice and the importance of material objects forms the basis of our readings this week.
In the first reading we find our fundamental mission as children of God is to provide food for the hungry, shelter for the homeless, to drive out oppression and malice. This mission had always been part of the call of God for His people. However, the people of Israel rejected this mission, and as a result her enemies were able to conquer her, lead her people into captivity, and treat the Israelites in the same manner as they had treated others. Isaiah reminds the nation of this call, and he looks forward to the day when a leader of the people would come forth to demonstrate in his own life the perfect following of God's mission of justice.
The Lord Jesus is the fulfillment of this desire of Isaiah. In providing food for the hungry on many occasions, in curing the sick and those possessed by demons, and in driving out oppression and malice from the Temple area, Jesus in His life and death provides for us the light by which we must orient our lives in order to fulfill the mission of justice entrusted to us.
In the Gospel text Jesus tells us that we are the salt of the earth and the light of the world, both material items being images used in baptism. Salt has two functions – to be a preservative for keeping meat from spoiling, and to be a seasoning for making things more flavorful. Christians are called to be both preservers of justice, peace, and mercy in the world, as well as to be seasoning to make these more attractive to the world. We seek to preserve the faith and tradition of the Church in every age, preserve hope in people gripped by despair, and always to find new ways to put our fundamental mission into action in every age, place, and circumstance.
Salt had been used in the first part of the baptismal liturgy, still being retained in the Extraordinary Form. The priest or deacon places the salt on the lips of the person to be baptized and says, "Take this salt in sign of wisdom. May it be for you likewise a token that foreshadows everlasting life." The minister then prays, "God of our fathers, God, source of all truth, we humbly ask you to be well disposed to your servant, N. After this first taste of salt, let his (her) hunger for heavenly nourishment not be prolonged but soon be satisfied. For then he (she) will always pay homage to your holy name with fervor, joy, and trust." As we hunger for justice and righteousness, we then seek to live such lives that preserve such in our world and to bring it to places where it is lacking.
The image of light similarly has two important functions: to dispel darkness, providing direction and hope for those in darkness; and to point out that which deserves the attention of others. We are called to dispel darkness in our mission of justice, peace, and mercy. In so doing, we shine light upon these three ideals so that people may be drawn to them. Our light is not our own. It is the light of Christ shining through us, for He alone is the light of the world.
The symbol of light is used in the baptismal liturgy after the baptism proper has been completed. The priest or deacon offers a lit candle to the baptized person and says, "Receive the light of Christ." Then, the minister says, "Parents and godparents, this light is entrusted to you to be kept burning brightly. This child of yours has been enlightened by Christ. He (she) is to walk always as a child of the light. May he (she) keep the flame of faith alive in his (her) heart. When the Lord comes, may he (she) go out to meet him with all the saints in the heavenly kingdom." Our light is not our own; it has been entrusted to us to fulfill our fundamental mission of justice, peace, and mercy.
As we seek to live our mission more faithfully in our lives, we come together to be nourished by the Word of God and the Body and Blood of Jesus the Lord. We pray for the grace we need in every moment of our lives: "In faith and love we ask you, Father, to watch over your family gathered here. In your mercy and loving kindness no thought of ours is left unguarded, no tear unheeded, no joy unnoticed. Through the prayer of Jesus may the blessings promised to the poor in spirit lead us to the treasures of your heavenly kingdom. We ask this in the name of Jesus the Lord. Amen."
Jude Huntz is Chancellor of the Diocese of Kansas City – St. Joseph.
Daily Scripture Readings
For complete daily Scripture texts, click here. http://www.usccb.org
Monday, February 10
1 Kings 8:1-7, 9-13
Psalms 132:6-7, 8-10
Mark 6:53-56
Tuesday, February 11
1 Kings 8:22-23, 27-30
Psalms 84:3, 4, 5 & 10, 11
Mark 7:1-13
Wednesday, February 12
1 Kings 10:1-10
Psalms 37:5-6, 30-31, 39-40
Mark 7:14-23
Thursday, February 13
1 Kings 11:4-13
Psalms 106:3-4, 35-36, 37, 40
Mark 7:24-30
Friday, February 14
1 Kings 11:29-32; 12:19
Psalms 81:10-11ab, 12-13, 14-15
Mark 7:31-37
Saturday, February 15
1 Kings 12:26-32; 13:33-34
Psalms 106:6-7ab, 19-20, 21-22
Mark 8:1-10
Sixth Sunday in Ordinary Time, February 16
Sirach 15:15-20
Psalms 119:1-2, 4-5, 17-18, 33-34
1 Corinthians 2:6-10
Matthew 5:17-37
Monday, February 17
James 1:1-11
Psalms 119:67, 68, 71, 72, 75, 76
Mark 8:11-13
Tuesday, February 18
James 1:12-18
Psalms 94:12-13a, 14-15, 18-19
Mark 8:14-21
Wednesday, February 19
James 1:19-27
Psalms 15:2-3a, 3ab-4ab, 5
Mark 8:22-26
Thursday, February 20
James 2:1-9
Psalms 34:2-3, 4-5, 6-7
Mark 8:27-33
Friday, February 21
James 2:14-24, 26
Psalms 112:1-2, 3-4, 5-6
Mark 8:34-9:1
Saturday, February 22
1 Peter 5:1-4
Psalms 23:1-3a, 4, 5, 6
Matthew 16:13-19
Seventh Sunday of Ordinary Time, February 23
Leviticus 19:1-2, 17-18
Psalms 103:1-2, 3-4, 8, 10, 12-13
1 Corinthians 3:16-23
Matthew 5:38-48
The full text of the Scripture readings for this week and next week can be found here: http://www.usccb.org/
Click on the "Daily Readings" tab on the right hand side of the page.