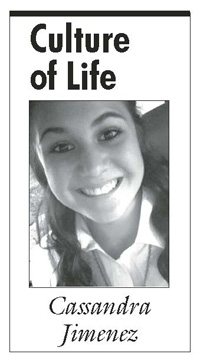 I go to Bishop LeBlond High School. I recently went on the March for Life in Washington D.C. I got on the bus Monday on Martin Luther King Jr. day. On the same day in 1963 Martin had a dream; a dream of equality where age, color and size didn't matter; where we all were treated equal. The fulfillment of that same dream, in my generation, is what all of us going on the March for Life were striving for – a world where age didn't matter; where killing a human in the womb was illegal just like killing a human out of the womb.
At twenty-two days there is a beating heartbeat. At three months the baby has arms, legs and organs just like us. So why do people kill people just like them? I will soon have found the answer to that, but let's not skip ahead.
The twenty-four hour bus ride wasn't always fun. Our group made many sacrifices on that uncomfortable bus ride; we sacrificed sleep, and we sacrificed on the food, too. But there were also so many amazing things that happened on that bus ride. We prayed all the time and deepened our relationship with God. We watched many inspirational pro-life videos. We saw this trip as a pilgrimage and we were ready for any suffering that came along with it.
We arrived in Washington at about 10 am on Tuesday and quickly checked into our hotel room. After we checked in, we went to the Natural History and Airspace Museums. We had to rush through it so we could be back at the hotel by three to prepare ourselves for the most beautiful Mass I've ever experienced!
We drove our bus to the Basilica of the National Shrine of the Immaculate Conception (if you haven't been I recommend going to Mass there). Because of the large crowd, we sat down in the lower part of the Basilica – the crypt – to watch the Mass on the TV. There were thousands of people there and at least a thousand religious men and women. There were so many people you would sneeze and a hundred people would say God bless you!
The Mass didn't begin until 6:30 pm so we had time to visit with people. I was with my religion teacher, Miss Henning. In front of us there were a group of nuns that we were unfamiliar with, so we decided to go and talk to them. They were the happiest people ever, and I didn't know why until one of them said, "You have to figure out who you are with your gifts and talents and then you will find God." That hit me so hard it almost made me cry. They found God perfectly and that's why they were happy. I think we all should want that.
We went back to our seats and prayed. I left that church in a different light. I left with more of God in me.
We got up the next morning and bundled up. Before the March for Life we walked to the Verizon Center for the youth rally. There were probably as many youth there as there are people at Arrowhead Stadium for a Chief's game.
You could look around and barely find an empty seat. There was a band and everyone was singing and dancing to God's Word. Miss Henning and I decided we wanted to go to the Sacrament of Confession, and to see her friend Sister Beth. We walked upstairs and there was a line of about one hundred people. We thought we were going to be there forever but it only took maybe thirty minutes. You walked into a huge ballroom full of priests everywhere.
After confession we found Sister Beth and I still couldn't believe how happy she was (it was seriously amazing!). What touched me was during Mass they had boys and girls with handicaps bring up the gifts to the Bishop. I looked over to my friend and she was crying. I didn't know why but I comforted her. Later she said, "I was crying because of how the bishop embraced them and hugged them. It is how Jesus embraces all of us even the unborn." That was amazing. I didn't realize how powerful that was until she said that.
We left the Verizon Center and went to the March. We walked and we prayed. There were so many people it was easy to get lost. We got about halfway through and there was a screen showing real aborted babies – I couldn't hold it in anymore. I started to cry. Those babies had arms and legs but someone didn't see that. They saw an abortion as a way of getting out of a problem, but really it causes so many more.
When I got to the top of the hill there was a woman standing there with a sign that said, "I regret my abortion." I think when she saw me crying, she wanted to comfort me. She walked up to me and told me about her pain and sorrow and everything she has lost. She cried and hugged me and confided to me, "I made the wrong choice but I can be the one to help many others make the right decision." She kissed me on my forehead and sent me up to the courthouse. I walked up to the courthouse and heard so many stories from women who have had abortions. We prayed in front of a guard who showed no emotion. I remember looking at him and thinking how could he sit there and hear this and see this and not show emotion.
I walked away feeling sorry for everyone there. I felt a cloud of sadness wash over me. We walked back to Union Station and a few hours later we left Washington, D.C. – but as new people. All we did helped protect life – the life of innocent babies.
I will never forget that feeling.
Cassandra Jimenez is a student at Bishop LeBlond High School in St. Joseph.