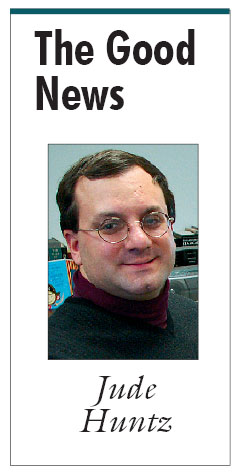 Is something ethical because God commands it, or does God command it because it is ethical? This question gets at the very heart of Christian morality, for we often go astray in our answer. We are inclined to focus our attention on the commandments of God and obedience to the law that God has set for us, forgetting the fact that law became the stumbling block to holiness in the tradition of Israel. However, the readings today correct this tendency within us and enable us to see that the source of Christian morality lies within the very heart of God Himself.
Within the core of the Old Law, in our first reading we find this striking comment: "Be holy, for I, the Lord, your God, am holy." The fundamental command to Israel is to imitate God Himself in His very being which consists in holiness. But how are we to be holy in our lives? The text indicates that our path to holiness is found primarily in how we treat others. "You shall love your neighbor as yourself."
However, the text also makes clear that our love is directed to our brother and sister, our fellow citizen, and our own people. On the surface these descriptors seem to limit our love to our own kind and no further. A deeper reflection might also lead us to recall that we are all children of the one God and that we have a common ancestry from our first parents of Eden. We are all brothers and sisters as human beings; we are all citizens of the same planet; we are all one people. Unfortunately, this text was not often regarded in this way.
Consequently, the teaching of Jesus in the Gospel text today stands in stark contrast to the customary interpretation of the first reading's text. Jesus commands us to love our enemies, and in so doing he extends the interpretation of "neighbor" well beyond the measure we customarily provide. But in so doing Jesus also leads us to consider whether we actually love those within our circle for whom it is easy to love.
Do we love our brother and sister, or are our families a place of discord and strife? Domestic violence, child abuse, and the staggering divorce rates would indicate we have a long way to go in our love for brother and sister.
Do we love our fellow citizen, or just those who agree with our political views, or those who obey our laws? The practice of the death penalty in no way conforms to love on any measure. The rabid insistence on its continued practice in our nation is based solely on revenge and hatred, not on protection of society. The polarization of our electorate with its hateful speech against one another also bears no recognition of our duties to love one another, let alone our enemies.
Do we love our own people, or only those with papers? Too often we find a reason to hate the immigrant among us, limiting our care and love for those who are most vulnerable in our land as well as in their own native place.
Do we love our enemy, or are we always looking for new wars to start and new weapon systems to develop? These wars may be military wars, culture wars, ideological wars, or any other form of warfare. The command and example of Jesus would seem to indicate a different path from the one in which the human race is currently engaged. And somehow we continue to justify the slaughter of any and every war, physical or verbal.
Each and every human being is a temple of God, a dwelling place for the Most High, as Paul reminds us. And rather than have reverence for each and every person, each and every temple of God, we seek to be Romans who would tear down and ravage the dwelling place of the Most High. But we have the example of the Lord Jesus, who provides for us the way to follow. For the Lord Jesus loves all, and loved His enemies, even kissing Judas and calling him friend at the moment of betrayal.
As we discern how we might be holy as God is holy in our personal and communal lives, we gather in prayer at the altar of God, drawing nourishment and inspiration at the example of Jesus before us in the sacrifice of Calvary. And we pray: "Let us pray to the God of power and might, for his mercy is our hope. Almighty God, Father of our Lord Jesus Christ, faith in your word is the way to wisdom, and to ponder your divine plan is to grow in the truth. Open our eyes to your deeds, our ears to the sound of your call, so that our every act may increase our sharing in the life you have offered us. Grant this through Christ our Lord. Amen."
Jude Huntz is Chancellor of the Diocese of Kansas City – St. Joseph.
Daily Scripture Readings
For complete daily Scripture texts, click here. http://www.usccb.org
Monday, February 24
James 3:13-18
Psalms 19:8, 9, 10, 15
Mark 9:14-29
Tuesday, February 25
James 4:1-10
Psalms 55:7-8, 9-10a, 10b-11a, 23
Mark 9:30-37
Wednesday, February 26
James 4:13-17
Psalms 49:2-3, 6-7, 8-10, 11
Mark 9:38-40
Thursday, February 27
James 5:1-6
Psalms 49:14-15ab, 15cd-16, 17-18, 19-20
Mark 9:41-50
Friday, February 28
James 5:9-12
Psalms 103:1-2, 3-4, 8-9, 11-12
Mark 10:1-12
Saturday, March 1
James 5:13-20
Psalms 141:1-2, 3 and 8
Mark 10:13-16
Eighth Sunday in Ordinary Time, March 2
Isaiah 49:14-15
Psalms 62:2-3, 6-7, 8-9
1 Corinthians 4:1-5
Matthew 6:24-34
Monday, March 3
1 Peter 1:3-9
Psalms 111:1-2, 5-6, 9 and 10c
Mark 10:17-27
Tuesday, March 4
1 Peter 1:10-16
Psalms 98:1, 2-3ab, 3cd-4
Mark 10:28-31
Ash Wednesday, March 5
Joel 2:12-18
Psalms 51:3-4, 5-6ab, 12-13, 14 and 17
2 Corinthians 5:20-6:2
Matthew 6:1-6, 16-18
Thursday, March 6
Deuteronomy 30:15-20
Psalms 1:1-2, 3, 4 and 6
Luke 9:22-25
Friday, March 7
Isaiah 58:1-9A
Psalms 51:3-4, 5-6ab, 18-19
Matthew 9:14-15
Saturday, March 8
Isaiah 58:9b-14
Psalms 86:1-2, 3-4, 5-6
Luke 5:27-32
First Sunday of Lent, March 9
Genesis 2:7-9; 3:1-7
Psalms 51:3-4, 5-6, 12-13, 17
Romans 5:12-19
Matthew 4:1-11
The full text of the Scripture readings for this week and next week can be found here: http://www.usccb.org/
Click on the "Daily Readings" tab on the right hand side of the page.