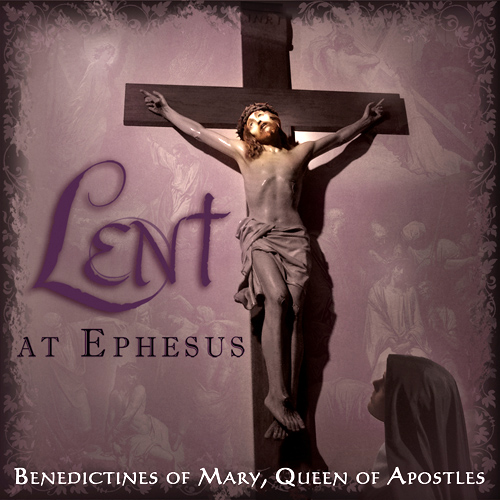 By John Heuertz
Special to The Catholic Key
Combine the spirit of St. Benedict's instruction to "Pray and Work" with St. Augustine's maxim that "He who sings, prays twice," and what do you get?
You get something very much like "Lent At Ephesus," a wonderful new CD that was released on February 11 – the feast of Our Lady of Lourdes.
This is the third CD produced by the Benedictines of Mary, Queen of Apostles, a traditional Benedictine community north of Kansas City. Like the first two, about a dozen members of the community were recorded at the community's priory in the Missouri countryside.
"Advent at Ephesus," their first recording, spent six consecutive weeks at the top of Billboard Magazine's classical music chart. "Angels and Saints" was number one for 13 consecutive weeks.
The new disc is, if anything, even better than the first two.
Every chorus reflects the musicality of its conductor, and Mother Cecilia Snell's sure musical touch is evident across 1,300 years of unbroken Catholic culture.
There are so many nice touches in these 23 performances in English, Latin and Greek of several Lenten sequences – one was written no later than 800 A.D. – plus some well-known Catholic hymns, contemporary but tonal Catholic hymns that deserve to be better known, and three original works.
One original, "My Mercy," is a hymn of love to the Divine Mercy. Another is based on St. Alphonsus Liguori's poetry and the third was inspired by St. Mark and Ezechiel.
Gregorian, Ambrosian, Orthodox chant: it's easy to believe all were inspired by the Holy Spirit (and easy to believe they were usually written for the greater glory of God) because they're all alive. They're still alive. We know this because we can hear for ourselves that when they're sung properly, they breathe.
One can hear this life in "Lent at Ephesus." The sisters sing as one living being. And be warned: their phrasing can be so good that it might leave a little lump in your throat here and there.
All this is the more remarkable because we're not listening to trained voices perform these works.
What shines through on this disc, what makes it so sweet and moving, isn't the considerable best that classical music education has to offer.
What shines through on this disc is the love of Christ that animates the singing of these modest young Benedictines.
You can hear it for yourself if you look on YouTube for De Montfort Music. A 30-minute special is also planned for broadcast later this spring on EWTN and on Catholic TV, and PBS is planning to air an hour-long pledge drive program on the Benedictines of Mary in March.
 More information is also available at www.benedictinesofmary.org.