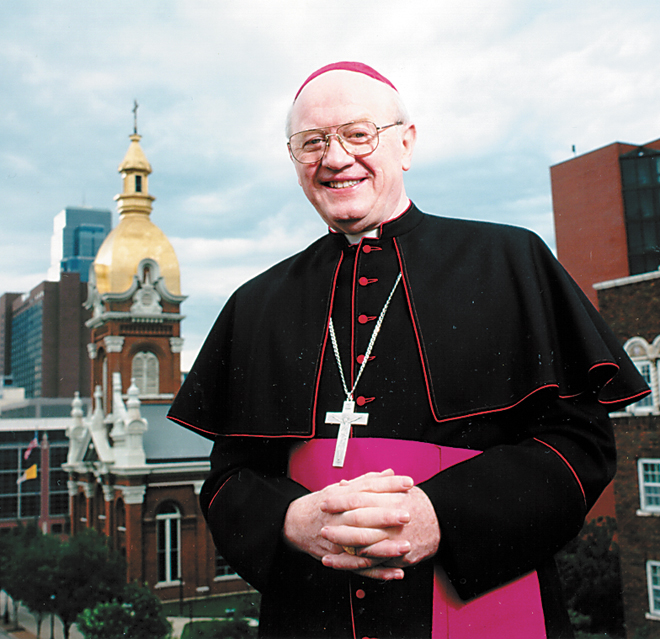 KANSAS CITY — A memorial Mass in recognition of the life and service of Bishop Raymond J. Boland will be celebrated 7 p.m. March 25 at the Cathedral of the Immaculate Conception in downtown Kansas City.
March 25 is the Feast of the Annunciation and the 26th anniversary of Bishop Boland's episcopal ordination.
Bishop Robert W. Finn will be the celebrant as Bishop Boland's nearly 54 years of ministry as priest and bishop to three dioceses are remembered.
Bishop Boland was ordained in 1957 in his native Ireland as a missionary priest for the Archdiocese of Washington, D.C.
He became bishop of Birmingham, Ala., in 1988, then bishop of Kansas City-St. Joseph in 1993. Following his retirement in 2005, Bishop Boland continued to serve the diocese as bishop emeritus until his death on Feb. 27.
He died in a hospice in Cork, Ireland surrounded by family. Bishop Boland returned to his native land Feb. 22 in order to fulfill his wish to be buried at the church of his Baptism, St. Michael Church in Tipperary. A Mass of Christian Burial was celebrated on March 4 at St. Patrick Church in Cork City, Ireland.
All are welcome to attend the March 25 memorial Mass in Kansas City.