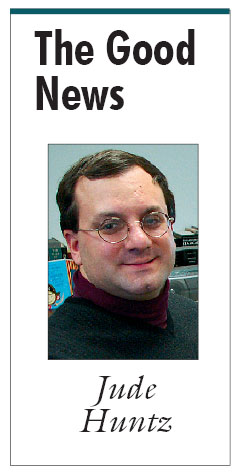 Everyone has their favorite place, whether imaginative or real. It makes no difference whether we have actually been to this place or not. The place in question may for us be the most beautiful place on earth. A significant event in our lives may have occurred there and hence it becomes our favorite place. It may be a place where God is more present to us than in any other place. Wherever it may be for each of us, this place evokes images of happiness, security, peace, and joy. We cannot imagine a negative thought or experience associated with this place, and we often delude ourselves into thinking that we could not possibly fall from grace in such a place. The readings today invite us to reorient our lives in relation to these places, and challenge us to begin the Lenten journey from an unexpected place.
The Garden of Eden is often referred to as Paradise, a primeval place of the fullness of God's presence and love. Here, our first parents lacked nothing and enjoyed a beauty of a pristine place that defies any just description. Given such a place of peace, security, and beauty, we might think that nothing at all could come between them and God. And yet Paradise becomes the very place where sin enters the world. Even in a place of such tranquility, temptation exists and the possibility of a great fall enters our world. Still, with all the beauty and goodness God had given them, our first parents had every advantage in the struggle with the serpent from both a human and divine point of view. And they failed.
St. Augustine reminds us that we would have fared no better in their place, and if we return to our favorite place above we would find ourselves confronted with the same temptation as Adam and Eve. We can construct whatever ideal place and situation for ourselves in order to do battle with the devil, and we will lose if we trust that ideal place to help us in the moment. For the point of the story is that if we fail to remember God's presence in our lives, we will fail no matter how great the surroundings around us.
By contrast, the Gospel text takes us to a very different place of battle in the realm of temptation. Jesus is taken to the desert by the Spirit after his baptism, and there he fasts for forty days while encountering the devil and his temptations. The desert is the furthest place geographically from a lush garden we can imagine. The harsh terrain and weather of the desert would beat anyone into failure and despair. And yet, the devil, who had been successful in his wiles with just one attempt in Paradise, fails in three attempts with Jesus. The appeal to the appetites was enough for Adam and Eve to fail, and yet Jesus overcomes this trial as well as that of fame, riches, and power. Why was Jesus successful in such harsh conditions while Adam and Eve failed in seemingly better ground?
In the desert we can rely on no material advantage for long. The desert brings us to rely on God alone, for in the desert we dispossess ourselves of all worldly attachments and illusions. It is always the place of trial, but it is also the place of refuge – the place God prepared for Israel in Exodus and for the Church in the Book of Revelation that becomes the pathway to the Promised Land and eternal life. The desert is the ideal place for a showdown with Satan, for there we must abandon material goods and cling to God alone. It is in God alone that we can succeed in overcoming temptation.
Lent, then, is the time for us to abandon our favorite place and to go into the desert. Lent is the place for us to abandon our material goods in acts of fasting, mortification, and charity in order to cling to God alone. Lent must be for us the time to engage in the struggle against temptation and to overcome not through our own efforts or reliance on any worldly thing, but solely through reliance on God alone.
As we shed the false gods of our illusory favorite places in beginning the discipline of Lent, we come together to be nourished by the Word of God and the Bread from Heaven. We pray together: "Let us pray at the beginning of Lent for the spirit of repentance. Lord our God, you formed man from the clay of the earth and breathed into him the spirit of life, but he turned from your face and sinned. In this time of repentance we call out for your mercy. Bring us back to you and to the life your Son won for us by his death on the cross, for he lives and reigns forever and ever. Amen."
Jude Huntz is Chancellor of the Diocese of Kansas City – St. Joseph.
Daily Scripture Readings
For complete daily Scripture texts, click here. http://www.usccb.org
Monday, March 10
Leviticus 19:1-2, 11-18
Psalms 19:8, 9, 10, 15
Matthew 25:31-46
Tuesday, March 11
Isaiah 55:10-11
Psalms 34:4-5, 6-7, 16-17, 18-19
Matthew 6:7-15
Wednesday, March 12
Jonah 3:1-10
Psalms 51:3-4, 12-13, 18-19
Luke 11:29-32
Thursday, March 13
Esther C:12, 14-16, 23-25
Psalms 138:1-2ab, 2cde-3, 7c8
Matthew 7:7-12
Friday, March 14
Ezekiel 18:21-28
Psalms 130:1-2, 3-4, 5-7a, 7bc-8
Matthew 5:20-26
Saturday, March 15
Deuteronomy 26:16-19
Psalms 119:1-2, 4-5, 7-8
Matthew 5:43-48
Second Sunday of Lent, March 16
Genesis 12:1-4a
Psalms 33:4-5, 18-19, 20, 22
2 Timothy 1:8b-10
Matthew 17:1-9
Monday, March 17
Daniel 9:4b-10
Psalms 79:8, 9, 11 and 13
Luke 6:36-38
Tuesday, March 18
Isaiah 1:10, 16-20
Psalms 50:8-9, 16bc-17, 21 and 23
Matthew 23:1-12
Wednesday, March 19
2 Samuel 7:4-5a, 12-14a, 16
Psalms 89:2-3, 4-5, 27 and 29
Romans 4:13, 16-18, 22
Matthew 1:16, 18-21, 24a or
Luke 2:41-51a
Thursday, March 20
Jeremiah 17:5-10
Psalms 1:1-2, 3, 4 and 6
Luke 16:19-31
Friday, March 21
Genesis 37:3-4, 12-13a, 17b-28a
Psalms 105:16-17, 18-19, 20-21
Matthew 21:33-43, 45-46
Saturday, March 22
Micah 7:14-15, 18-20
Psalms 103:1-2, 3-4, 9-10, 11-12
Luke 15:1-3, 11-32
Third Sunday of Lent, March 23
Exodus 17:3-7
Psalms 95:1-2, 6-7, 8-9
Romans 5:1-2, 5-8
John 4:5-42
The full text of the Scripture readings for this week and next week can be found here: http://www.usccb.org/
Click on the "Daily Readings" tab on the right hand side of the page.