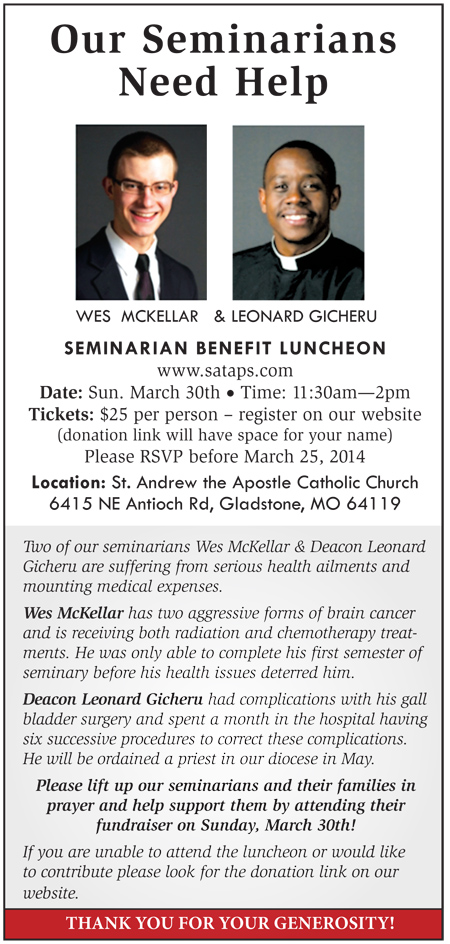 By Marty Denzer
Catholic Key Reporter
KANSAS CITY — So far, this year has been rough for two seminarians of this diocese: Deacon Leonard Gicheru and Wesley McKellar, and their families. And it's only March.
In early January, a week before he was to return to Holy Apostles Seminary in Cromwell, Conn., to complete his final year of study before ordination, Deacon Gicheru underwent a routine laparoscopic operation to remove gall stones, and something went wrong. The 45 minutes became 4 hours; and he spent another month in hospitals — first at North Kansas City Hospital and then the University of Kansas Medical Center. He has had seven additional procedures to correct the complications, including an inflamed, draining bile duct which infected a lung. That lung later collapsed. He has had stents and tubing inserted to prevent any more bile from getting into other organs. Now, although frequently tired, he is beginning to feel more like himself and looks forward to his ordination to the priesthood in May.
At almost the same time, Wesley felt a full –blown migraine coming on, with nausea and fatigue, accompanied by a weakness in his right hand. He had just returned to St. Gregory the Great Seminary in Seward, Neb., for his second semester of study. Some of his fellow seminarians took him to the local hospital's emergency room, where he was given treatment for a migraine and released.
When the treatment had no effect, Wesley and his parents, Scott and Wendy McKellar, decided he should come home. Seminarians drove him to the Iowa border, where Wesley's father picked him up and brought him home. Scott and Wendy took their son to North Kansas City Hospital that very evening. Tests, including a CT scan, revealed a bleeding lesion on the brain. An interesting case, Wendy recalled the doctors saying.
Wesley was transferred by ambulance to KU Medical Center, where an MRI was performed. The results were frightening: a tumor on his brain. Surgery to remove the tumor took place Jan. 17.
"The surgeons were excited," Wendy recalled, "when it appeared they had gotten the entire tumor, which was then sent off to world experts for review. When the test results came back, we learned that the majority of the tumor was a glioblastoma, with the remainder formed by a primitive neuroectodermal tumor or P-net. The world experts suggested the exact same mode of treatment that the doctors at KU Med did, which thrilled them."
Then began the long waiting game of chemo and radiation treatments. Wesley has been unable to return to the seminary.
For both families, medical expenses have mounted up. St. Andrew the Apostle, home parish to Deacon Leonard, his aunt and uncle and the McKellar family, is hosting a Seminarian Benefit Luncheon, 11:30 a.m. – 2 p.m., March 30, at St. Andrew the Apostle Church, 6415 NE Antioch Road, Gladstone. The parish hopes to raise funds to help both families and the two seminarians. Visit the parish website, www.sataps.com, for information, reservations and links to contribute.
Life is full of races. Wendy said Father Gregory Lockwood, Administrative Director of the Diocesan Office of Vocations, described this particular race as "a marathon, not a sprint," for both Deacon Leonard and Wesley.
Wesley, 20, Canadian by birth, was transplanted to Kansas City by way of his father's job in 2006. He graduated from St. Pius X High School in 2011 and attended William Jewell College in Liberty for two years, studying International Relations and Philosophy. He "grew up in a Catholic family, altar served and even 'played' Mass as a kid," Wesley explained.
"I had a pretty good idea that I should discern the priesthood by the time I graduated High School, but I also had my own ideas about life, where I was going, and frankly what it was I wanted to do. I attended William Jewell … on the Debate Team, Student Senate, and the Scholarship Committee for the International Fraternity of Phi Gamma Delta; suffice to say I did my own thing, pursued my own interests, and avoided listening to the call at all costs.
"During my second year at Jewell I reexamined my life, did a total consecration to Mary, and began to entertain the dreaded 'seminary question.' However, I wasn't willing to pull the trigger without some sort of confirmation. After hearing Father Michael Gaitley's testimony earlier that spring and the role that St. Therese of Lisieux played in his affirming his vocation, I did one of those 'silly Little Rose Novenas.' I asked for a yellow rose and then went off for Totus Tuus training the summer of 2013. From the first night of training (yellow roses at Our Lady's feet above where I chose to sleep), to the first parish we taught at (Our Lady of Lourdes crowned with yellow roses), all the way through the seminary interview with Bishop Finn (yellow roses on a Kleenex box) they kept appearing."
Wesley misses St. Gregory the Great Seminary, "home to five of my Diocesan brothers" and 42 seminarians representing nine other dioceses, a great deal. "It is truly an awesome seminary! It was a blessing to spend the fall semester at St. Greg's."
In the weeks since he learned about the cancerous tumors, Wesley has had a lot to digest. "In these sorts of situations," he said, "people expect you to either sink or swim. No one expects you to stand. As with Peter when he saw Jesus out walking on the water is assured to 'take courage, it is I; be not afraid' (Mt 20:26). As long as Peter remained focused on the Lord, he walked without trouble, but the moment he turns away seeing the terror of the stormy winds, and abyss of the deep he becomes disheartened, crying out, 'Lord, save me.' (Mt 20:30). Jesus saves Peter, bringing him safely back into the boat remarking, 'O you of little faith, why did you doubt?' (Mt 20:31). I have found great consolation in this passage.
"My cancer, treatment, and the side effects (namely fatigue) are all out of my control. I have no more control than Peter had over the waters or winds. Sure it's difficult at times, but to quote one of my favorite films, 'Life is pain, Highness. Anyone who says differently is selling something' (The Princess Bride)." In other words, "trust in God is the foundation for enduring any trial … without Him I cannot stand."
Wesley has asked Charles Untz, a teenager whose main ambition was to be a saint, to intercede for him. Untz was 18 when he was struck by a car in front of his home and died. Untz had a strong devotion to the Blessed Mother, whom he called "My Lady."
His parents, brothers and sisters are also leaning on Jesus and his Mother. Wendy said, "Wes is keeping his heart up, but becoming fatigued from his chemo and radiation treatments. Poor kid! It is a mind and soul game with me. I am so thankful Wes' heart is in such a good place, wanting to be a priest.  But it is shockingly weird news, and I feel shaken. This kind of cancer is very aggressive, and the prognosis is horrible. We really do need a miracle."
Deacon Leonard, 31, was born in a village about an hour and a half from Nairobi, in Kenya. His parents, Peter, a government employee and Mary, a stay at home mom, had a great devotion to the Holy Family, he said, and imparted that devotion to their three children. "Mom played a great role in developing my faith. Going to Mass on Sunday was not an option. It was at Mass that I first started thinking about the priesthood. My father said I was about 7 years old, I don't remember. But I do remember thinking I wanted to be like the priests who celebrated Mass for us. They were missionaries; they bound the community together in faith. They served and worked with the community in all things — they were priests, teachers, nurses, mechanics, just everything to our community. That was a pretty big motivation."
He attended the village school and after he graduated from high school, he entered a seminary in Kenya. "Mom wasn't happy at first, she wanted me, her oldest child to marry and have children. She's happy about it now."
After seven years of seminary study, the young man reached a crossroads: did he still want to be a priest or not? He decided to emigrate to the United States, and study nursing. Obtaining his green card, Leonard arrived in Kansas City and took some CNA (Certified Nurse Assistant) courses. He then enrolled in LPN (Licensed Practical Nurse) studies. The host family he was staying with, Mary and Joseph Mwaura, are parishioners of St. Andrew the Apostle in Gladstone. Leonard got in the habit of spending a lot of time in the church, praying and meditating. The priesthood still called him, but he wasn't sure. Then Father Vince Rogers, pastor of St. Andrew's, approached him, and they talked about the priesthood. The more they talked, the more certain Leonard became that he wanted to be a priest. Father Rogers introduced him to Father Richard Rocha and Father Lockwood, of the Vocations Office, and Leonard found himself at Holy Apostles Seminary.
His final semester of study interrupted by health challenges, Deacon Leonard was afraid that he wouldn't be ready for ordination. Kansas City-St. Joseph diocesan Bishop Robert Finn decided that as Deacon Leonard had spent seven years in seminary in Kenya before enrolling at Holy Apostles and, since Leonard was ordained a transitional deacon last spring, he could be ordained with his class in May of this year. Any remaining coursework could be completed later.
Brother seminarians of both Deacon Leonard and Wesley have prayed for them. Friends, acquaintances and people who have been touched by their stories have sent cards, notes and had Masses said for them. Sixth graders at St. Andrew the Apostle School have sent Wesley a Joke a Day through his sister Anna. Well wishers here at home and as far away as Rome, Galway and Canada have holy cards honoring Charles Untz, and praying to him to intercede with God for Wesley. "The thoughts and wishes make his day," Wendy said.
Both young men have dreams of being a priest, the kind of priest they hope to be. Father Lockwood marveled at how much alike they are, "Leonard is at the end of his study and Wesley has just begun, but they both are interested in the people in the pews. A priestly vocation is about caring for the spiritual lives of the people. These two understand that."
Wesley dreams "of being a holy enough priest to bring people to know, love and serve Jesus Christ by my example, through evangelization, catechesis and the sacraments. I would love the opportunity to return to my home parish of St. Andrew the Apostle as an associate pastor. We'll see."
His bout with brain cancer "has brought home the lesson of my own mortality, and it has given me an inside perspective on the real lived experience of suffering and all it entails; physically, psychologically, emotionally and spiritually. I hope to be more compassionate for the experience, to speak from personal understanding and solidarity. Embracing the cross is a tough lesson, but 'just as the sufferings of Christ are ours in abundance, so also our comfort is abundant through Christ.' (2 Cor1:5)"
Deacon Leonard admits that at times during the past two months, he has found it difficult to pray due to heavy sedation. But he's finding life and prayer easier now. He hopes to be more empathetic to people who are suffering, physically, emotionally and spiritually, because he's been there. "Sometimes, you don't need talk about it, just be there," he said. "Presence is very helpful, either a priest or a lay person."
Deacon Leonard is praying to the Holy Family that his family, his parents and aunt are able to come to Kansas City for his ordination. "My aunt was approved for a visa, but my parents were denied." His disappointment was obvious. "But they are going to try again, and reapply for a visa next week. I hope this time they are approved. My aunt says she will not come alone!"
Despite the health challenges, the pain and uncertainty about recovery that both Deacon Leonard and Wesley and their families have felt, both young men are all smiles when they talk about becoming a priest. May that bode well for both.
For more information on the Seminary Benefit Luncheon, visit www.sataps.com.