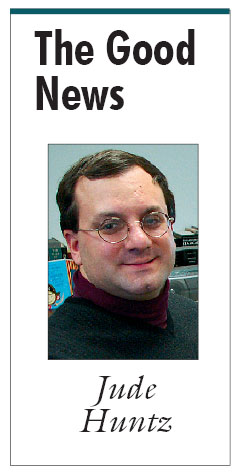 The first rule of being a new husband is never to ask this question: "Dear, what do you want for Christmas/birthday/anniversary/Valentine's Day?" Invariably, the answer to the question will be, "Oh, you don't have to get me anything." It takes years of experience to realize that wives really are usually sincere in their answer – they really don't want anything. What they really want is someone. They want to be with their beloved, for that time in the presence of the one they love is truly greater than any material object a husband can buy for his wife. The readings for today lead us to discover the gift of God that satisfies all our desires.
In the Hebrew Scriptures the gift of God refers to the Law God gave to Moses and the people of Israel at Sinai. The Law represented for them the greatest love God could express – His will and plan for them in being His chosen people, His choice bride. All the other gifts God gives to His people in the desert – manna, water (as in the first reading today) – are all intrinsically connected to the fundamental gift of God that is the Law. The Law, as well as manna and water, represent God's presence among His people. These objects are for the people of Israel signs of God's love for them, and the great liturgical feasts of Judaism celebrate the gift of God and its corresponding symbols – Passover and the Feast of Tabernacles being the most prominent.
However, the people longed for more, a longing that grew into a hope for the presence of God to be manifest not in an object but in a person, the Messiah of God. Paul expresses this hope in the second reading, a hope that comes to be fulfilled in the person of Jesus the Lord. Torah as the gift of God obliged the people to love their neighbor, and yet Jesus shows us by example the love to which we are called by God through the giving of one's life for the sake of others. Though chosen by God, we made ourselves enemies of God through sin. While human love expresses itself quite naturally to those who like us and are likable in our eyes, it is rare to be found in us for those who are our enemies. And yet God shows His loving kindness to His enemies in the person of Jesus in dying for us.
Coming to understand the identity of Jesus as the presence of God on earth is the challenge presented to the Samaritan woman in the Gospel text for today. Her immediate response to Jesus' request for water is visceral and natural – How can a Jew ask a Samaritan for water, for these two groups are longstanding enemies. And yet Jesus continues the conversation and makes a startling revelation – "If you knew the gift of God and who is asking you for a drink you would have asked him and he would have given you living water." The gift of God is not a something, but a someone – Jesus himself. And Jesus indeed gives the woman living water, for as the story progresses she comes to deeper realizations of Jesus' identity, first calling him 'sir', then moving to the title 'prophet', and proceeding on to 'Messiah'. At that point the woman leaves behind her water jar, i.e. leaving behind the material object as God's presence and moving to the true reality of the gift of God as the person of Jesus. She then becomes the first evangelist, leading the entire village to know Jesus as 'savior of the world.'
Lent is a time to challenge our love and our understandings. We have a tendency to relapse into ideas of material objects as our point of focus for God's presence on earth. We struggle to love as God calls us to love others in the person and example of Jesus. Lent is our time to rediscover the gift of God and to receive the life giving water of Jesus the Lord. Only then can we overcome our natural hatreds and love our enemies. Love is the only solution to human conflicts, both personal and collective. Only the love of Jesus incarnate in our actions can transform the world from cultures of death, violence, and hatred into a civilization of love.
As we progress along our Lenten journey together, we continue to discern the ways in which we can know better the gift of God and how we might love more authentically as followers of Jesus. We pray together: "Let us pray to the Father and ask him to form a new heart within us. God of all compassion, Father of all goodness, to heal the wounds our sins and selfishness bring upon us you bid us turn to fasting, prayer, and sharing with our brothers and sisters. We acknowledge our sinfulness, our guilt is ever before us. When our weakness causes discouragement, let your compassion fill us with hope and lead us through a Lent of repentance to the beauty of Easter joy. Grant this through Christ our Lord. Amen."
Jude Huntz is Chancellor of the Diocese of Kansas City – St. Joseph.
Daily Scripture Readings
For complete daily Scripture texts, click here. http://www.usccb.org
Monday, March 24
2 Kings 5:1-15ab
Psalms 42:2, 3; 43:3, 4
Luke 4:24-30
Solemnity of the Annunciation of the Lord
Tuesday, March 25
Isaiah 7:10-14; 8:10
Psalms 40:7-8a, 8b-9, 10, 11
Hebrews 10:4-10
Luke 1:26-38
Wednesday, March 26
Deuteronomy 4:1, 5-9
Psalms 147:12-13, 15-16, 19-20
Matthew 5:17-19
Thursday, March 27
Jeremiah 7:23-28
Psalms 95:1-2, 6-7, 8-9
Luke 11:14-23
Friday, March 28
Hosea 14:2-10
Psalms 81:6c-8a, 8bc-9, 10-11ab, 14 and 17
Mark 12:28-34
Saturday, March 29
Hosea 6:1-6
Psalms 51:3-4, 18-19, 20-21ab
Luke 18:9-14
Fourth Sunday of Lent, March 30
1 Samuel 16:1b, 6-7, 10-13a
Psalms 23:1-3a, 3b-4, 5, 6
Ephesians 5:8-14
John 9:1-41
Monday, March 31
Isaiah 65:17-21
Psalms 30:2 and 4, 5-6,
11-12a and 13b
John 4:43-54
Tuesday, April 1
Ezekiel 47:1-9, 12
Psalms 46:2-3, 5-6, 8-9
John 5:1-16
Wednesday, April 2
Isaiah 49:8-15
Psalms 145:8-9, 13cd-14, 17-18
John 5:17-30
Thursday, April 3
Exodus 32:7-14
Psalms 106:19-20, 21-22, 23
John 5:31-47
Friday, April 4
Wisdom 2:1a, 12-22
Psalms 34:17-18, 19-20, 21 and 23
John 7:1-2, 10, 25-30
Saturday, April 5
Jeremiah 11:18-20
Psalms 7:2-3, 9bc-10, 11-12
John 7:40-53
Fifth Sunday of Lent, April 6
Ezekiel 37:12-14
Psalms 130:1-2, 3-4, 5-6, 7-8
Romans 8:8-11
John 11:1-45
The full text of the Scripture readings for this week and next week can be found here: http://www.usccb.org/
Click on the "Daily Readings" tab on the right hand side of the page.