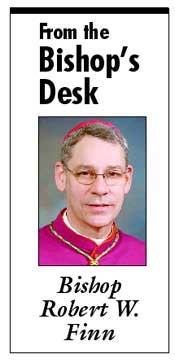 When I was assigned coadjutor bishop of Kansas City-St. Joseph ten years ago, I had only met Bishop Boland one time. It was at a gathering for Archbishop Rigali and the two of us were seated with 3-4 others at lunch. I enjoyed this brogue-bearing bishop who had plenty of stories and was quick to smile and enjoy the fraternity of our group.
A year or so later, I spoke to him at much greater length, and with much more focus. It was now the week between March 1, 2004, when I was informed of my appointment by the Nuncio, and March 9th, when I was presented to the Diocese in the day chapel of the Cathedral. Everything was hush-hush until the 9th, and I snuck into town in the early evening of March 8. Bishop Boland embraced me and made me feel very welcome. As we sat in the Cathedral rectory the next day waiting for the noon press conference to start, my nervousness was eased by Bishop Boland's easy manner.
He loved our Diocese and was so pleased to share it with me. It was precisely this unselfish love for the Diocese that had caused him to ask for a coadjutor bishop. When Bishop Boland arrived here in 1993, Bishop John Sullivan had been sick for some time. When he came to know his own health challenges, he wanted to make sure that our local Church would not suffer unnecessarily if he were to become incapacitated.
I enjoyed his "Irishisms:" "This day felt longer than a wet week," he might say; or he referred to the mashed potatoes as "Irish ice cream."
Our last time together was on Saturday morning, February 22, 2014, as we were waiting for the ambulance to take him to the plane, to take him home to Ireland. (Understand, I had been given strict orders not to alert anyone of his departure until the wheels of the plane were up.) I reminded Bishop Boland that the day marked the tenth anniversary of his re-consecration of the Cathedral of the Immaculate Conception, a renovation project of which he was rightly proud. He was weak and he spoke quietly. He told us that we should recall this day in the future as a special day. He gave a final blessing to us all and to the Diocese of Kansas City-St. Joseph. We can remember February 22 as the day we said farewell to our missionary bishop. He died in Ireland on February 27, and was buried in St. Michael Church Yard in Tipperary, the church of his baptism.
On March 25th the Diocese of Kansas City-St. Joseph celebrated a memorial Mass for Bishop Boland in our Cathedral of the Immaculate Conception. The church was full, and we were blessed to be joined by many priests, deacons, Religious, and a number of bishops, including Bishop David Foley and Bishop Robert Baker of Birmingham (Alabama), successors to Bishop Raymond Boland there. Bishop Kevin Boland, our Bishop's brother and Bishop Emeritus of Savannah, preached the homily. It was a beautiful meditation on our bishop's faith, and his service to God's people.
We are grateful to Almighty God for the life and ministry of our fifth bishop, who came to us with a generous and joyful missionary spirit. We will miss him, and we pray with hope in the Risen Jesus that God will bring Raymond James Boland to eternal life. o
Groundbreaking, May 3, 2014, 11:00 a.m., in Lee's Summit
On May 3rd, we will gather to offer a grateful and hope-filled prayer; to begin an important work in a concrete way. We will break ground in Lee's Summit for St. Michael the Archangel High School. I invite all of you to join me there to ask God's grace and blessing on this historic and vital effort. At this time, when there remain so many challenges, we make a great act of faith and charity. We must always do everything we can to see that the mission of the Church is not impeded; that we never remain stagnant; that we go Forward, boldly, in Faith.
In recent weeks I have announced the leadership of our high school: Dr. John Purk will be its President, and John O'Connor will serve as the Principal. As we take this next step and begin construction, I hope you will also make a generous gift to Forward in Faith, to prosper the mission of Catholic education in our Diocese.
Mary, Mother of the Church, pray for us.