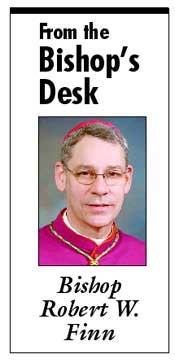 Last Sunday, Palm Sunday, brought the report of a terrible and tragic shooting in Overland Park, Kansas, at the Jewish Community Center. So many of us were shocked to hear such news of violence in our own backyard. We prayed for all involved.
First thing Monday, which was the start of Jewish Passover, I sent a letter to Mr. Marvin Szneler, Executive Director of the Jewish Community Relations Bureau/American Jewish Committee, a person I have known for many years. I expressed my sympathy and support, on the part of the Catholic Church in Kansas City-St. Joseph, for the Jewish community. While I subsequently learned that the three innocent victims who died were not members of the Jewish faith, I noted that the attack had been motivated by anti-Semitic hatred.
The three who died were Dr. William Lewis Corporon, and his grandson, Reat Underwood, and Mrs. Terri LaManno. Dr. Corporon and his 14 year old grandson were members of United Methodist Church of the Resurrection in Leawood, Kansas. Terri LaManno, who was killed as she was visiting her mother at Village Shalom retirement home, was a Catholic of our Diocese of Kansas City-St. Joseph; a longtime parishioner at St. Peter Parish in Kansas City. We send our heartfelt prayers for them; for the eternal repose of their souls, and also for the consolation of their families and many loved ones.
In these days of Holy Week we contemplate the death and resurrection of Jesus Christ. May the Mercy of the Redeemer console those who have experienced such a significant loss. May the promise of Easter shed some tiny ray of hope in the midst of such a senseless and sudden act of violence.
Let us likewise pray for the Jewish people who also grieve such a vicious attack, that they experience the deep peace and guiding light of the God who saves His people Israel.