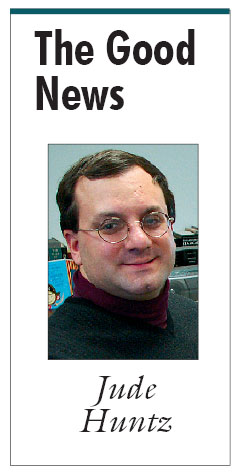 One of the casualties of the present age is the inability to arrive at agreement on just about anything. Certainly on matters of taste and opinion we should not expect agreement among persons; civilized people respect differences in these areas and allow people to be as they are. In the realm of truth and goodness, the failure to agree has profoundly deleterious consequences for individual persons and entire societies. However, now the lack of agreement extends to the realm of facts – facts of history, facts of present day events. I remember attending a Civil War re-enactment at a small battlefield in Kansas where a group of people showed up cheering for the Confederates to win! Did they really think that such advocacy could alter the outcome of history? Did they reject the outcome of that historical event to such an extent that they held out hope for a different result in the present age?
In any case, when Peter announces to the crowd the saving words and deeds of Jesus, culminating in the Resurrection, he makes this bold proclamation: "You know what has happened all over Judea…" The events of Jesus' life, death, and even resurrection are known to the entire world. They are not hidden, secret events. They are not even matters of dispute as to whether they happened or not. What matters is whether these events have any meaning for us in our lives, or rather, whether we live in such a way that indicate that these events do indeed have salvific meaning for us.
The great Jesuit theologian Karl Rahner made famous the phrase "the anonymous Christian." By this statement he meant that there exist people whose lives reflect Gospel values and the manner of Jesus' living, even though they have no material knowledge at all of Jesus the Lord. They live their lives in a way that a Christian ought to live – lives of hope, joy, and love – lives that openly reflect the fact that Jesus existed on this earth; that he died and rose again to save all humankind. We marvel at such lives, as they stand as an indictment to us who do know about the message and Jesus and live less than exemplary Christian lives.
Rahner had a companion idea known less famously as "the anonymous atheist." He used this term to refer to Christians who profess the creed with their lips, but their outward lives in no way reflect Gospel values. Their lives do not represent Christian joy, hope, and love that reflect the truth that Jesus existed on this earth – that he died and rose again to save all humankind. In effect, they live as an atheist. The life of Jesus has no real practical meaning for their lives.
The fact of the empty tomb and the words of Peter today compel us to tear aside the anonymity of our lives and to definitively state whether Jesus the Lord has real and authentic meaning for us in our lives. Will we decide to respond affirmatively to the event of Jesus' resurrection and live our lives anew as His followers? Or will we continue to see the empty tomb and all Jesus said and did as mere curiosities that do not affect the way we live in any appreciable way?
The resurrection of Jesus led to some rapid and dramatic results in the life of Jesus' followers. Despite their fear and doubts the risen Jesus continued to be with them and visit them. He fulfilled His promise and sent them the Spirit to dispel their fear and to be transformed into people of courageous love. Men and women who were formerly timid, doubting seekers of a political Messiah of this world only became people enflamed with love for God and for others. Death, which had been their greatest fear, had been vanquished by the Lord Jesus and no longer had the power of fear over them.
Our lives too can be transformed similarly, if only we would give these events the meaning intended for us in the divine plan. As we seek to daily find this meaning in our lives, we come together on the greatest of all Christian feasts to pray and be renewed in our search for the meaning of the empty tomb. And so we pray together: "Let us pray on this Easter morning for the life that never again shall see darkness. God our Father, creator of all, today is the day of Easter joy. This is the morning on which the Lord appeared to men who had begun to lose hope and opened their eyes to what the scriptures foretold: that first he must die, and then he would rise and ascend into his Father's glorious presence. May the risen Lord breathe on our minds and open our eyes that we may know him in the breaking of bread, and follow him in his risen life. Grant this through Christ our Lord. Amen."
Jude Huntz is Chancellor of the Diocese of Kansas City – St. Joseph.
Daily Scripture Readings
For complete daily Scripture texts, click here. http://www.usccb.org
 Monday, April 21
Acts 2:14, 22-33,
Psalms 16:1-2a and 5, 7-8, 9-10, 11
Matthew 28:8-15
Tuesday, April 22
Acts 2:36-41
Psalms 33:4-5, 18-19, 20 and 22
John 20:11-18
Wednesday, April 23
Acts 3:1-10
Psalms 105:1-2, 3-4, 6-7, 8-9
Luke 24:13-35
Thursday, April 24
Acts 3:11-26
Psalms 8:2ab and 5, 6-7, 8-9
Luke 24:35-48
Friday, April 25
Acts 4:1-12
Psalms 118:1-2 and 4, 22-24, 25-27a
John 21:1-14
Saturday, April 26
Acts 4:13-21
Psalms 118:1 and 14-15ab, 16-18, 19-21
Mark 16:9-15
Second Sunday of Easter
Divine Mercy Sunday, April 27
Acts 2:42-47
Psalms 118:2-4, 13-15, 22-24
1 Peter 1:3-9
John 20:19-31
Monday, April 28
Acts 4:23-31
Psalms 2:1-3, 4-7a, 7b-9
John 3:1-8
Tuesday, April 29
Acts 4:32-37
Psalms 93:1ab, 1cd-2, 5
John 3:7b-15
Wednesday, April 30
Acts 5:17-26
Psalms 34:2-3, 4-5, 6-7, 8-9
John 3:16-21
Thursday, May 1
Acts 5:27-33
Psalms 34:2 and 9, 17-18, 19-20
John 3:31-36
Friday, May 2
Acts 5:34-42
Psalms 27:1, 4, 13-14
John 6:1-15
Saturday, May 3
1 Corinthians 15:1-8
Psalms 19:2-3, 4-5
John 14:6-14
Third Sunday of Easter, May 4
Acts 2:14, 22-33
Psalms 16:1-2, 5, 7-8, 9-10, 11
1 Peter 1:17-21
Luke 24:13-35
The full text of the Scripture readings for this week and next week can be found here: http://www.usccb.org/
Click on the "Daily Readings" tab on the right hand side of the page.