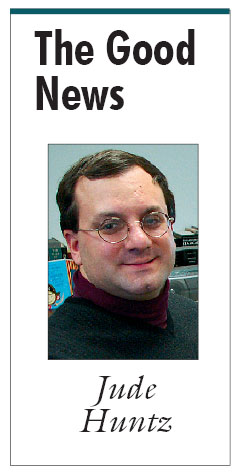 Parents often marvel in disbelief over the things that young children will fight over. Who can forget the great debate over whose teddy bear was better, or the epic battles over space in the back seat of the car on road trips? As adults we look at these feuds as childish, petty, and unimportant. However, if we stopped to look at our own disputes with fellow adults we might see the actual pettiness that exists within these spats. How many "irreconcilable differences" in divorce proceedings are really unimportant matters of our own selfishness? Even in matters of great consequence pride can consume our discussions and we are not conscious of God speaking to us and providing the resolution we need.
In today's Gospel text we find two disciples walking to Emmaus conversing and debating the entire way about the events surrounding the death and resurrection of Jesus. Certainly they did not agree on the meaning of these events, or even perhaps they disagreed on the facts described to them by the women. By their own words they saw Jesus as one from Nazareth who was a powerful prophet of God – words they utter to Jesus himself, though as yet unknown to them! But lest we be harsh on these two men, we might recall our own inability to see Jesus present among us and our failures in recognizing the full reality of Jesus' identity. And these disciples will provide for us an example worthy to follow.
For Jesus does appear to them and listens to their account of the story about himself. They provide for Jesus an honest account of what they saw, heard, and believed about Jesus. Then, these two disciples listen attentively as Jesus, still unknown to them, taught them about the identity of the Messiah through the scriptures. What is more, these men urge Jesus to stay with them that evening for a meal and to continue the conversation about the true nature of the Messiah and the meaning of these recent events of Jesus' death and resurrection.
Their openness and receptivity to the word of God is rewarded in coming to know the full identity of Jesus – present to them this entire time – in the sacramental action of the breaking of the bread. Jesus, who had been unrecognizable to them, now becomes fully known at table. Their receptivity to the word of God enabled them to recognize the Lord Jesus in the present moment, and at once their previous conversation and debate is put aside. Jesus has brought resolution to them through word and sacrament so that all conflict has been set aside.
What is more, these disciples then embark on a missionary endeavor to tell the others about how they came to recognize Jesus in the breaking of the bread. It is not enough for us to merely come to a personal knowledge of Jesus' identity and presence among us. We must share this joy with others and make it known how the risen Jesus has appeared to us in our lives.
Many people today lament the conflicts that exist within the Church – whether these conflicts are local in the parish and diocese, or whether these conflicts are more global in nature. Perhaps today's Gospel text can provide for us a means of finding peace and resolution. If we imitate these two disciples and listen attentively to the word of God, invite Jesus to remain with us, and gather together around the table of the Lord, we too can come to recognize the presence of Christ among us. For what is essential to our lives is the living word of God and the sacramental action of the Church. Through constant meditation on the word of God, through fervent prayer and receptivity to Christ in our lives, and in the celebration of the sacraments together we can resolve any difficulty and conflict. In addition, we can go through life with the joy of the presence of Jesus, making known to others the great work He has begun in us.
The resurrection of Jesus means that conflict need not lead to a sealed tomb as the final resting place for ourselves and that conflict. Instead, it means that the solutions lie beyond the tomb in the light of God's presence. As we gather together, we pray for the grace we need to be like these two disciples on the road to Emmaus so that peace may reign over conflict in all aspects of our lives: "Father in heaven, author of all truth, a people once in darkness has listened to your Word and followed your Son as he rose from the tomb. Hear the prayer of this newborn people and strengthen your Church to answer your call. May we rise and come forth into the light of day to stand in your presence until eternity dawns. We ask this through Christ our Lord. Amen."
Jude Huntz is Chancellor of the Diocese of Kansas City – St. Joseph.
Daily Scripture Readings
For complete daily Scripture texts, click here. http://www.usccb.org
Monday, May 5
Acts 6:8-15
Psalms 119:23-24, 26-27, 29-30
John 6:22-29
Tuesday, May 6
Acts 7:51-8:1a
Psalms 31:3cd-4, 6 and 7b
and 8a, 17 and 21ab
John 6:30-35
Wednesday, May 7
Acts 8:1b-8
Psalms 66:1-3a, 4-5, 6-7a
John 6:35-40
Thursday, May 8
Acts 8:26-40
Psalms 66:8-9, 16-17, 20
John 6:44-51
Friday, May 9
Acts 9:1-20
Psalms 117:1bc, 2
John 6:52-59
Saturday, May 10
Acts 9:31-42
Psalms 116:12-13, 14-15, 16-17
John 6:60-69
Fourth Sunday of Easter
Sunday, May 11
Acts 2:14a, 36-41
Psalms 23:1-2a, 3b-4, 5, 6
1 Peter 2:20b-25
John 10:1-10
Monday, May 12
Acts 11:1-18
Psalms 42:2-3; 43:3, 4
John 10:11-18
Tuesday, May 13
Acts 11:19-26
Psalms 87:1b-3, 4-5, 6-7
John 10:22-30
Wednesday, May 14
Acts 1:15-17, 20-26
Psalms 113:1-2, 3-4, 5-6, 7-8
John 15:9-17
Thursday, May 15
Acts 13:13-25
Psalms 89:2-3, 21-22, 25 and 27
John 13:16-20
Friday, May 16
Acts 13:26-33
Psalms 2:6-7, 8-9, 10-11ab
John 14:1-6
Saturday, May 17
Acts 13:44-52
Psalms 98:1, 2-3ab, 3cd-4
John 14:7-14
Fifth Sunday of Easter, May 18
Acts 6:1-7
Psalms 33:1-2, 4-5, 18-19
1 Peter 2:4-9
John 14:1-12
The full text of the Scripture readings for this week and next week can be found here: http://www.usccb.org/
Click on the "Daily Readings" tab on the right hand side of the page.