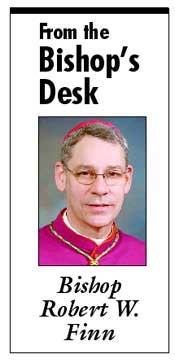 Following are comments made by Bishop Robert W. Finn at the groundbreaking ceremony for St. Michael the Archangel High School on May 3 in Lee's Summit:
Thank you for being here this beautiful morning.
Thanks to our pastors; to the dignitaries present and to those who have sent messages of support;
Thanks to the friends of St. Mary's and of Archbishop O'Hara High Schools who are here. Remember that you are for us, forever, the foundation. Thanks especially to the families and young people who are here. You are the reason why we look forward.
Forward: Our eyes are fixed on a goal: Catholic education and formation for our children, so that they can reach heaven. This work is part of the mission of the Church. We preserve and conserve, but we also always look forward. My own motto as a bishop is Quaerite Primum Regnum Dei – Seek First the Kingdom of God. We must be "mission driven."
Forward in Faith: We walk by Faith. We cannot see all that is ahead. But we look toward Jesus Christ, and we make a leap of Faith. Some have told me, "Bishop if I know for sure that this is going to be successful – When I see the walls going up – then I'll give." Sounds a little bit like Thomas the Apostle in last week's Gospel: "If I can see the nail marks, then I'll believe." The Church needs more than that. Jesus asks us to believe and go forth!" You – your faith – will build these walls. Bishop Finn can't build this school. Your faith will build these walls. Let's build them strong! And we are not building this school for me. Build it for the future of Catholic Secondary Education in the Diocese.
Yes – This, like so many other things is a work of Faith – and really – a work of love. When parents receive their children, they don't wait to see first who they will be, before they love them. They begin immediately to shower them with love. In that love; in that commitment; with that connection – the child grows.
I ask everyone in our Diocese to become committed; to become connected to this work of Faith; to this necessary work of the Church, who in her mission must help parents form their children.
Shower this school with love. Generously shape and support it – so it will grow strong from the beginning. We are Moving Forward; We are Moving Forward in Faith.
* * * * * *
Last July (2013) Pope Francis dedicated a statue of St. Michael the Archangel in the Vatican, and at the same time he said he was consecrating the Vatican to St. Michael the Archangel.
He said this: "St. Michael – whose name means 'Who is like God?' – is the champion of the Primacy of God, of his transcendence and power."
"Michael," the Pope taught, "struggles to restore divine justice. .. He defends the people of God from His enemies, above all from the devil."
St. Michael was chosen by people throughout the Diocese as the namesake and patron of this school. He is a good patron for a school. Here we must champion the primacy of God. Catholic schools exist to announce the primacy of God.
Here we must strengthen our young people from the snares of the devil. We want them for God. We will say to the Devil each day, "You cannot have them!" They belong to Jesus Christ. St. Michael the Archangel defend them.
Yes we are Moving Forward in Faith. I thank you so much for your faith; I thank you so much for your generous help. I commend us all to St. Michael and to his Queen: to Mary – Mother of God, Mother of the Church, Queen of Angels, Mother of us all. Amen.
Now we bless this ground, setting it apart for the Work of God. …