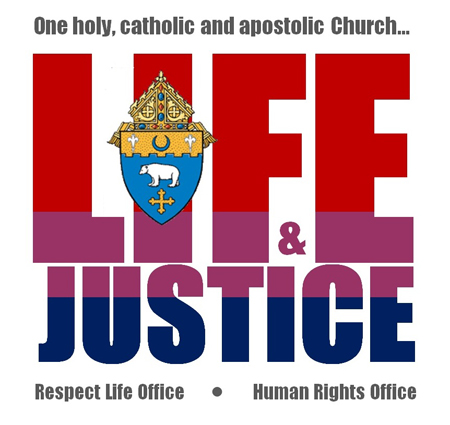 KANSAS CITY — The diocesan Respect Life and Human Rights offices joined May 12 to issue nearly $45,000 in grants to 10 agencies that work specifically to defend the sanctity and dignity of human life as part of the offices' new Life & Justice Campaign.
Bill Francis, director of the Respect Life Office, said the funds came from the Life & Justice campaign that is replacing the former Catholic Campaign for Human Development, which also provided money for similar grants to agencies involved directly in advancing various areas of Catholic social teaching on human dignity.
"We started out by replacing our previous parish collection for human development with one that is managed locally and is committed to distributing all funds locally," Francis said.
Francis said an annual collection in all parishes for the local campaign will be conducted Aug. 16-17, but the fundraising won't stop there.
"In addition to the annual second collection, we have an on-line donation tool that can be accessed any time," he said.
The results have already surpassed expectations, he said.
"The first year of the campaign in 2013, we exceeded the total amount collected in 2012, the final year of the previous collection," he said.
"A natural outcome was that Life & Justice Committee retained complete control over the distribution of funds and could therefore provide 100 percent transparency," Francis said.
Agencies receiving grants were:
• Catholic Radio Network for its Gabriel billboard campaign that is designed to promote morality and truth by raising awareness of Catholic radio throughout the diocese.
• Community Missions Corporation/InterServ of St. Joseph for programs to help the homeless served in the new cold weather shelter to reconnect with family and community, and to overcome barriers as they transition to permanent, stable housing.
• Foundation for Inclusive Religious Education (F.I.R.E.) for its programs that provide services that open the doors of Catholic schools to students with special needs, who in turn enrich the school with their presence.
• Jerusalem Farm for its programs that provide basic home repair services to elderly poor neighbors in northeast Kansas City, while also providing week-long opportunities for prayer, service and learning a more sustainable life on its urban farm.
• Mother's Refuge to assist the home for expectant single young women to get back on its feet after a fire in 2013. Since 1987, Mother's Refuge have helped more than 1,350 homeless, pregnant young women bring their babies to birth, and assist them toward acquiring the skills to lead a stable life.
• Northwest Missouri Enterprise Facilitation for its programs that provide practical assistance to people who are beginning small businesses. Since 2006, the agency has helped more than 600 such entrepreneurs in Andrew, Atchison, Gentry, Holt, Nodaway and Worth counties.
• Operation Breakthrough/Amethyst Place for its "100 Jobs for 100 Moms" program that provides mentoring which allows women with children in poverty to secure sustainable employment.
• St. Matthew the Apostle Parish for its program to provide English as a Second Language classes at no cost to the growing number of non-English speaking families in the Hickman Mills area of Kansas City.
• St. Therese Little Flower Parish to help the parish broaden the scope of services to its elderly neighbors to include minor home improvements and repairs to allow seniors to remain in their homes in addition to providing, through Catholic Charities, home-delivered meals to more than 100 people a day as well as the ongoing opportunity for weekly community meals at the parish.
Francis said the grants issued May 12 advance the mission of the church to serve human dignity.
"We are already working with wonderful pastoral care organizations and we are already working closely with parishioners throughout our diocese," he said.
"There is potentially no one else in a position to bring these two groups together on such a significant scale," he said.
More information about the Life & Justice Campaign, including grant criteria and application forms, and an opportunity to donate, is available online at the diocesan Web site, www.diocese-kcsj.org. Click "Offices and Agencies" in the heading, then click "Human Rights" in the left column.