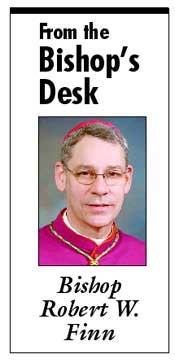 When I came to the Diocese of Kansas City-St. Joseph ten years ago and was ordained a bishop, I received a very special gift from the priests. It was a copy of the Rite of Ordination; the book used for the conferral of Holy Orders for Deacons and Priests. I remarked at the time that I hoped I would use it so often that the pages would become dog-eared and worn.
In the last weeks I have again had the joy and privilege of ordaining deacons and priests for our Diocese. The other day I sat down for a moment to calculate how many ordinations I have celebrated. Over the last 9 years since becoming the Ordinary of the Diocese I have ordained 34 Transitional Deacons, 23 Diocesan Priests; 3 Religious Order (Benedictine) Priests, and 18 Permanent Deacons. By this Saturday, June 7, the number of Permanent Deacons ordained should increase to 31. What a blessing for our Diocese of Kansas City-St. Joseph!
In addition, another priest will have been ordained at Conception Abbey, and a Redemptorist priest will be ordained at Our Lady of Perpetual Help (Redemptorist) Parish in June.
Each of these newly ordained deacons and priests has a wonderful story to tell of how God entered their life, called them to this vocation, and how He now sustains them in their ministry in the Church. Our Catholic Key has shared many of these stories with our readers. These accounts are not just news, but real inspiration. Reading them, we cannot help but think about our own encounter with God and how He has loved us and invited us to find a path to holiness in accord with our vocation.
Although the Rites of Ordination do not contain the vows for Religious Profession, Religious Sisters and Brothers build up the church through their chaste love, their obedience, community life, and Gospel poverty. I have received the vows of a number of our Sisters.
So often I encounter single dedicated lay men and women who have so much to give in service. They too are called by God in the dedicated single vocation, and they are able to give themselves, often in an extraordinary and selfless way, to wonderful work that truly glorifies God and builds up His Church.
Last Sunday I celebrated another special annual event: the Golden Jubilee Mass for married couples: the Cathedral was filled with husbands and wives who were marking 50 years of married life. I told them that they, as couples and families, are the greatest witness to the real meaning and extraordinary grace of the married vocation. Not every couple has 50 years together. In the case of my own parents, my Dad died long before that monumental mark. But I know that our Jubilarians are well aware of the happy Providence of God, and the heartfelt dedication and sacrifice that allowed them to reach and celebrate their anniversaries.
This celebration of Marriage reminded me of the upcoming World Synod of Bishops on Marriage and the Family over which Pope Francis will preside this Fall. We pray for the grace of the Holy Spirit to be poured out on their reflections. Today we experience so many challenges to marriage and family: the core building block of the Church and society. The message and teaching of the Pope and Bishops affirming and strengthening authentic marriage will be so important.
How important it is to pray for all these vocations. I pray especially in these days for those pursuing Holy Orders. We certainly need more priests for our Diocese of Kansas City-St. Joseph. Please pray for that. And if your son or grandson expresses some interest in responding to God's call to priesthood, know that your encouragement and support, your prayers and love, will be important as he seeks to answer Jesus Christ in this way.
Our Vocation Office does a wonderful work in receiving and helping form Candidates. So many other groups are supporting these men in every way. But still, my Rite of Ordination book is not nearly so worn as I pray it will be. Pray with me for our newly ordained. And pray that God, who has begun such a good work in our Diocese, will continue to call priests to His Church.