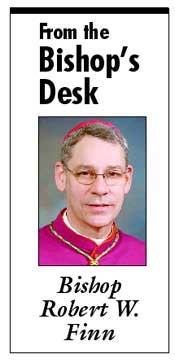 This past Monday, June 16, was the Feast day of St. John Francis Regis, and I enjoyed being at the parish in South Kansas City for the celebration of Holy Mass and a reception. This year marks the 50th anniversary of the founding of the parish.
Not only do we have a parish named for St. John Regis, this Jesuit missionary is the secondary patron of the Diocese of Kansas City-St. Joseph. The two principal patrons are Mary, under the title of the Immaculate Conception and St. Joseph. How did St. John Regis come to be adopted as a special patron and intercessor?
In 1839, Reverend Hermann Aelen, S.J., who was a Jesuit serving here, named a recently built log cabin in Kansas City after St. Regis. This was the first Catholic church in the area. It was built on the site where the Cathedral of the Immaculate Conception now stands. His happy association with the Diocese "stuck."
In 2009, I gratefully received and approved the considerable work of two of our priests, Father Paul Turner and Msgr. Bill Caldwell, to develop a set of texts to be used at Holy Mass and in the Liturgy of the Hours, in our diocese, on the Feast of St. John Regis. Their work was then submitted to the Vatican and approved for use in Kansas City-St. Joseph. This was a great undertaking and I am pleased that we have these prayers to unite us around our intercessor, St. John Francis Regis.
I share here with you a brief biography of St. John, and invite you all to pray often for his saintly friendship and intercession. In a special way I entrust to him our continuing effort to support Catholic Education and the building of St. Michael the Archangel High School.
The Story of St. John Francis Regis
John Francis Regis, born in 1597, of noble stock in a small town named Fontcouverte in the province of Gallia Narbonensis, showed indications of exceptional holiness from his earliest years. Even then there appeared in him marvelous moral innocence, ardent zeal for prayer, reserve, and outstanding modesty. At age nineteen, he entered the Society of Jesus in Toulouse and excelled in humility, obedience, charity, a lack of regard for self, and in other virtues of the religious life. When his studies were completed, he completely gave his entire self to bringing about the salvation of souls.
Having trudged the harsh mountains of the Vivarai, the Velay, and Forez, and the immense Swiss mountains, rough with ice and nearly constant snows, he undertook the teaching of their stubborn residents known for their ignorance, backward ways, and barbaric customs. He did this with such success that he brought back to the Catholic faith and to Christian piety innumerable individuals either badly influenced by Calvinistic teaching or corrupted with destructive morals.
Having worked the mission fields in the wintertime, he returned to Le Puy in the summer, and there in hospitals and prisons and in private homes, at crossroads, and in churches, he assisted all kinds of men and women, having "become all things to all" (1 Corinthians 9:22). He sustained the flocks of the poor with provisions gathered from all over, especially when famine was raging, even on more than one occasion by the miraculous multiplication of grain. Because of this, he was given the name "Father of the Poor." By leading away from the mire of vices shameful and sinful people, it is scarcely believable how many reproaches and mocks he endured. Still he was always undaunted, with an erect and pleasant countenance, although swords were often jabbed toward his neck, blows struck to his mouth, and clubs to his body.
When the plague was raging, he was continually visiting those suffering from that illness and was refreshing them with ardent charity. Kind and obliging to others he was extremely harsh with himself, using rough hair shirts, iron chains, severe self-beatings, taking sleep briefly on a bare table or on the ground, and always very abstemious, subsisting on the most vile food, so that one could say that he hindered death more than he sustained life.
He was so on fire with the love of God that he seemed to breathe, speak and think only of it. He spent many hours of the night in prayer basking in heavenly delights, and he was often taken outside of his body. He was performing this divine exercise with such attention of mind, and with such ardor of expression, that the holiness with which he glowed was warming even those who were bystanders.
He was marvelously famous for miracles and other supernatural gifts. At length, called to the reward of his labors in a district in the Diocese of Vienne, whose name was La Louvesc, he was taken suddenly with a deadly illness contracted from his labors while a most cold winter was raging. Refreshed by heavenly light and invited to eternal joys, he gave back his spirit to his Creator in the year 1640 on the 31st day of December, in his forty-fourth year. His tomb was visited with the greatest devotion by an incredible number of people coming from everywhere across most difficult mountains on account of his sanctity and the report of his miracles, which were becoming especially frequent.
Prayer on the Feast of St. John Regis
O God, whose priest, Saint John Francis Regis, a friend of the poor, the sick, and the wayward, eagerly desired to evangelize the peoples of North America; grant, we ask, that we who serve You in his place may be filled with his same spirit of zeal. Amen.