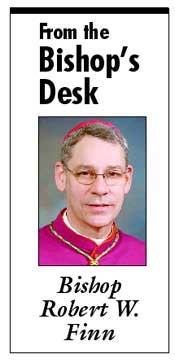 Our ultimate goal as followers of Jesus Christ and members of the Catholic Church is to get to heaven and to help others reach eternal salvation as well.
Each year I make an "annual course" as part of my ongoing formation. Gathering with a group of about 25 priests (and bishops) from around the country, we pray together, share meals and discussions; and we have a mini-course on some theological topic(s). Each Fall, the priests of our Diocese have a similar program, our "Clergy Days." It is certainly helpful for me in living my vocation.
But what kinds of things can we do to grow in our relationship with God day to day? Here I'll outline a few elements of a "Plan of Life," that I often recommend. Perhaps you will find it helpful to consider in your own busy life. Note: There are many other things you could add.
Morning Offering: First thing out of bed, offer the day to God; all my work, all the good things, the challenges and hurts. These can be given to God as an act of trust and love. They are sanctified, or made holy by uniting them to Him.
Prayer: I get up early to have an hour for mental, quiet prayer before Holy Mass. Others might spend 30 minutes in the morning and 30 minutes in the evening. I've found it easier in some ways to build this into my schedule every day. If I try to do it occasionally, it gets lost. Spend time with Jesus Christ. That's the most important thing
Holy Sacrifice of the Mass: I have the privilege of offering Mass daily. Clearly we all must keep the commitment of Mass every Sunday and Holy Day. Maybe Mass on another day can be added. Ask the Holy Spirit to help you so that Mass doesn't become just routine. (As a priest I also pray the Liturgy of the Hours – or Breviary – each day.)
Rosary or other Devotional Prayers: My rosary is in addition to my "quiet" prayer time. Couples and families can find it very meaningful to pray the rosary together.
Spiritual Reading: 10 Minutes a day, I read from some spiritual book. Lives of the saints are good choices. Read great books. Here are 5 recommendations – there are many others. Imitation of Christ, Thomas à Kempis; Soul of the Apostolate, Dom Chautard; Abandonment to Divine Providence, Jean Pierre Caussaude; Introduction to the Devout Life, St. Francis DeSales; True Devotion to the Blessed Virgin Mary, St. Louis de Montfort. Just 10 minutes a day can get you through some great reading.
Reading Sacred Scripture: 5 minutes a day; One way to do this is start at the beginning of the New Testament. Read, more or less, a chapter each day. You will finish the New Testament in about 9 months.
A Holy Attitude, or "Supernatural Outlook." We have to live in the world with our feet on the ground. We have daily responsibilities to carry out faithfully. But, we can try to keep in mind, at all times, that God is present; He is with us. He loves me and you. So I do my work for Him: whether it is teaching a class, attending a meeting, or sweeping the floor. All is for God, so I try to do my best in every effort.
Make some Sacrifices each Day: This is like Lent extended throughout the year. Don't use sugar in your coffee; take a less comfortable chair; watch less TV or computer; but also work on patience with a particular person in your life. Accept daily "Crosses" without complaining. Write a letter or make a call on someone who needs you.
Go to Confession: This is so important to remain in the state of sanctifying grace and to grow in holiness. Try to go to confession at least once a month. It gets easier.
Daily Examination of Conscience: Every night before you go to bed ask the Holy Spirit for help in reviewing your day. There are some dependable leaflets for this: from the Fathers of Mercy, by Father John Hardon, SJ, from the "2 Hearts Network," and many others. Make an Act of Contrition. This will also help make your confessions better.
Kneel Down Before Bed: In addition to your act of contrition, thank God for the day. Tell Him what you want to do better tomorrow. Pray the Hail Mary 3 times, asking Mary for holy purity.
Friends, these are just a few brief suggestions. There are other "means of growing in holiness." It takes time, but this is a way to give your life to God while you live faithfully in the world. I pray for you all and I humbly ask your prayers for me and for all our priests. Let's help each other get to heaven.