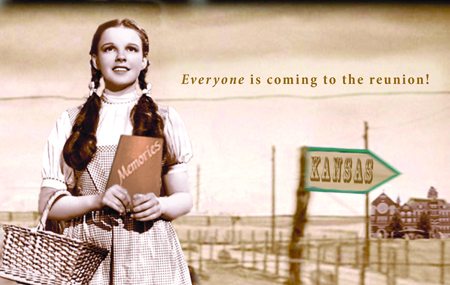 CONCORDIA, Kan. — Dorothy spent the entire "Wizard of Oz" on one adventure after another as she tried to find a way back home.
Organizers of the September CSJ Reunion hope former Sisters of St. Joseph of Concordia and Apostolic School students will be just as homesick for the Nazareth Motherhouse.
The gathering begins with supper Sept. 19, and concludes with a special Mass followed by brunch Sunday morning, Sept. 21.
Registration deadline is Sept. 1, and online registration is available at www.csjkansas.org/2014-csj-reunion/. The website also has information on local motels and a printable registration form.
You may also register by contacting Katie Macke (913) 579-1943 or ckmacke@gmail.com.
Some of the highlights of the program include:
• A slideshow of contributed photographs from participants' time at the Motherhouse. (Send digital images to reunion@csjkansas.org OR send prints to Reunion Photos, Sisters of St. Joseph, P.O. Box 279, Concordia KS 66901. Please include a self-addressed stamped envelope so photos can be returned.)
• A presentation titled "A Faith Journey: The Father's Relentless Guiding Love," by Dorothy Mallon (formerly Sister Marie Elise) of Atlanta.
• Prize drawings and a special silent auction for a quilt handcrafted by Sharon Corpstein (formerly Sister Mary Frowin) of Beeville, Texas.
• A special Sunday Mass with a choir made up of participants and directed by Sister Philomene Reiland of Grayslake, Ill.
• A showing of the 2012 documentary "Band of Sisters," which was shot in nine states and features sisters from 11 congregations.
• Saturday evening banquet, with a welcome from Sister Marcia Allen, president of the Sisters of St. Joseph of Concordia.
• Tours of the Motherhouse and lots of time to get reacquainted.
Boston-based photographer Lora Brody will be on hand throughout the weekend, inviting participants to be a part of her "Then I Was… Now I Am…" project. She will take studio portraits of women attending, and asks women interested to bring with them a photo of herself as a teenager.
Organizers have also worked with the Cloud County Tourism office to put together a daylong tour for husbands, drivers and friends on Saturday. Robert Robles, Rose Schamberger's husband, will lead the tour and stops will include:
• National Orphan Train Museum
• Brown Grand Theatre
• Whole Wall Mural, the longest sculpted brick mural in the U.S.
• POW Camp Concordia, where German World War II prisoners were held
• Lunch at the historic St. Joe Store in St. Joseph, Kan.
The group will probably end up at Heavy's Restaurant & Bar with college football on the big screen.
For more information on the reunion, or if you have questions, contact Connie Tavanis (774) 722-1481 or connietavanis@gmail.com, or Mary Miller Decremer (906) 280-3278 or marydecremer@charter.net.