By Marty Denzer
Catholic Key Reporter
KANSAS CITY — It began in 1996; five families dreamed of sending their children with special needs to the same Catholic grade schools as their siblings and friends. It's been 18 years since those parents founded the Foundation for Inclusive Religious Education. F.I.R.E, as it was commonly known, raised funds to award grants to Catholic schools in the Diocese of Kansas City-St. Joseph to help pay the salaries of paraprofessionals and special educators to enable children with special needs to learn alongside their peers. In 1998, three kindergartners, Austin Dearth, Parker Levi and Nicholas Costanzo, started school at St. Peter's and Visitation schools.
Since then, the foundation and the children served have grown, matured and expanded. The concept of rebranding and re-identifying the foundation has been on the minds of the Board of Directors, chaired by Peggy Van Dyke, and it voted to rebrand and re-identify the foundation in the last year. Through the work of Josh Brewster of Trozzolo Communications, a member of FIRE's board, a new logo and tagline were developed: FIRE Foundation: Igniting Inclusive Catholic Education.
With the rebranding, it's time to take FIRE to the next level. Lynn Hire, who took the reins as executive director of FIRE last year, said that moving to the next level will reinforce the foundation's mission. "We are advocates and funders of inclusion," she said. "FIRE promotes and supports the idea of inclusion because we believe it's the right thing to do, especially in Catholic schools."
The new logo speaks to the foundation's Catholicity, she said. "The tongue of fire serving as the 'i' in FIRE represents the flame of the Holy Spirit. And a flame is ignited. Igniting is what we do —we ignite inclusive Catholic education."
Brewster agreed, saying he knew of and appreciated the brand equity of FIRE's founders. "The FIRE name is inspirational at its core. The acronym (Foundation for Inclusive Religious Education) has meaning; the foundation is igniting fires in parents, paraprofessionals and donors. And at its core is the fire of the Holy Spirit. The new look, the new identity captures the energy and stays true to the vision of the founding parents."
Since its founding, the FIRE Foundation, an independent 501(c)3 organization, has provided more than $2.2 million to partner schools, making it possible for the schools to hire special educators, paraprofessionals and purchase materials and technology to create successful learning opportunities for their students. Without grants from FIRE, most schools wouldn't be able to welcome students with Down syndrome, developmental delays, Lowe's Syndrome, Autism, Cerebral Palsy, Trisomy 9p and other conditions. Inclusion's spirit touches the hearts and lives of all students in the partner schools as well as their families, educators and the entire faith community.
Now in the 2014-15 school year, 75 students with diagnosed special needs will be able to receive an inclusive Catholic education alongside their brothers, sisters and friends. Another 619 children with moderate learning disabilities or who just need a little extra help and encouragement will benefit from the support of trained paraprofessionals in their classrooms or in nearby learning centers. And all 4,915 students in the 12 FIRE partner schools — Visitation, St. Peter, St. Thomas More, St. Elizabeth, Holy Cross, Our Lady of the Angels, Our Lady of Guadalupe, all in Kansas City; Nativity of Mary, Independence; Our Lady of the Presentation, Lee's Summit; St. Therese North, Parkville, and two high schools, Archbishop O'Hara and St. Pius X —will find their learning experiences enriched by knowing and interacting with fellow students with special needs. Austin, Parker and Nicholas all graduated from Archbishop O'Hara High School in 2011.
To help fuel inclusion's flame, Hire announced a recent gift of $300,000 over three years from Loretto Charities. Loretto Charities, founded and directed by Lamar Hunt, Jr., aligns perfectly with FIRE's mission, Hire said. According to its website, Loretto Charities is dedicated to promoting programs and institutions that strengthen families with a weighted concern given to the needs of the poorest and the most vulnerable. "It's a beautiful fit," she said.
Loretto Charities is a strong supporter of Catholic education and of Catholic social teaching, she added. Some of the related social teachings of the Catholic Church include the Dignity of the Human Person, Principal of Solidarity, the Common Good, and Stewardship of God's Creation.
James Arkell, vice president of Loretto Properties, a division of Loretto Charities, said the organization was formed in 2011 by Hunt to manage his and his wife Rita's personal charitable contributions. "Loretto Charities partners with educational, nonprofit and private/public organizations in Kansas and Missouri to accomplish the goals of strengthening families as well as supporting rebuilding communities. By providing financial and organizational support, Loretto Charities works hand in hand with the charities it supports to ensure their success," Arkell said. "It wants to help bring people together by building a better future for the children and families in our communities. Since 2011, Loretto Charities has donated more than $6 million to benefit Catholic schools and education as well as more than 20 organizations helping the most vulnerable and marginalized in the KC metro area."
"This is the largest gift FIRE has ever received," Hire said. "In general, it will help us be in a position to more fully support our 12 partner schools. We are grateful and humbled that Loretto Charities are choosing to support inclusion in our diocesan schools."
One way FIRE plans to "more fully support" its partner schools will be a professional development day for educators in the diocese, to be held next spring. "We are working with the Catholic Schools Office to plan it," Hire said. "The goal is to help our educators learn more about and understand what inclusion is, how it works and why it matters. The focus will be on differentiated education at the grade school and high school levels."
Hire said FIRE recently received a $5,000 Life and Justice grant from the diocesan Respect Life Office, which will be used to help cover costs for the professional development day.
She said it is important that it be understood that FIRE advocates and funds inclusion; it is not a program. "We leave teaching and learning to the experts in the schools," she said.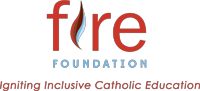 This is an exciting year for FIRE Foundation. "The rebranding, new logo and tag line reinforce that FIRE is a fund raiser and advocate of inclusion," Hire said. "We are excited to bring in St. Pius X High School as a partner school. We are dispersing $288,000 in support of inclusive education in our partner schools this year. The Loretto Charities commitment and FIRE's commitment to professional development for diocesan educators will help kiddoes with special needs and their classmates learn together. Catholic schools welcome students of all abilities. And we would love to partner with more schools. Over the past year we have received more than 20 'good' calls from all corners of the country —educators and parents — who want to use our model in other dioceses. We're talking about it, you know, what we would offer, what we would expect from a group to affiliate with FIRE; it's exciting to consider providing an initiative to launch FIRE affiliates in other parts of the country."
Inclusion looks different in every partner school in the diocese, Hire said. "It depends on the resources and the parish and school community."
Things are really good, said Peggy Van Dyke. "This is the fruition of 18 years of hard work, with the help of the Holy Spirit. It's a wonderful kind of cascade that will relieve the strain of the expenses to the schools; they support about 1/3 of the costs."
Van Dyke said FIRE's long terms goals may include finding a way to bridge the four year gap between the end of high school and age 21 when few services are available for people with special needs.
And where are Austin, Parker and Nicholas now? Katie Levi (Parker's mom) and Patty Dearth (Austin's' mom) gave peeks into the adult lives of their sons. "Parker has been volunteering at Children's Mercy Hospital two days a week as a Path Finder for the last 5 years," Katie wrote. "He exercises his personal GPS skills by helping people wind their way through the maze of hallways and buildings. He enjoys bumping into folks he knows who work and visit the hospital.
"Parker also goes to a Crossroads art studio called Imagine That! two days a week. This studio for adults with developmental disabilities is in the heart of the Crossroads and participates in the popular 'First Fridays' art open houses along with dozens of hip studios in the area.
"Parker continues to stay active with swimming work outs with his grandfather two mornings a week. He also is the assistant to Visitation School's lunch lady one day a week during the school year. Running into some of his former grade school teachers is a highlight of hanging around his old stomping grounds.
"Parker lives in his own home with a friend who also has special needs. Two adult companions live with them and oversee daily needs and activities. He is thriving in his independence."
Patty Dearth wrote, "Austin is a busy young man these days; he volunteers at Children's Mercy as well as an organization called One Good Meal that delivers meals to the home-bound. He occasionally works in the office at the Down Syndrome Guild. Austin attends a day program at Imagine That! Art Studio in the Crossroads district and was a featured artist during a recent First Friday event. He has recently started a position at a local car dealership taking photographs of cars that he downloads onto their website. He also enjoys his evening class called Community Connections at Johnson County Community College during the school year. Austin was very proud to serve as best man at his brother's wedding."
The flame is burning bright and, as Peggy Van Dyke said, FIRE is riding a high wave.