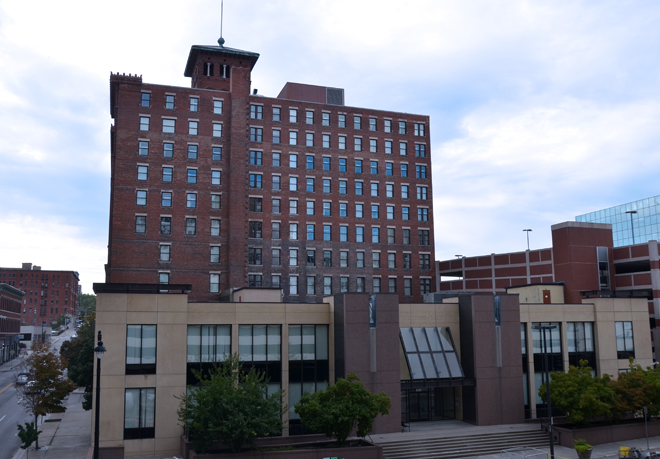 KANSAS CITY – Catholic Charities of Kansas City-St. Joseph has purchased the building at 850 Main Street in downtown Kansas City. The agency expects to move into its new headquarters in December.
"As we mark our 135th year of service to this community, we see our new home at 850 Main as a new beginning. Catholic Charities has been on the front-line of fighting poverty since 1879," said CEO Deacon Dan Powers. "Now, not only will the poor and the disadvantaged find hope and help on Main Street, they'll also be able to move on to get jobs on Main Street. Catholic Charities offers a way out of poverty for those who come to us for help."
The three-story building, purchased for $3.1 million, offers 45,600 square feet of space. It also offers numerous advantages for Catholic Charities, its staff and volunteers, clients and the community. The new space more than doubles the rental space Catholic Charities of Kansas City-St. Joseph currently occupies at two separate locations. It allows the agency to consolidate staff and key programs and services into one centralized location for better collaboration among staff and volunteers, client convenience and overall operational efficiency.
The building also offers needed space and capacity to grow core services focused on homelessness prevention, workforce readiness, financial literacy and economic stability. Over time, that will include a welcome center, job skills laboratory, classrooms for training and education, centralized storage of donated items and a professional clothing closet.
"Purchasing the space at 850 Main not only gives us an appreciable asset for the long-term, it centralizes our existing services and gives us the necessary room to grow," Chief Financial Officer Kim Hein said. "More than 266,000 people live in poverty in the Kansas City area. Going forward, we're going to be able to better serve more people with the individualized care they need to break the cycle and achieve long-term, sustainable change."
The building is conveniently located on bus routes, the future streetcar line and major highways, making it easily accessible for people throughout the metropolitan area. Unoccupied since 2008, 850 Main is part of the former Aquila Headquarters office complex and was also formerly known as the Merchants Bank building.
"We're going to bring this building back to life as a hub focused on preventing and reducing poverty in Kansas City and our surrounding neighborhoods," Powers said. "It's the right time and the right opportunity for us to be able to scale the impact we've been making since 1879."