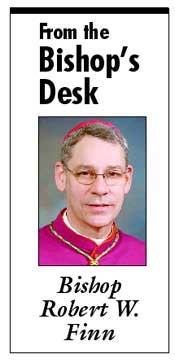 This first week of November I participated in the annual meeting of the Bishops of Missouri and the Major Superiors of Religious Orders. It is an opportunity we have each year to visit, get to meet each other — since some of the superiors are newly elected — and talk about our shared mission in service to the Church in Missouri. Our diocese is served by members of ten men's Orders, and about two dozen women's Orders. The other Missouri dioceses have Religious as well, and the Archdiocese of St. Louis has the largest contingent.
The theme of the annual meeting varies, with this year's gathering focusing on the preaching of Pope Francis. We had presentations and discussions, Holy Mass, and lunch at the pastoral center in St. Louis.
Our diocese is enriched by the presence, prayer and apostolate of Religious men and women. Over the years they have served in many of our parishes and schools, hospitals, and homes for the sick and elderly, and in works of evangelization locally and abroad. Some of the Religious in our Diocese are members of monastic communities, like the Benedictines; others are Societies like the Precious Blood Fathers and the Jesuits. Religious live in communities and share property under a vow of poverty. They sometimes wear a distinctive garb or "habit." They live according to a particular "charism" — a pastoral work or unique characteristic — that was adopted by their founder: Saint Francis founded and shaped the Franciscans; Saint Gaspar, the Precious Blood; Saint Jeanne Jugan, the Little Sisters of the Poor.
When a man or a woman seeks to enter into a Religious Order they have an introductory period sometimes called "postulancy." This is usually followed by a year called "novitiate," during which they grow in prayer and learn about their founder, the spirit, customs, and "rule" of the Order. At the end of novitiate they may be allowed to make temporary vows, perhaps for one or more years, before eventually taking permanent or solemn vows.
Religious Life is sometimes called Consecrated Life to signify that total self-giving of the person to God within the Order. Consecration is a solemn act by which something — or someone — is set aside for a new purpose. Consecrated Religious often make three promises or vows: poverty, chastity, and obedience. Diocesan priests, by comparison, are ordained for a particular local Church or diocese, and promise obedience and celibacy. They do not live in community as Religious and do not promise "evangelical poverty," to own things in common, though the priest ought to strive to live simply in accord with the Gospel.
Shortly after becoming Bishop of Kansas City-St. Joseph I established a new office of Consecrated Life in order to best highlight and serve these men and women Religious who are an integral part of the Church. Sr. Connie Boulch, a Sister of St. Francis of the Holy Eucharist, is the Director who oversees the office. She works with our diocesan vocation office to assist women and men who may feel God is calling them to this vocation. She often helps them learn about the different Orders and perhaps to make a visit to the Order. In addition, Sr. Connie helps to organize and assure good communications with the different members of Religious or Consecrated Life within our Diocese.
Recently we held our annual Jubilee celebration to honor those who have reached significant anniversaries in their Religious Life (25 or 50 years) This year we had two Sisters celebrate 70 years! We are also blessed in our Diocese with several groups of laity who pray for and support Religious life and vocations: the Serra Clubs, the Knights of Columbus, the World Apostolate of Fatima, and each year we have some special collections for Religious men and women.
Pope Francis has proclaimed 2015 a Year of Consecrated Life, starting on the First Sunday of Advent, the weekend of November 29, 2014, and ending on February 2, 2016, the World Day of Consecrated life. Himself a Jesuit, Pope Francis has set this year as a time when we can grow in our understanding and support for consecrated men and women in the Church. These vocations are very important in the life and work of the Church. I hope you will pray that more men and women will be called to this life and will answer with generosity and trust. Pray also for the perseverance of our consecrated men and women: that they will grow closer to God and more faithfully carry out His will. We thank God for the holiness and generosity of our Religious men and women of the Church.