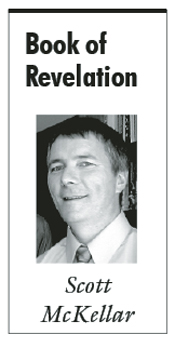 In our continuing study of Revelation, we catch a glimpse of the life of the early church reflected in John's letters to the seven churches of Asia. In this section we encounter some of the most quoted words in the book of Revelation.
In his letter to Pergamum (2:12-17) John notes that these Christians "live where Satan's throne is." Pergamum was the center of Roman government and the first city in Asia Minor to build a temple to a Roman ruler (Augustus). It also had a conical hill behind it which was the site of many pagan temples to such gods as Zeus, Athena, Demeter, and Dionysus. The temple of Zeus even had a prominent throne-like altar. The Christians at Pergamum are complimented for holding fast and for not denying their faith even in the face of martyrdom. But some of them have tolerated the Nicolaitans who teach others "to eat food sacrificed to idols and to play the harlot" (2:14).
John compliments the church in Thyatira (2:18-29) for her "works, love, faith, service, and endurance." This language again is a reference to perseverance in the midst of persecution. Yet they also have tolerated a false prophetess whom John calls Jezebel. Her name is a reference to the pagan wife of the Israelite King Ahab, who encouraged the Israelites to worship Baal (1 Kings 16:31; 21:25). Thyatira's economy was based on a system of trade guilds. These guilds all had patron deities (Acts 19:23-25) and engaged in immoral pagan worship. Perhaps the Christians in Thyatira were tempted to compromise and engage in these pagan activities for financial security. John will later highlight the heavenly dangers of the satanic false prophet who is yet to come (Revelation 13:11; 16:13; 19:20).
Clearly things are not going well for the church in Sardis (3:1-6). John has nothing good to say about them. Although these Christians have "the reputation of being alive," they are in fact "dead." (3:1). These Christians apparently began well, but they have become lethargic about the radical countercultural demands of the Christian faith in the midst of a pagan world. Some commentators have seen the source of this spiritual malady as their unwillingness to witness to their faith before a hostile pagan culture. They are called to repent and wake up.
The church in Philadelphia (3:7-13) has also faced persecution. The Philadelphians are complimented for keeping Christ's word and not denying His name (3:8). Apparently this church was being persecuted by some Jews in the local synagogue in Philadelphia. Because of their endurance the church in Philadelphia is promised that Christ will keep them safe "in the time of trial that is going to come to the whole world to test the inhabitants of the earth." (3:10).
John's letter to the church in Laodicea (3:14-22) unquestionably contains the most familiar Scripture verses of the seven letters. This church was likely founded by the apostle Paul on his third missionary journey (Acts 19:10). Although Paul never visited this church he apparently later wrote them a letter (Colossians 4:16) which is now lost and not part of the canon of Scripture. In contrast to Christ as the "faithful and true witness" John writes:
"I know your works; I know that you are neither cold nor hot. I wish you were either cold or hot. So, because you are lukewarm, neither hot nor cold, I will spit you out of my mouth. (3:15-16).
Traditionally this metaphor was interpreted as a call to be spiritually 'hot' rather than uncommitted or 'lukewarm.' The metaphor actually commends both 'hot' and 'cold,' and it would seem odd to suggest God wants someone to be 'cold' in their faith. More recent interpretations have focused on the unique geographic setting of Laodicea. It was a wealthy fortress city build at the convergence of three major roads. The one thing it lacked was a plentiful clean water supply. By comparison, the neighboring city of Hierapolis had medicinal hot springs, while the city of Colossae had pure drinkable cold water. In order to obtain water, Laodicea created a series of clay pipes to transport water to the city and the water that arrived there was completely tepid, and undrinkable. It was neither suited to heal nor to refresh. In fact the water at Laodicea was said to induce vomiting. The Christians at Laodicea appear unwilling to identify with Christ, and as a result Christ will not acknowledge them at the judgment but will "spew them out" (Matthew 25:41). In a recent sermon, Pope Francis warned that 'lukewarm' Christians do great harm to the Church "because their Christian witness is a witness which ultimately disseminates confusion, disseminates a negative witness" (Vatican City, Oct 27, 2014).
John reproves them in the Spirit;
For you say, 'I am rich and affluent and have no need of anything,' and yet do not realize that you are wretched, pitiable, poor, blind, and naked. (3:17)
Economically Laodicea was a very wealthy city and commentators believe members of this church were active participants in the affluent society. Apparently Laodicea had the reputation as the best dressed citizens of the province of Asia. Laodicea was also famous for a healing eye salve which was manufactured there. In contrast to the self-sufficiency of the visible reality these Christians are "wretched, pitiable, poor, blind, and naked" (3:17). Christ calls them to repent,
I advise you to buy from me gold refined by fire so that you may be rich, and white garments to put on so that your shameful nakedness may not be exposed, and buy ointment to smear on your eyes so that you may see. (3:18)
These 'lukewarm' Christians needed to be re-evangelized. Christ calls to them inviting them to be restored into his communion;
"Behold, I stand at the door and knock. If anyone hears my voice and opens the door, [then] I will enter his house and dine with him, and he with me" (3:20). o
Scott McKellar is associate director of the Bishop Helmsing Institute.