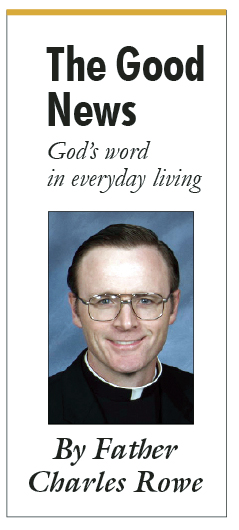 A jaded critic of Catholicism might dismiss the solemnity of Christ the King as an archaic liturgy celebrated by an obsolescent institution. He might protest that the outmoded notion of royalty does not comport well with contemporary sensibilities. After all, we have moved beyond the era when kings and queens inherited absolute powers by birthright and lorded their privileges over unfortunate subjects. Our own country was born as the fruit of bloody struggle against the tyrannical incursions of the King of England. Other advanced western nations have long dispensed with monarchical governance as well, opting instead for democratic arrangements where those who govern do so only by the consent of those governed: government of the people, by the people, for the people, or so they say. . .
The feast of Christ the King does indeed run contrary to modern fashions. That is ok. Today's established science has a funny way of mutating into tomorrow's superstition. In fact, this solemnity merits careful and prayerful study, for Jesus Christ is not your typical king. In fact, he is a king like no other. And the peculiar nature of his kingship teaches us critical lessons about the demands of discipleship. Moreover, it discloses particularly important truths about authority, especially authority in the Church.
That Jesus is a king of sorts is a truth affirmed in Sacred Scripture. The New Testament readings today demonstrate this. By his resurrection and ascension the risen Christ has been crowned as King of the universe. The interim between his past ascension and future glorious return is a developmental period when his kingdom grows and spreads until its definitive establishment at the end of the present age. At that time Christ the King shall separate the sheep from the goats, welcoming his elect into the wondrous kingdom prepared for them from the world's inception. But lest dreams of the heaven to come distract us from earthly labors to be accomplished here and now, we must attend to how this humble carpenter from Nazareth entered into his kingdom, for it sets the pattern for our own modest efforts at establishing the Father's kingdom on earth and securing our citizenship within it.
Essential to Christ's kingship is that his coronation is established by his passion. The Lord Jesus purchases his reign at the price of his blood. His crown is woven of thorns. His procession is the via dolorosa. His throne is the cross. Hence the ironic truth proclaimed in the sign: "Jesus of Nazareth, King of the Jews." The King of kings is indeed a king unlike any other. On the cross, Jesus demonstrates both his complete obedience to the Father and his unbounded love for his brothers and sisters in the flesh. And for this, he is exalted as King of kings and Lord of lords, endowed with a name above every other name.
Our own attempts to bring about Christ's kingdom on earth must be modeled on those of our Savior. Fundamental to this enterprise is the sacrificial love whose true measure is to give of self without measure. When we lay down our lives in dedicated service to one another, as priests and religious, as spouses and parents, as children and citizens, as friends and neighbors, then we are most effective in building up the kingdom. In this regard, the corporal works of mercy elucidated in the gospel provide a beautiful illustration of the kind of service our Redeemer expects. A crucial note of caution is in order for those who aspire to authority, especially to office in the Church. Would-be officeholders ought to heed the Lord's admonition that those who wish to be leaders must imitate him and make themselves the least of all and the servants of all. Conversely, the epistle today remarks that every sovereignty, authority, and power contrary to the Spirit of Jesus is doomed to destruction. Humble obedience to the Father who is the source of all legitimate authority coupled with selfless love of one's brothers and sisters is the sine qua non for effective leadership in the Church.
May Christ our King reign! May he reign first in our hearts, that he may also reign in our world!
Fr. Charles Rowe is Vicar General of the Diocese of Kansas City – St. Joseph.
Daily Scripture Readings
For complete daily Scripture texts, click here. http://www.usccb.org
Monday, November 24
Revelation 14:1-3, 4b-5
Psalms 24:1bc-2, 3-4ab, 5-6
Luke 21:1-4
Tuesday, November 25
Revelation 14:14-19
Psalms 96:10, 11-12, 13
Luke 21:5-11
Wednesday, November 26
Revelation 15:1-4
Psalms 98:1, 2-3ab, 7-8, 9
Luke 21:12-19
Thanksgiving Day
Thursday, November 27
Sirach 50:22-24
Psalms 145:2-3, 4-5, 6-7, 8-9, 10-11
1 Corinthians 1:3-9
Luke 17:11-19
Friday, November 28
Revelation 20:1-4, 11-21:2
Psalms 84:3, 4, 5-6a and 8a
Luke 21:29-33
Saturday, November 29
Revelation 22:1-7
Psalms 95:1-2, 3-5, 6-7ab
Luke 21:34-36
First Sunday of Advent
Sunday, November 30
Isaiah 63:16b-17, 19b; 64:2-7
Psalms 80:2-3, 15-16, 18-19
1 Corinthians 1:3-9
Mark 13:33-37
Monday, December 1
Isaiah 2:1-5
Psalms 122:1-2, 3-4b, 4cd-5, 6-7, 8-9
Matthew 8:5-11
Tuesday, December 2
Isaiah 11:1-10
Psalms 72:1-2, 7-8, 12-13, 17
Luke 10:21-24
Wednesday, December 3
Isaiah 25:6-10a
Psalms 23:1-3a, 3b-4, 5, 6
Matthew 15:29-37
Thursday, December 4
Isaiah 26:1-6
Psalms 118:1 and 8-9, 19-21, 25-27a
Matthew 7:21, 24-27
Friday, December 5
Isaiah 29:17-24
Psalms 27:1, 4, 13-14
Matthew 9:27-31
Saturday, December 6
Isaiah 30:19-21, 23-26
Psalms 147:1-2, 3-4, 5-6
Matthew 9:35-10:1, 5a, 6-8
Second Sunday of Advent
Sunday, December 7
Isaiah 40:1-5, 9-11
Psalms 85:9-10, 11-12, 13-14
2 Peter 3:8-14
Mark 1:1-8
The full text of the Scripture readings for this week and next week can be found here: http://www.usccb.org/
Click on the "Daily Readings" tab on the right hand side of the page.