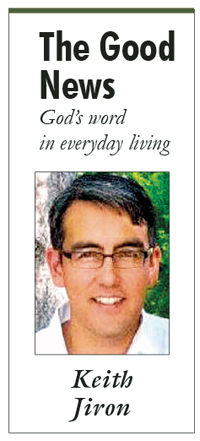 Last spring, on April 25, my wife and I experienced one of the saddest moments of our lives together. Thirty seven weeks into pregnancy, we discovered that our baby's heart was no longer beating, that our unborn son had died inside his mother's womb.
On rare occasions over the years, I remembered hearing about this sort of thing happening to others and thinking to myself, "I just can't imagine. A still birth. That would be excruciatingly painful." The grief that I felt during this time of sadness was nothing in comparison with that of my wife. She is the one who felt the baby's kicks and movements, feeling so connected to this beautiful life inside her womb, loving him for nearly nine months in ways that only a mother knows.
It turns out that one of the things I dreaded most was delivering the tragic news to my four beautiful living sons, Andrew, Michael, Nathan, and Peter. From the very first moment when we told them that Kate was pregnant, they had been so excited to meet this baby.
My wife and I discussed how we were going to tell them, and when the time came, Kate wonderfully and lovingly explained to the boys that this was a teachable moment, for how can we talk of the resurrection if we don't face death. She also explained that, as parents, our goal is to get our children to heaven. She said, "John wins. He got there before us."
The next day at supper, Andrew, our oldest, lifted his glass and said, "Cheers to John's victory." Kate and I just stared at him, stunned amidst our grief. So, he explained further and said, "John is heaven. He won the race."
While I believe this is true, it doesn't erase the sadness I feel when I think about how I will not get to know my son, how I won't get to teach him to catch and throw a ball or how it feels to go fly-fishing for trout in the beautiful Rocky Mountains, or how I don't get to tuck him in at night and smell his warm soft, head.
In light of all of this, I find myself reflecting differently this year on the meaning of Advent. One year ago at this time, my wife and I resonated with how Joseph and Mary must have felt, trusting in God who entrusted to them this baby yet to be born and all that meant for the world. This year, however, the mystery of God taking flesh inside Mary's womb offers another perspective.
After years of oppression and suffering, God's chosen people received a word of consolation announcing Salvation's coming from the prophecy of Isaiah, which says, "Comfort, give comfort to my people, says your God…In the desert prepare the way of the Lord. Make straight in the wasteland a highway for our God." (Isa 40: 1, 3) With eyes of faith we have the hope of eternity which gives us comfort in our desert experiences, in our times of trial.
My wife recently heard about a woman who, many decades ago, had lost a baby at childbirth as well. In her old age and nearing the moment of death, she uttered to her family, "Now I will finally get to hold my baby." Knowing that we have an eternal soul waiting for us in heaven consoles us in the midst of our sadness.
The Scriptures also remind us that "with the Lord one day is like a thousand years and a thousand years like one day. The Lord does not delay his promise as some regard 'delay.'" (2 Pet 3: 8 – 9) Once we enter into eternity, our time on earth will seem like the blink of an eye. If we pay close enough attention, we can catch glimpses of eternity even in this life. I catch them daily in the bright, loving, and hopeful faces of our four young sons.
These same sons are the ones who named our baby. Months before he was due to be born, they were somehow convinced that he was to be called John. Even though my wife and I were not so sure, in the end, they won out. For his middle name, we chose Paul Miki, after the Japanese martyr who died along with his faithful companions during the persecution of Christians in sixteenth century Japan.
The funeral home allowed our boys to place gifts in baby John's coffin. Michael, our second oldest, gave him a little cross constructed of Legos along with a note which read, "Dear John, Please take this cross as a present. We hope that you have a good life in heaven with all the saints…"
Baby John Paul Miki, please tell your new friends about us and help make straight our highway into eternal life.
Keith Jiron, former director of the office of vocations, is currently director of the School of Faith's Omaha branch.
Daily Scripture Readings
For complete daily Scripture texts, click here. http://www.usccb.org
Solemnity of the Immaculate Conception of the Blessed Virgin Mary,
Monday, December 8
Genesis 3:9-15, 20
Psalms 98:1, 2-3ab, 3cd-4
Ephesians 1:3-6, 11-12
Luke 1:26-38
Tuesday, December 9
Isaiah 40:1-11
Psalms 96:1-2, 3 & 10ac, 11-13
Matthew 18:12-14
Wednesday, December 10
Isaiah 40:25-31
Psalms 103:1-2, 3-4, 8 and 10
Matthew 11:28-30
Thursday, December 11
Isaiah 41:13-20
Psalms 145:1 & 9, 10-11, 12-13ab
Matthew 11:11-15
Feast of Our Lady of Guadalupe, Friday, December 12
Zechariah 2:14-17 or
Revelation 11:19a; 12:1-6a, 10ab
Judith 13:18bcde, 19
Luke 1:26-38
Saturday, December 13
Sirach 48:1-4, 9-11
Psalms 80:2ac & 3b, 15-16, 18-19
Matthew 17:9a, 10-13
Third Sunday of Advent
Sunday, December 14
Isaiah 61:1-2a, 10-11
Luke 1:46-48, 49-50, 53-54
1 Thessalonians 5:16-24
John 1:6-8, 19-28
Monday, December 15
Numbers 24:2-7, 15-17a
Psalms 25:4-5ab, 6 and 7bc, 8-9
Matthew 21:23-27
Tuesday, December 16
Zephaniah 3:1-2, 9-13
Psalms 34:2-3, 6-7, 17-18, 19 & 23
Matthew 21:28-32
Wednesday, December 17
Genesis 49:2, 8-10
Psalms 72:1-2, 3-4ab, 7-8, 17
Matthew 1:1-17
Thursday, December 18
Jeremiah 23:5-8
Psalms 72:1-2, 12-13, 18-19
Matthew 1:18-25
Friday, December 19
Judges 13:2-7, 24-25a
Psalm 71:3-4a, 5-6ab, 16-17
Luke 1:5-25
Saturday, December 20
Isaiah 7:10-14
Psalms 24:1-2, 3-4ab, 5-6
Luke 1:26-38
Fourth Sunday of Advent
Sunday, December 21
2 Samuel 7:1-5, 8b-12, 14a, 16
Psalms 89:2-3, 4-5, 27-29
Romans 16:25-27
Luke 1:26-38
The full text of the Scripture readings for this week and next week can be found here: http://www.usccb.org/
Click on the "Daily Readings" tab on the right hand side of the page.