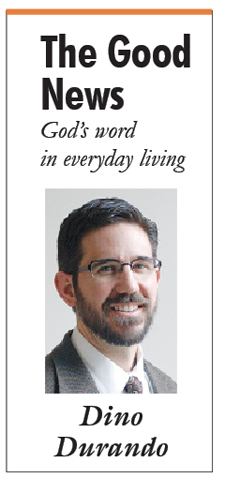 God has given us a great gift! Christmas is the moment each year when we pause to consider this great gift; the Son of God, born in a humble stable in Bethlehem. "God sent forth his Son, born of woman… to redeem those who were under the law…" but He didn't stop there, no, His son was given "so that we might receive adoption as sons." (Gal. 4:4-5) Christmas is the moment when the gift of divine adoption is revealed so that we may enjoy the "glorious liberty of the children of God." (Romans 8:21)
Like the gifts found under a Christmas tree this gift beckons us to open it and find joy. The gift is not given to leave unopened.
This awesome gift of divine adoption is highlighted by the reading for the Vigil Mass for Christmas from the beginning of the Gospel of Matthew. The reading begins with the genealogy of Jesus and concludes with the narration of the events immediately surrounding the birth of Jesus from the perspective of Joseph.
Two questions arise from the Gospel reading for the Vigil Mass for Christmas. Why this long list of names? And what does it mean that Joseph is called the father of Jesus with all the rights and responsibilities of a natural father?
The list of names is a specific kind of genealogy called a toledoth. This not only tells the reader who is related to whom, but also reveals the family character of the story of salvation. Not only does God choose a people, but he forms them into a family and promising them a Savior He ultimately fulfills this choice in the gift of adoption offered through the redeeming sacrifice of Jesus.
To answer the first of our questions, this list tells the story of our adoption in Jesus. It connects the history of God's action from Abraham to Jesus and includes everyone in between. It is a list filled with infamous sinners and quite a few that we might consider saints. The common thread that binds them all together is the simple fact that they all need the mercy of God. Beautifully, this mercy comes through our adoption in Christ.
The second question draws us into the mystery of Joseph's fatherhood. In his role as the adoptive father of Jesus, Joseph reveals the spiritual reality of God the Father's desire to adopt each one of us. His care for Jesus is in no way second rate. He truly loves his Son Jesus as his own son regardless of the fact that he is first God's Son. Adoption does not diminish the love of the parent for the child. Adopted children can experience the love of their adoptive parent as a reality no less real than the love between one's own flesh and blood.
My father died of cancer. I learned the reality of adoptive love some years after when I found an "adoptive" father in the person of my father-in-law. He showed me great kindness and care which grew to become the beautiful father and son relationship that we now enjoy almost 25 years after we first met. The growth of this adoptive human relationship revealed more fully the spiritual adoption in Christ I had already received in baptism. Specifically it revealed to me the many ways that my life did not accord with the call of my baptism to live in the "glorious liberty of the children of God." (Romans 8:21)
This testimony from an adopted child* illustrates how the human experience of adoption reveals the reality of divine adoption. "Adoption was a second chance for me to experience a real family – a family that specifically picked me to be a part of their family – and parents who loved me unconditionally. A family with parents who taught me and guided me along the way, who gave me a chance to just be a kid, who let me experience birthdays and holidays. A family with parents who made the choice to be my parents, not because they had to, but because they wanted to."
Those who call God Father, find in Him the source of all good things and the lasting joy of knowing and experiencing His love and mercy. As Pope Paul VI wrote in his Apostolic Exhortation on Joy, Gaudete in Domino, "No one is excluded from the joy brought by the Lord. The great joy announced by the angel on Christmas night is truly for all the people, both for the people of Israel then anxiously awaiting a Savior, and for the numberless people made up of all those who, in time to come, would receive its message and strive to live by it."
Isaiah sums up God's desire to be accepted as our Father in the first reading at the Mass, "No more shall people call you 'Forsaken,' or your land 'Desolate,' but you shall be called 'My Delight.'"
*Adoption testimony from: http://www.adoptivefamiliescircle.com/blogs/post/sharing-stories-during-national-adoption-awareness-month/#sthash.osuTIyxA.dpuf
Dino Durando is Director of the Office for Family Life in the Diocese of Kansas City – St. Joseph.
Daily Scripture Readings
For complete daily Scripture texts, click here. http://www.usccb.org
Monday, December 22
1 Samuel 1:24-28
1 Samuel 2:1, 4-5, 6-7, 8abcd
Luke 1:46-56
Tuesday, December 23
Malachi 3:1-4, 23-24
Psalm 25:4-5ab, 8-9, 10 & 14
Luke 1:57-66
Wednesday, December 24
2 Samuel 7:1-5, 8b-12, 14a, 16
Psalms 89:2-3, 4-5, 27 and 29
Luke 1:67-79
The Nativity of the Lord (Christmas) Vigil Mass
Isaiah 62:1-5
Psalms 89:4-5, 16-17, 27, 29
Acts 13:16-17, 22-25
Matthew 1:1-25
The Nativity of the Lord
Thursday, December 25
Isaiah 52:7-10
Psalms 98:1, 2-3, 3-4, 5-6
Hebrews 1:1-6
John 1:1-18 or John 1:1-5, 9-14
Friday, December 26
Acts 6:8-10; 7:54-59
Psalms 31:3cd-4, 6 & 8ab, 16bc & 17
Matthew 10:17-22
Saturday, December 27
1 John 1:1-4
Psalms 97:1-2, 5-6, 11-12
John 20:1a and 2-8
The Holy Family of Jesus, Mary and Joseph, Sunday, December 28
Sirach 3:2-6, 12-14 or Genesis 15:1-6; 21:1-3
Psalms 128:1-2, 3, 4-5
or Psalms 105:1-2, 3-4, 5-6, 8-9
Colossians 3:12-21
or Colossians 3:12-17
or Hebrews 11:8, 11-12, 17-19
Luke 2:22-40
Monday, December 29
1 John 2:3-11
Psalms 96:1-2a, 2b-3, 5b-6
Luke 2:22-35
Tuesday, December 30
1 John 2:12-17
Psalms 96:7-8a, 8b-9, 10
Luke 2:36-40
Wednesday, December 31
1 John 2:18-21
Psalms 96:1-2, 11-12, 13
John 1:1-18
Solemnity of the Blessed Virgin Mary, the Mother of God
Thursday, January 1, 2015
Numbers 6:22-27
Psalms 67:2-3, 5, 6, 8.
2 Galatians 4:4-7
Luke 2:16-21
Friday, January 2
1 John 2:22-28
Psalms 98:1, 2-3ab, 3cd-4
John 1:19-28
Saturday, January 3
1 John 2:29–3:6
Psalms 98:1, 3cd-4, 5-6
John 1:29-34
The Epihany of the Lord
Sunday, January 4
Isaiah 60:1-6
Psalms 72:1-2, 7-8, 10-11, 12-13.
Ephesians 3:2-3a, 5-6
Matthew 2:1-12
Monday, January 5
1 John 3:22–4:6
Psalms 2:7bc-8, 10-12a
Matthew 4:12-17, 23-25
Tuesday, January 6
1 John 4:7-10
Psalms 72:1-2, 3-4, 7-8
Mark 6:34-44
Wednesday, January 7
1 John 4:11-18
Psalms 72:1-2, 10, 12-13
Mark 6:45-52
Thursday, January 8
1 John 4:19–5:4
Psalms 72:1-2, 14 and 15bc, 17
Luke 4:14-22
Friday, January 9
1 John 5:5-13
Psalms 147:12-13, 14-15, 19-20
Luke 5:12-16
Saturday, January 10
1 John 5:14-21
Psalms 149:1-2, 3-4, 5-6a and 9b
John 3:22-30
The Baptism of the Lord
Sunday, January 11
Isaiah 42:1-4, 6-7 or Isaiah 55:1-11
Psalms 29:1-2, 3-4, 3, 9-10.
or Isaiah 12:2-3, 4bcd, 5-6.
Acts 10:34-38 or 1 John 5:1-9
Mark 1:7-11
The full text of the Scripture readings for this week and next week can be found here:
http://www.usccb.org/
Click on the "Daily Readings" tab on the right hand side of the page.