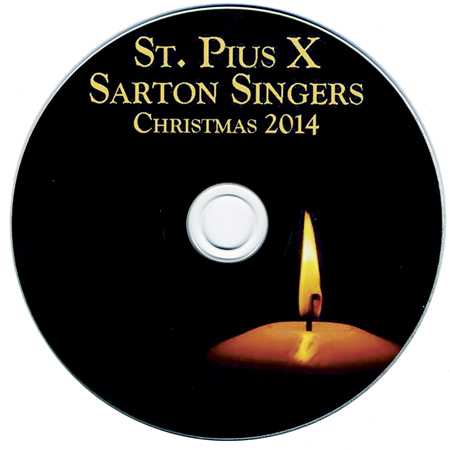 By Kevin Kelly
Catholic Key Associate Editor
KANSAS CITY — In September, extraordinary sounds joyfully interrupted the workday of Steve Hilliard in his second floor office at the Catholic Center.
"I'm sitting here on my phone, and I am hearing this music, this singing," said the diocesan director of Stewardship and Development. "It was beautiful."
He got up from his desk and found four teens singing complicated choral music in the atrium, their voices ringing off the marble walls and mosaic tile floor.
"I asked Maggie (Ratterman, diocesan receptionist) who they were. She said, 'They're some of the Sarton Singers from St. Pius X High School,'" Hilliard recalled.
"I thought, 'Wouldn't it be cool to record these kids?'" he said.
Better than that, Hilliard's idea soon blossomed into a plan to share the talents of these young voices with the entire diocese, and especially with those people whose generosity to the diocese supports all diocesan high schools and other charitable activities.
And especially at Christmas.
Hilliard contact Joe Monachino, principal at St. Pius. He was on board, and put him in touch with the school's choral director, Sandy Prothman. She was on board, but needed time to work carefully selected a capella chorale numbers to performance standards.
Enlisting the assistance of "sound engineer" Jeremy Lillig (director of the diocese's educational Bright Futures, Strong Schools and Honoring Family funds), and his digital recording equipment, the Sarton Singers gathered back inside the Chapel of Our Lady of Ephesus at the downtown Catholic Center and in four hours, completed a nine-selection CD quite unlike any in anybody's Christmas collection.
"The Sarton Singers Christmas 2014" includes songs both new and old, both familiar and not so common, and all of them flawless.
"One song is going out by e-mail blast" to everyone on his e-mail list, Hilliard said. "We'll also link that to the Catholic Key Web site" (www.catholickey.org).
But the entire nine-song CD will be sent only to several hundred, if not a thousands, of the diocese's most faithful supporters.
"I've already sent out a thousand of these to people who have supported us on a consistent basis over the years," Hilliard said.
And he is making more copies available as a Christmas gift to those who freely donate $500 to the diocese's Annual Christmas Appeal.
"This is a gift," Hilliard said. "And it has been a gift to me."
The Sarton Singers take their name from Guisseppe Sarto, the man who became Pope St. Pius X.
The singers in the school's select choir are: Caroline Ramsey, sophomore; Madelene Webb, sophomore; Benjamin Prothman, senior; Benjamin Schmidt, junior; Sarah Kaster, sophomore; and Arcadia Mejia, sophomore.
The CD opens with the early 19th Century hymn, "Veni Jesu, Amor Mi,"(Come Jesus, My Love) composed by Luigi Cerubini.
That's followed by a 1983 upbeat composition by Nancy Price and Don Besig, "Tiny Little Baby." The joy continues with the African-American Spritual, "Over My Head," which then launches the listener to the 21st Century and "Amid the Falling Snow," by the popular Irish singer Enya from her 2005 album, "Amarantine."
The Sarton Singers then feature a work especially written for scholastic choirs, "And the Angels Sing," by the prolific composer Linda Spevacek.
Both Mannheim Steamroller and the Trans-Siberian Orchestra have brought the next selection, "Carol of the Bells," back to mass popularity. It was written in 1904 by Mykola Leonovitch, but the Sarton Singers get right to the essence of the music, stripping it down to its essentials.
They stay familiar, but again add their talents to make it their own with the traditional 17th Century English carol, "The Holly and the Ivy."
Then they bring it back to Bethlehem with stunning renditions of two choral hymns, Jay Althouse's "Going to Bethlehem" and Morton Lauridsen's increasingly famous, "O Magnum Mysterium" that only well-disciplined, well-trained voices should dare to attempt.
Hilliard said that 100 percent of the proceeds of the Christmas Appeal is used to support the diocese's charitable and educational activities. No funds will be used for administrative, legal or insurance expenses.
Those wishing to donate to The Christmas Appeal can do so by using the envelope included in this edition of The Catholic Key.
Or they can mail a check, including with it return address, e-mail and phone number information to:
The Christmas Appeal
Diocese of Kansas City-St. Joseph
Post Office Box 419037
Kansas City MO 64141-6037.