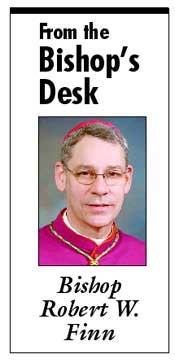 Two great events in the last weeks are fresh in my memory as I share a few thoughts on Vocations this week. On the Monday before Christmas we had our annual Serra Club celebration: Mass and dinner with our seminarians and their families at St. Thomas More Parish. Second, the Holy Father, Pope Francis, has recently inaugurated the Year for Consecrated Life, a celebration of Religious priests, brothers, and sisters, and other Consecrated men and women. It began the First Sunday of Advent and will conclude next year, February 2, 2016, Feast of the Presentation.
At our Serra Club gathering, we had almost 30 of our seminarians represented – all but those who are studying in Rome. Many of their parents and family members also were able to attend. I must say that, despite all the challenges of the last years, we continue to be blessed by God with outstanding vocations to the priesthood. This is the "year of ten new priests." I already had the joy of ordaining Fr. James Carlyle on October 18. On May 23, 2015, please God, seven more priests will be ordained at the Cathedral of the Immaculate Conception. Two more will complete their courses in Rome and will be ordained at the (co)-Cathedral of St. Joseph, on June 27, 2015. I don't know exactly how many years it has been since we had so many new priests in one year. It has been a long time – and we are truly blessed. They are all very fine men and I know that their dedication and faith will have a wonderful impact on the Diocese for generations to come.
Recently I had a meeting with Sr. Connie Boulch, O.S.F., Director of our diocesan office for Consecrated Life. We are in the process of planning some events to mark this special "Year" locally. We will publish more on that soon. Many of the Religious Orders themselves are planning "open houses" and other opportunities to thank God for these gifts – our Religious men and women – to the Church. As you know, we have diocesan priests and Religious Order priests. Religious Order priests often have special works – like the university or seminary, retreats, etc. Many of the Order Priests here also staff parishes.
Religious Orders of Sisters sometimes live in contemplative communities of prayer, or many carry out apostolic service – teaching, health care, evangelization, foreign missions, service to the poor, etc. Some work in parishes and other institutions in our diocese. We have nearly 25 Religious Orders of Women represented in some way in our Diocese. A number of these groups have also experienced an upturn in vocations. Additionally, a number of young women from our diocese – girls who grew up here and went to school here – have joined Orders beyond our diocese. Though they may have found their calling elsewhere, we are also very proud and thankful for them and their dedication.
We also have a smaller number of Religious Brothers who might live in monastic or other communities in our Diocese, or carry out apostolic work. Their consecration is a gift from God that inspires many and enriches the Church.
There are many factors that contribute to these vocations. First and most important, these vocations, or "calls" come from God. He chooses us; and with grace and encouragement we respond. The Family is clearly one of the most important factors in helping and encouraging a man or woman to hear and follow God's will. I pray that parents and other family members will always be open to the Divine plan by which some are invited to this life-long gift of service as a priest or Religious to the Church.
The Church as a whole should also pray for those who have these vocations. Over the last ten years, I have said that it is important for us to build and establish a "culture" and "climate" of vocations. This is an joyful ambiance and hope-filled attitude that tells the young person that, in addition to marriage or the single dedicated life, it is meaningful and good to give your life to God in chastity and generous love to the Church, by way of priesthood or consecrated life.
Dear friends, pray for our many priests and Religious men and women, that they will be given the grace of perseverance to live fully and faithfully their call. How grateful we are for each of them.
Let us ask Mary, Mother of Jesus the high priest, and a woman totally dedicated to fulfilling God's will and plan, to teach us and guide us in recognizing and saying "yes" to our vocation.